This is a chapter of Kings and Things: First Stories from English History by Henrietta Elizabeth Marshall.
The Britons sang with Joy when the Romans went, but they soon changed their Tune.
There were terrible Wild Men called Picts and Scots who lived in the North parts of the Island. The Romans had built a great, big Wall to keep them out. But now that there were no Romans to guard the Wall, these Picts and Scots came climbing over it like anything, stealing things and smashing everything they could lay hands on.
They were such a Bother that the Britons actually sent a messenger to the Romans and asked them to come back again. But the Romans said: "No, thank you. We have quite enough Bothers at Home. You must just look after yourselves now."
Then all the most Important People among the Britons began quarreling. Ever so many of them wanted to be King. First one would say: "Now I'm King. You've got to obey me." Then another would say: "No, you're not. I'm King. You must obey me." There would be ever so many Kings at one time and things got into a jolly fine Mess.
At last one of them got to be a bit more Important than the others. So he said: "We can't have all these Goings-On. We can't have these Picts and Scots raging around how they like. The Romans won't help us, so let's get someone else. There are some people called Saxons who live across the sea. I'm told that they are awfully good at fighting. Let's send and ask them to give us a hand. I'm sure they will if we say we'll pay them well."
And all the other Important People said: "Yes, let's."
So they asked the Saxons to come, and the Saxons said: "Thank you very much. We'd like nothing better." Then two of their Important People gathered their soldiers together and sailed over to Britain. One of these Important People was called Hengist and the other was called Horsa, and both their names mean Horse, so I expect they were as strong as horses.
They gave the Picts and Scots a good Licking, and the Britons paid them and said: "Thank you very much," and expected them to go Home again.
But Hengist and Horsa didn't go. "This is a jolly fine Country," they said; "let's stay here."
So they said to the King Person who had asked them to come: "Give us a lot of land so that we can build a House on it. We would like to live here."
"Oh, I couldn't do that," said the King Person; "you're not Britons."
"Well, give us just a teeny bit, just as much as leather strap will go around," they said.
"Well," thought the King Person, "there can't be much harm in that."
So he said: "Yes, you can have that much."
But he didn't know what cheats Hengist and Horsa were.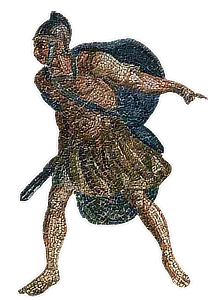 Theory without practice is absolutely useless. With a one-time payment, you'll have the full course forever, with all the theory explained in video and dozens of hours of practice analyzed and explained step by step by me on the screen.
Join the Latin from Scratch course! ⚡
They got a big Bull and killed it, and took its skin and cut it around and around into ever such a long strap. And when it was all stretched out, it went around a piece of land large enough to build a big Castle on.
The King Person was very angry when he saw how he had been Taken In. But he couldn't do anything, for Hengist and Horsa were too strong for him. Besides, they had sent home and got a lot more Soldiers. And as Hengist meant to live in Britain now, he told his daughter Rowena to come too. Now Rowena was a most Beautiful Lady, and, when the King Person saw her, he thought that she was the most beautiful Lady he had ever seen, and he liked her so much that he married her.
"Ha! Ha!" said Hengist then. "My Daughter is a Queen now and I can make myself a Most Important Person."
And he did, and Rowena helped him because, although she was Beautiful, she was Bad and she did a lot of Betrayings and Killings.
Then more and more people came from over the sea, Saxons and Angles and Jutes, and they went Rampaging and Conquering all over the Island. At last, the poor Britons had hardly any place left where they could be safe, and they had to live in among the mountains and in wild places where the Saxons and Angles and Jutes couldn't get at them easily.
The Saxons, however, didn't find it an Easy Job to conquer the Britons. There were lots and lots of Fightings and Battles all over the place. And there was one special Famous King called Arthur who beat them over and over again and kept them at Bay.
Arthur was fifteen when he began being King. He was as Brave as a Lion and as Gentle as a Lamb. But although he could fight like anything and thought that people should be Brave, he liked them to have Good Manners too. So he was shocked at the way the most Important People behaved at table. For in those days, in spite of all the Romans had tried to teach them, the Britons were pretty rough and rude.
"Look," he said, "you needn't be rude although you are strong. If you are, you will just become Big Bullies, and I won't have Big Bullies in my Army. And you mustn't be Sneaks either and Tell Tales about each other, for I won't listen to them. And you mustn't fight with women and girls, but be gentle and respect them. And never Tell Lies."
Then, so that they couldn't fight about a little thing like getting the Best Place at Table, he made a Big Round Table for all his Best Knights to sit at so that no knight could say he had a Better Place than another.
Arthur was Gentle like that in Peace Time. But in War he was Terrible. When he had girt on his Sword Excalibur and taken in hand his great Spear Ron, the Heathen Saxons fled before him. For Arthur, like lots of the Britons, was a Christian and the Saxons were Heathens.
But at length Arthur was killed, and all the other British Kings who fought against the Saxons were killed too, and then Britain became England. For the Saxon Conquerings were not like the Roman Conquerings.
The Romans came and conquered people for their Own Good (so they said) and taught them all sorts of Good Things. And they let them live on their own land so long as they were obedient and let themselves be ruled. But the Saxons weren't clever like the Romans. They couldn't teach anybody anything except fighting, and the Britons knew how to do that themselves pretty well already. They didn't want the British always hanging around, and they just killed them or chased them away and took the land for themselves. So when the Saxons had finished their Conquerings, the people weren't Britons any longer, but English.