This is a chapter of Kings and Things: First Stories from English History by Henrietta Elizabeth Marshall.
Ever and ever so long ago there was a Very Important King kind of person called Julius. He lived in Rome and ruled all the Romans. He was a very Conquering kind of person too. So he began to conquer all the people he knew, for their own good. Because he said: "The Romans know far more than anyone else and are far more clever than the others, so it will do them good to be conquered and taught things. Besides, when we have conquered them, we can make them work for Us and we can take all their gold and things, so we will have a lot more money and fun too." So Julius went out Conquering.
Now one day when he was Conquering, he heard of a little Island called Britain across the Sea and he thought he would go and conquer it. But the Romans were not fond of going on the Sea, so someone said: "Do you think it is Worth While? The people are just wild savages."
"Yes," said someone else, "they are wild savages, but they have lots of gold and pearls and things just lying around in heaps. And as they can't really know anything about fighting, it would be quite easy to conquer them and get lots of Treasure."
So Julius said: "Well, let's go and Find Out."
Then one day the Britons saw lots and lots of boats come rowing toward the shore, and they didn't like the look of them.
"Here are a lot of Conquering People coming to fight us," they said; "let's get ready."
So they hung their best gold chains around their necks and put on their best fur coats (they didn't have many cloth clothes in those days), and got out their War Carriages which had wheels all stuck around with Sharp Knives ready to cut the Foe to pieces.
So when Julius landed, he got the kind of Welcome he didn't expect. The Britons fought like anything and lots of people got killed. Julius didn't like it much, and after a bit he sailed away.
But a Roman does not like to Give Up, and so next year Julius came back again with lots more ships and lots more men, for he had learned his Lesson. And that was: That Britons Are Not Easy To Beat.
There were lots and lots of Battles and Fightings and goings on. Then Julius took some prisoners and went away. He can't have thought it Worth While because he didn't come back anymore.
For about a Hundred Years after this, the Britons were left in Peace. So they had plenty of time for fighting battles among themselves. Then another Important King kind of person thought he would do some more Conquering in Britain. His name was Claudius. There was a lot of fighting, and Claudius found the Britons just as Hard to Beat as Julius had done. One of the Hardest-to-Beat was a great Prince called Caractacus. He was a very Brave Man and perhaps he wouldn't have been beaten at all. Only, he was Betrayed by a Friend, so it was easy for Claudius to take him and his wife and children prisoners and carry them off to Rome.
When he got home, to make people believe that he had conquered Britain (he had conquered only a little bit of it), Claudius decided to have a Grand Show, like a Lord Mayor's Show, which he called a Triumph. And he made Caractacus walk in the Procession with handcuffs on his wrists and clanking iron chains around his ankles.
When the Show was over, Claudius sent for Caractacus and said: "Now you see what you get for fighting against me. I've conquered you and you are my slave."
But Caractacus answered as Bold as anything: "You haven't conquered me. You had me Betrayed, and I'm not your slave, for Britons Never, Never Will Be Slaves. You think you are a Very Important Person. But I was an Important Person too in my Own Country until you came conquering and getting me betrayed. I'm better than you. You were just Conquering, but I was fighting for My Own Land. Kill me if you like; you can't make me a slave."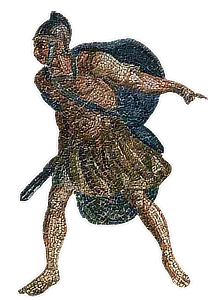 Theory without practice is absolutely useless. With a one-time payment, you'll have the full course forever, with all the theory explained in video and dozens of hours of practice analyzed and explained step by step by me on the screen.
Join the Latin from Scratch course! ⚡
Instead of getting into a Towering Rage, Claudius was quite pleasant. Instead of saying, "Off with his head," he said: "Off with those iron chains." And Caractacus was once more a Free Man. But whether he got back to his dear Britain or not I don't know. I rather suspect that he died of a Broken Heart in a Foreign Land.
As well as Brave Men who fought against the Romans, there were Brave Women too. And one of the Bravest was Queen Boadicea. She gathered her people together and spoke to them in such Proud, Brave Words that they became as bold as Lions and eager to fight for their Queen and Country. So they fought and fought and very nearly beat the Romans.
But of course they couldn't quite. For there were far more Romans, and their swords were far sharper, and they had been taught how to fight, while the Britons were just Brave Men fighting to keep their Own Country Free. So at last there was a great Big Fight when hundreds and hundreds of Britons were killed. And when only about the Last Man was left standing, Boadicea was very sad.
"But I won't walk through the streets of Rome with Clanking Chains on my hands and feet," she said, so she took a cup and filled it up with Poison and drank it, and when the Roman soldiers burst into her tent they found the Lovely Lady lying dead.
But there seemed No End of Romans and they kept coming and coming and Conquering and Conquering until they had conquered a good bit of the Island. Then they built grand houses and did all the Ruling and were the Most Important Persons.
That went on for hundreds of years. Then the Romans began to have a lot of Bothers at Home, so they said: "Well, with all these Bothers at Home it isn't Worth While staying here trying to rule these Savages. They won't be obedient. They are more trouble than they are worth. We have to have such a lot of soldiers here to keep them in order and we need all our soldiers at Home. We had much better go Home and take all our soldiers with us." And off they went.
The Britons were jolly glad to see the last of them. All the same, the Romans had Taught them a lot of things — how to make good roads, and build stone houses, and cut their Hair and take Baths, and learn Latin, and a lot of other things. But the Britons weren't a bit grateful. It just seemed Hard Lines to have to be taught as well as conquered. So they said Good Riddance of Bad Rubbish.