This is a chapter of Kings and Things: First Stories from English History by Henrietta Elizabeth Marshall.
When Canute died, two of his sons ruled after him. They were No Good at all and the English got tired of having Danish Kings. So they said: "Let's have a Real English King for a change"; and they sent over to France and got the son of that King who had run away from the Danes. He was called Edward, but, as he had lived nearly all his life in France, he was fonder of the French than of the English.
Still it was a Great Thing to be King of England, so he came and brought a lot of Frenchmen called Normans with him. These Normans weren't quite French. They were really Danes who had gone Conquering and Plundering in France just as the other Danes had come Conquering and Plundering in England. Some of these Danes made their Homes in France and became sort of French and called the land they took there Normandy. But instead of having a King, they had a Duke as their Most Important Person. This Duke was called William and he was King Edward's Cousin.
This Duke came to visit Edward. He thought England was a very Fine Country and that it would be a Grand Thing to be a King as well as a Duke, so he said to Edward: "Look here, when you die, I wish you'd let me be King"; and Edward said: "Yes, of course you can, if you'd like to."
So they settled it like that, without asking the English People what they would like. But then Edward wasn't a Very First Class Kind of King. He didn't think about the Good-of-the-People. He just liked to go his Own Way and do as he liked. He didn't care much about the English and was far more fond of his French Friends. He liked building Churches too and saying his Prayers and Confessing his Sins. So he was called Edward the
Confessor.
After a bit, a very clever Earl called Harold helped him to rule, so things got better, and the People loved Harold. Edward didn't love him, but he was getting old and couldn't be Bothered, so he let Harold do the Ruling.
One day Harold went for a sail and an Awful Storm came on, so that he couldn't get back home, and his boat got wrecked on the coast of Normandy. Then Duke William got hold of him and wouldn't let him go Home until he'd promised to let him be King when Edward died.
"Oh, dear!" thought Harold; "what am I to do? If I don't get home, Edward will be doing all sorts of Things Wrong. I must get home."
So he said: "All right, you can be King," and William let him go Home. But Harold didn't mean what he said. He just said it so that he could get back to England. That was very Bad of him. For you musn't make a Promise and then break it.
Then, soon after Harold got back, King Edward went and died.
As soon as Edward died, the People made Harold King, although he wasn't really the Heir-to-the-Throne. But they loved him and were sure that he would be a Good King. And Harold loved England Very Much, so he just hoped that William would forget about his Promise and leave him in Peace.
But when William heard that Harold had been made King of England, he got into such an Awful Rage that even the Most Important People were afraid to go near him. Then he went away and sulked by himself. After a bit, he got over his sulking. Then he called all his Most Important People together and said: "Come on, we'll go to England and do some Conquering."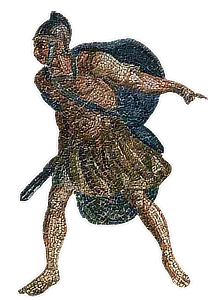 Theory without practice is absolutely useless. With a one-time payment, you'll have the full course forever, with all the theory explained in video and dozens of hours of practice analyzed and explained step by step by me on the screen.
Join the Latin from Scratch course! ⚡
But the Important People weren't very keen to go. "It's all very well for you," they said; "you'll be made a King, but we'll just get killed."
"Nonsense!" said Duke William; "England's a Fine Country with lots of Grand Houses and Things. Come on and help me, and when I'm King I'll give you Broad Lands and Grand Houses and make you all Lords."
So whole lots of people said they'd go, and they got out their swords and spears and bows and arrows, for they hadn't any guns in those days. Then they got into their ships and went sailing away to England.
Harold too gathered his men together, and the two armies met at Hastings. It was a dreadful Battle. From morning till night they fought. Swords clashed and arrows flew. Sometimes it seemed as if the English were winning and sometimes it seemed as if the Normans were winning. But at length an arrow hit Good King Harold, whom the people loved so much, and he fell dead.
So William won the battle. After that, he went Conquering and Conquering all over England, till the English saw that it was not Worth While fighting any more and they Gave In.
Then William did as he had said he would and gave Broad Lands and Grand Houses to the Normans. And they behaved very proud and haughty, just as the Danes had done long, long years before, and the poor English had a Very Bad time.
Of course the English hated William like anything and thought everything he did was Bad and Cruel. But all the same he did some Good Things. For one thing he made everyone put out their candles and fires at eight o'clock at night. And although the English thought he did it only because he liked Ordering them about, it was really quite wise, because in those days all the Houses were made of wood and, when people were careless and left candles burning, it was quite easy for the houses to catch Fire and be all burned up during the night; then the Poor People lost everything they had. So at eight o'clock a bell was rung. And as soon as people heard it they had to blow out their candles and put out their fires and go to Bed. The Bell was called the Curfew, and in some places the Curfew is still rung. Only now people needn't put out their lights and go to Bed when they hear it.
William made a great Big Book too, which he called Domesday Book. In it he wrote the names of all the Great Houses and all the Broad Lands in All England and how much land each person had. So he had only to look in it to see where the Important People lived and how Rich they were. And after hundreds and hundreds of years we still have the Domesday Book and the names of some of our houses are still in it.
William was called William the Conqueror, and the Normans were the last people to come conquering in the little Island which used to be called Britain, but it had taken all these different people more than a thousand years to do their Conquerings. And just think what a mixy-maxy people that makes us. For Britons and Romans and Saxons and Angles and Jutes and Normans were all needed to make us True-Born Englishmen.