This is a chapter of Kings and Things: First Stories from English History by Henrietta Elizabeth Marshall.
When the Romans first came to Britain, they were Pagans, and so were the Britons; because Jesus Christ hadn't been Born into the World by then. So of course they couldn't know about Him. It wasn't until years and years and years later that they knew anything about Him.
Then someone came and told them the Wonderful Story, and lots and lots of Britons became Christians, and they built Churches and said their Prayers and learned their Catechism. But after a bit, an Important Person in Rome began to hate the Christians and wanted to kill them all. And he sent messages to his soldiers in Britain telling them to do it. So the Soldiers began doing it.
One day they were going to kill a poor Old Man because he was a Christian, but he ran away to the House of a kind Gentleman he knew.
"Oh, hide me, hide me!" he cried; "the soldiers are after me and want to kill me."
"What Wickedness have you been up to?" asked the Gentleman, whose name was Alban.
"I haven't done anything Wrong," said the poor man. "I'm just a Christian."
"Oh, well," said Alban, "I never heard that it was a Wicked Thing to be a Christian, so I'll hide you."
For a long time the Old Man was quite Safe, for the Soldiers never thought of looking for him in the Rich Gentleman's House.
Alban liked the Poor Man and used to talk to him a lot. And the Poor Man told him all the Wonderful Story about Christ. And Alban liked it so much that one day he said: "I think I'll be a Christian too. It seems a Good Thing to be."
Then there was a great knocking at the Gate, and a servant came with a white face and said to him: "Sir, Sir, the soldiers are here. They have come for the Poor Man."
At that the Poor Man got up and said: "Goodbye, Kind Gentleman, now I must go and die."
But Alban said: "Oh, no, you needn't. Give me your cloak and take mine. My servant will show you out the back way and you can run away to another Safe Place."
So they changed cloaks and Alban wrapped himself up in the Poor Man's one and just sat and waited until the soldiers got in. Of course they thought that Alban was the Poor Man, seeing him all wrapped up in an old cloak, and they dragged him off to the Judge. When they got there, Alban threw off his cloak, and of course the Judge saw at once that it wasn't the Poor Christian, but Alban the Rich Gentleman, and he was very angry.
"What do you mean by it?" he asked. "You, a perfectly good Pagan, helping Wicked Christians to run away. You ought to be ashamed of yourself. Well now, I'm just going to do some Sacrifices to the Gods, and, to show that you are sorry, you'd better do some too."
"Oh, no," said Alban, "I couldn't do that."
"And why not, I should like to know?"
"Because," said Alban, "I don't believe in these gods anymore. They are nothing but silly bits of wood and stone. I believe now in Jesus Christ: He is my Lord and my God."
Then the Judge got into a Towering Rage. "Did ever you hear such Wickedness!" he cried; "you deserve to die. And so you shall. Here, soldiers, take him outside and cut off his Head!"
Then the soldiers took Alban outside and cut off his head. So Alban became the first British Saint and Martyr, and the place where he died is called St. Albans.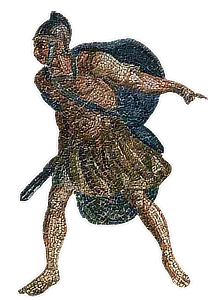 Theory without practice is absolutely useless. With a one-time payment, you'll have the full course forever, with all the theory explained in video and dozens of hours of practice analyzed and explained step by step by me on the screen.
Join the Latin from Scratch course! ⚡
When the Romans went away lots and lots of Britons had become Christians. Then the Saxons and Angles and Jutes came, and they were all Heathens who knew nothing about Jesus Christ and the True God. So they robbed the Churches and pulled them down and burned them up until the Wonderful Story was forgotten in all England and the Name of Christ unknown. Only in the Mountains and Difficult Places where the Britons had taken Refuge was It remembered.
Then one day a Good Man called Gregory was walking through the Market at Rome when he saw some children put there to be sold for Slaves. For in those times they used to sell people as we do sheep and cows.
These children had fair hair, rosy cheeks, and blue eyes, and Gregory thought he'd never seen such pretty boys.
"Where do those children come from?" he asked.
"From England," said the Man who was selling them; "they are Angles."
"Oh," said Gregory, "they shouldn't be called Angles, but Angels — they are so Pretty."
Then he asked more about them and was told that they were little Heathens and that all the People of England were Heathens too.
"Oh, what a pity," said Gregory; "I must buy them and teach them to be Good Christians." So he bought them.
When Gregory had taught the children to be Good Christians, they told him lots about England. And Gregory liked it so much that he said: "I must really go to England and teach them to be Good Christians like I have these boys."
So he asked the Pope: "Can I go to England and teach the People there to be Good Christians?"
And the Pope said: "Yes, you may go."
But the People at Rome were Awfully Fond of Gregory, and they made such a Fuss that the Pope said: "I think you'd better not go."
Gregory wanted to go ever so much, but, when the Pope told him not, he gave it up, because he was always obedient. But he thought about it ever such a lot.
Then one day Gregory being such a Good Man and the people at Rome being so Fond of him, they made him Pope.
"Now," thought Gregory, "as I'm made Pope, I can't ever go to England. I must stay at Rome and look after Things here, but I can send someone else to teach them to be Good Christians."
So he told a Good Man called Augustine to go and to take a lot of other Good Men with him to help him.
And Augustine started to go. But when he had gone as far as France, people told him such Awful Stories about the Bad, Cruel Angles and Saxons that he got frightened and went back to Rome. Gregory, however, sent him right back again.
"How dare you be such a coward!" he said. "Do as you are told. Never mind if they do kill you."
So Augustine started off again and this time he got to England.
Now at this time England wasn't all under one King as it is now. The Angles and Saxons and Jutes had chopped it all up into bits and there were about seven Kings all ruling in England at one time, each having his own Little Bit.
The first Kingdom Augustine came to was the Kingdom of Kent. He found that the people weren't half so Fierce and Cruel as he had been told. They were quite kind to him and his men, and didn't seem to want to kill him. So he stopped there for a bit, and baptized the King and made him a Good Christian, and lots of the people too. Then they went on to the other Kingdoms and taught them. And as years and years went on lots and lots more Good Men came to help them. So at last all England belonged to the Church of Christ.