This is a chapter of Kings and Things: First Stories from English History by Henrietta Elizabeth Marshall.
After the Angles and Saxons and Jutes had finished all their Conquerings and got nearly all the south of Britain and changed it into England, and become Good Christians, they thought they'd rest a bit and have some Peace and Quiet. But it just didn't happen like that. For across the Sea there were more fierce Wild Men called Danes. They were all Heathens and just as fierce and wild as the Angles and Saxons had been when they first came Conquering and before they had learned some Manners and how to Behave Properly.
Just as the Romans had done, these Wild Danes heard that England was a fine Rich Country. So they said: "Come on. Let's go and get some gold and silver and things."
Then they got into their Long Boats and came dashing over the Sea to England. When they got there, they just killed some people, stole everything they could lay hands on, set fire to the houses, and dashed away again. They didn't come like the Romans to teach people anything, or like the Saxons to find New Homes. They came just for the Fun, it was like an Outing or a Weekend Party for them.
Over and over again the Danes came, and more and more of them came. When they wanted things, they just came to England and took them. It was just like Going Shopping, only they didn't pay. Then some of them said: "What's the good of going backwards and forwards across the Sea? England is a fine Country, let's stay."
So they stayed. They turned some of the English out of their homes and treated them like Dirt beneath their feet and were Very Proud and Haughty.
But the English didn't take it all quietly. "These Danes are a Perfect Nuisance," they said, "we must Do Something." So they got out their swords and things and fought like anything. There were lots and lots of battles, and lots and lots of Danes got killed. But it didn't seem to make much difference, for more and more came sailing over the sea.
So it went on for years and years. Ever so many Kings one after the other came to the throne and ruled and died. They all fought against the Danes, but none of them managed to get rid of them altogether.
At last, the English got a very clever King called Alfred, and he said to himself: "This has got to Stop. I will not have these Danes coming and Conquering and Plundering."
So he gathered all his men together and fought a great Big Battle. The English fought and fought until there was only about One Man left Standing. And when there's only One Man left Standing you can't go on fighting, so Alfred went away and lived in a Cowman's cottage till he could Think Things Out. And he said to the Cowman: "Don't tell anyone who I am, for I don't want the Danes to know till I've Thought Things Out."
The Cowman was a Faithful Follower, so he didn't even tell his wife that the Friend who had come to stay with him was the King. Of course, a King doesn't know anything about Sweeping and Dusting and Helping in the House. Besides, Alfred had lots to do Thinking. But the Wife didn't know that and she just thought that Alfred was a Lazy Fellow sitting there all day long doing nothing and making a Lot More Work for her to do. So she grumbled like anything.
One day she was very busy. She had baked some scones and had Lots of other things to do. "Well," she said to herself, "I've only One Pair of Hands and I can't do Everything. Surely this Lazy Fellow could make himself useful for Once." Then out loud she said: "Here, just you look after my scones while I'm gone, and don't let them burn."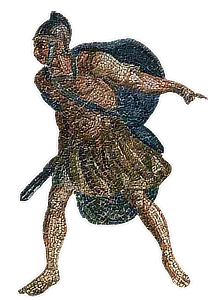 Theory without practice is absolutely useless. With a one-time payment, you'll have the full course forever, with all the theory explained in video and dozens of hours of practice analyzed and explained step by step by me on the screen.
Join the Latin from Scratch course! ⚡
"All right," said the King; "I'll look after them."
But as soon as the Wife had gone he forgot all about them and went on with his Thinking. And when the Wife came back her scones were burned to cinders. She was so angry that she boxed his ears and scolded him like anything. She was still scolding when the Cowman came in. He was shocked at her!
"Hold your tongue, Woman!" he shouted. But she still went on. "Shut up, won't you," he cried out at last; "don't you know you're talking to the King!"
The King! Well! That did shut her up.
At last the King had done his Thinking and gathered his Faithful Followers again. Then they fought the Danes like anything, and in a Big Battle Alfred conquered them altogether. Alfred didn't banish all the Danes who had come to Stay. But he made them all live in one place and Behave Properly and not treat the English like Dirt under their Feet. And there was Peace in the Land. After being a grand Fighter, Alfred became a Great Ruler. He made Good Laws and saw that people Obeyed them. He built schools, he built ships, and kept the Good Peace. He was Great and Good and Never told Lies, so everybody loved him till one day he died.
That was a sad day for England, for, as soon as the Danes heard the news, they said: "Come on, King Alfred's dead. Let's go and do some more plundering in England."
So it all began over again, and all the English Kings, good ones and bad ones, had to fight them for years and years. But even the Best Kings weren't as good at fighting them as Alfred, and the bold, bad Danes got bolder and badder.
Then the English had a Stupid King called Ethelred the Unready, because he never could make up his mind about anything. He got frightened of the Danes and ran away to France, and things went on getting worse and worse. At length some of the English said: "It's No Use fighting these Danes any longer. We may as well Give In and have Peace." So they went to a Very Clever Dane called Canute and said: "You can be King if you like, and we won't fight against you any more." Then they put a Gold Crown on his head and made him King.
But others wouldn't have Canute, and they chose an English King called Edmund. He was such a strong man that he was called Edmund Ironsides. So there were a lot of Battles between Edmund's men and Canute's men. At last Edmund got tired of having such a lot of his Fine Men killed. So he said to Canute: "Look here, what's the good of all this Killing? It isn't Sense. It would be far better if you and I had a fight between ourselves. If you kill me, then you can be King, and if I kill you then I'll be King."
And Canute said: "Yes, let's. That's a Good Idea."
So they began their Fight. But Edmund was a Great, Big, Strong Man, and Canute was just Ordinary, and Canute soon saw that Most Likely he'd get killed. So he yelled out: "Look here, don't let's fight any more! Let's divide the Kingdom between us."
Edmund didn't really want to kill Canute, so he said: "All right"; and they shook hands and shared the Kingdom and settled it that, if one of them died, the other should have it all. And very soon Edmund died and Canute the Dane was King all by himself.
He wasn't a very Nice King to begin with, but he got Quite Good. Then some of the Important People thought they'd Curry Favor with him and began to flatter him like anything. They told him to his face that he was cleverer and grander than anyone in the Whole Wide World. And after a bit, Canute got tired of all their Flatterings.
Then one day Canute and some of the Most Important People were walking by the Sea.
"Oh, what a Great King you are," said one.
"Oh, yes," said another; "you can do anything you like. Even the waves would obey you if you told them to stop."
"Do you think so?" said Canute. "Well, just bring my Golden Chair and set it down here."
So they brought the King's Golden Chair, and Canute sat down close to the water where the tide was coming in.
"Now stop where you are," said Canute to the waves. "Don't you dare to come and wet my feet."
But of course the waves didn't pay any attention, and Canute got his feet wet.
Then Canute got up and looked sternly at the Important People around him. "Now you see how Silly you are," he said. "Don't let me hear any more Foolish Talk like that."