The following is Kings and Things: First Stories from English History (1937) by Henrietta Elizabeth Marshall (1867-1941).
…
---
Preface
These stories of English history have been written in the hope that mothers and nannies and other great potentates of Nursery Land will read them to their obedient subjects in the Story Hour which so often precedes the tragic necessity of "going to bed." In such an hour, small people are often beguiled with fairy tales, with myths and legends. But the most interesting story of all —the story of their own country— is not infrequently neglected. It is so neglected because it is thought to be a story too frightening or too difficult for the very young person's understanding.

In this outline of English history, therefore, I have not dwelt on horror or on the glory of bloodshed. But ours is a rough story, and, when such matters could not altogether be avoided, they have been passed over as lightly as possible.

The style —I may add— is copied largely from that of some very young friends who have been in the habit of telling me stories. I hope that it will appeal to others of a like age.

There are no dates throughout the text. A few are given at the end of the book as a slight guide to the "grown ups" in the event of uncomfortable questions being asked.

H. E. Marshall
Source of the text, etc.
I'm somehow proud that this book is —let's say— published online for the first time here at LatinFromScratch.com. How so? This book is not available at the Internet Archive or any other such website. I don't know how many copies —physical, or digital, for that matter— might be out there, but it is probable that not so many. However, I'm the lucky owner of one of them, which of course I had to buy second hand.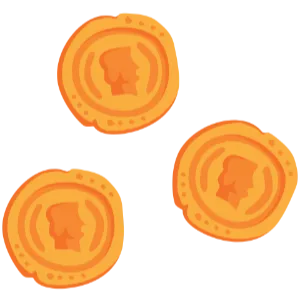 Now, I'm digitalizing it: scanning, OCR'ing, editing, and publishing. It's not a light task, so please feel free to contribute to my work! (More on the way!, so help me stay motivated to keep publishing these!)
Images haven't been included, since the illustrator, Lanta Spurrier, died in 1980?, so her illustrations aren't (necessarily) in the public domain.