This is a chapter of King Arthur and His Knights by Blanche Winder.
Merlin was growing very old now, and his work at Arthur's court was nearly finished. He had made the round table for the knights who took the great vow, and he had set the Seat Perilous at the king's right hand. No knight had as yet ventured to take his place on that mysterious seat. If ever one, or another, approached it, the fiery letters would suddenly shine out, in golden flame: "This is the Seat Perilous."
The great magician let his beard grow very long and white, and he would sit outside the great doors of Camelot, singing to himself and playing on a harp that he held in his long magician's fingers. And with him, very often, in those days, would sit the fairy Nimue, who was one of the ladies of the lake.
She had changed her name to Vivian, for Nimue was too strange a title for any human lady to bear. Since King Pellinore had brought her back to Arthur's court, she had behaved as much like a flesh-and-blood princess as she could. But she was never anything, really, but one of the ladies of the lake — a mysterious elfin thing, with mermaid's eyes, that were green and dark. She knew a lot of magic herself, and, in the old days, had often peeped in at Merlin, as he sat in his house with the seventy windows and the sixty doors. It had been in obedience to the old wizard's orders that she had helped to make the wonderful and high adventure of the fairy hunt, which had carried off King Arthur into the Enchanted Forest so soon after his wedding day. And now, it seemed to her, the old magician was growing weary of the world, and she thought that it would be nice for him to go away and live for ever in Fairyland.
Often she would persuade him to sing to her and, also, to tell her stories of the magic that he had made in his life. Her eyes would grow dark and bright with excitement as she listened, and she would twist her golden hair around her white fingers, and tap her little feet on the grass. Then she would ask him to walk with her in the woods and meadows, and she would make wreaths of wild roses and lilies, and hang them on her pretty neck and arms, as they talked.
Then she would try to make him speak of the Silver Table, and the Rich Fisher, and the Shining Cup, and ask him where he had hidden the little book in which it was all written down. But this Merlin would never tell her, for he knew well enough that she was only a fairy from Fairyland. Yet she fascinated him more and more! Because, you see, he kept telling her secret after secret, so that she was spinning webs of his own magic about him all the time.
One night they had been wandering in the woods together, and Merlin, cold and weary, was walking slowly home, alone. Vivian still lingered by the side of a lake in which were bright reflections of the stars. Tonight he was thinking deeply of Arthur and all the other knights of the Round Table. Above all, he was wondering when that knight would come who could sit safely in the Perilous Seat. Because Merlin knew that this knight, and he only, would be the knight who would be able to go into that far mysterious place where Joseph had hidden the Silver Table and the Holy Grail.
As he thought about these things, all at once a voice came through the trees, and he saw an old, old man leaning upon his staff, who spoke his name, "Merlin."
"Who are you?" said Merlin, startled.
"I am Blaise, the hermit who christened you many, many years ago. Merlin, I have come to warn you. Your own enchantments are being woven around you! If you go on teaching your lady of the lake any more secrets, she will cast a spell on you that even you will not be able to break."
Merlin sighed.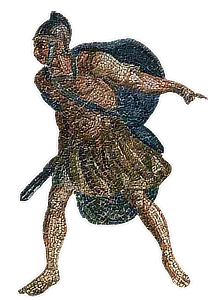 Theory without practice is absolutely useless. With a one-time payment, you'll have the full course forever, with all the theory explained in video and dozens of hours of practice analyzed and explained step by step by me on the screen.
Join the Latin from Scratch course! ⚡
"Good Blaise," said he, "what am I but half a fairy, myself! I have done, I think, all that I was meant to do. I have set King Arthur on the throne of his father; I have made the Round Table; I have explained the letters written in the Seat Perilous. The Shining Cup is still hidden, but I do not think I am meant to wait at Arthur's court until it is found. I would be glad to go into some far country —say, to Broceliande— and to rest there in the green forests forever."
Blaise waited a minute or two, then spoke again.
"It may be as you say," he answered. "Perhaps your work is really done. It has been a good work, Merlin. The wicked mountain demons have lost much of their power since the Round Table was made. They will lose it all when once the Shining Cup has been found again. So go your way, Merlin! Rest if you like, forever, by the side of the woodland fountain, under the branches of the tall green tree!"
The hermit's voice died away, and, even while Merlin looked, Blaise seemed to be swallowed up in the shadows of the wood. But, slipping starrily through the trees, he saw the bright nymph, Vivian, coming to him again.
"Great wizard," she said, putting her little cool hand in his. "Come! Come away with me to Brittany! Come to Broceliande!"
Merlin laid his arm around her shoulders. "If I should go with you to Broceliande," he said, "I do not think that I should ever come back!"
"Never mind," whispered the fairy. "Only come!"
She drew him across the dim dewy meadows until they reached the sea. There, under the stars, a little boat was rocking — one of the fairy boats that belonged to the ladies of the lake.
"Come!" whispered Vivian once more. And this time Merlin gave way without another word.
So they sailed away to Brittany, and to Broceliande, where the green tree grew over the magical fountain that Gawaine, and only Gawaine, had found. But the lady of the lake knew every inch of the ferny path that led to it.
Then, before them, they saw whitethorn bushes glimmering pale, and, above the bushes, the tall green tree. They reached the fairy fountain and sat down beside it.
"See!" said Vivian. "Here is the white marble slab and the silver bowl fastened with the silver chain! But no knight is guarding the fairy well tonight!"
"Why should it be guarded?" asked Merlin, laying his hand on the marble. "The fountain is mine — has always been mine! The secrets of its waters are mine. This white stone is mine. See! My name is written there!"
Vivian looked, and sure enough, she saw letters of gold appear, just for a moment, on the marble slab:
"I am the stone of Merlin."
They shone there, exactly like the letters on the Seat Perilous, and then they faded away. The fairy drew nearer to the wizard, and he laid one hand on her hair; while, with the other, he fingered the silver bowl.
"Are all the secrets of Fairyland yours, Merlin?"
"Most of them, sweet lady of the lake. Most of them! They are strange secrets, but the greatest of all lies under that stone!"
"What is it? Tell me! What is it?"
"It is the secret of Sleep," said Merlin dreamily. "Of Sleep that can make a man lie and dream from day to day, from month to month, from year to year. I could almost wish I were folded in such a strange sweet Sleep."
"Tell me!" said the fairy again. "Tell me!"
And so Merlin told her, at last, the song and the dance that would draw from that mysterious stone its great secret of unending Sleep.
Then the fairy stood up, and, while he watched her, still dreamily, she began to sing, very softly, and to weave a fairy ring all about the tired old wizard, and the white marble slab, and the magic pool. And, as she sang and danced, Merlin's weary eyes closed, and his head drooped low on his chest, down which streamed his white long beard. Then a little silver mist, like pearly air, crept up from the fountain, and out from underneath the fairy stone. And the magician's head bent lower and lower, until, at last, he lay beside the mysterious fountain in Broceliande, fast asleep.
Vivian stopped singing and dancing, and stood looking at him in the moonlight, her eyes more like green water than ever. The leaf shadows flickered over her, and over the sleeping wizard, and the pearly mist grew thicker. And gathering her gleaming robes around her, she slid away like a silver shadow, back to her own enchanted waters, leaving Merlin sleeping soundly and calmly, in the fairy mist, under the tall green tree.