This is a chapter of King Arthur and His Knights by Blanche Winder.
Sir Tristam was born in a country called Lyonnesse, and his mother was a great queen, who died when he was only a few hours old. After some years, the king, his father, married again and had more children — handsome little sons and pretty little daughters. But their mother, Tristram's stepmother, was very jealous of the prince, who was the child of her husband's first wife, and she tried to poison him. When the king found this out, he was very angry and ordered the wicked stepmother to be burned. But little Tristram burst into tears when he was told of this terrible punishment. He ran to the king, his father, and, kneeling at his feet, begged that his stepmother's life should be spared. So the king pardoned her, and, after he had saved her life, the stepmother simply worshipped the ground upon which the young prince trod.
He was brought up chiefly in Brittany, and then, when he had grown into a young man, he went to the court of King Mark of Cornwall. There, everybody liked him and admired him heartily for his courage and his goodness of heart. He was musician as well as knight, and played the harp as beautifully as any minstrel, so that all the ladies of the court would sit together and whisper about him. They wished he would fall in love with one of them, but, although he was the very soul of courtesy and chivalry, he had no desire to marry.
After a time, he went, as did all young knights in those days, to King Arthur's court, and became a knight of the Round Table, while still quite young. He fought in many tournaments, and the ladies who watched would say to each other: "Here comes Sir Tristram. See the lions upon his shield!" For the lions were Sir Tristram's coat of arms.
Then came a day in Sir Tristram's life which was very wonderful, and yet, in the end, very sad. He was sent to Ireland, by King Mark, to bring back a beautiful princess, called Iseult, who was to be King Mark's bride, and take her place as queen of Cornwall. Sir Tristram set off in a beautiful ship, with shining sails and cabins fitted up in silver and gold. He took his harp with him, and also his shield, his spear, his helmet, and his sword. He did not know whether there might not be many adventures waiting for him in Ireland.
Sure enough, no sooner did he reach Ireland than he found the king, Princess Iseult's father, in great need of help from the attacks of many enemies. So Sir Tristram put his sword and spear at the king's service, and helped him in many a fight, until the princess Iseult began to think that the young knight who had come to fetch her to Cornwall was the finest knight in the world. So that, when at last they set sail together for Cornwall, after the king of Ireland had conquered his enemies, the two young people were more than half in love with each other.
But Princess Iseult would have married King Mark, and probably forgotten Tristram, if it had not been for something that happened on the voyage. You must know that Iseult had taken her lady-in-waiting with her, and that the queen of Ireland had given this lady a magic drink, in a crystal bottle with a gold stopper. It was a love drink, a fairy wine, which would make those who drank it together love each other forever and ever. This love drink, said the queen, was to be drunk by Iseult and King Mark on their wedding day.
Well, the weather was hot, and the sparkling sea seemed to make it hotter, and Sir Tristram sat on the deck of the fine ship in the sunshine and played his harp to beautiful Iseult. When he laid it down she asked him to go into the cabin below and bring her something to drink, for she was very thirsty.
Sir Tristram went down, and there, on the table, he saw a pretty crystal bottle, with a gold stopper, filled with what looked like sparkling wine. He carried it on deck to Princess Iseult, who took it eagerly into her hand, drew out the gold stopper, and tasted the fragrant drink. It gave her a delicious cool feeling, and she passed the crystal bottle to Sir Tristram and bade him also drink some. He did so — and then they looked at each other in amazement and rapture. They had drunk the fairy drink together, the drink intended for Iseult and King Mark.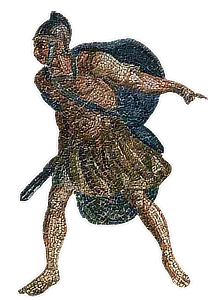 Theory without practice is absolutely useless. With a one-time payment, you'll have the full course forever, with all the theory explained in video and dozens of hours of practice analyzed and explained step by step by me on the screen.
Join the Latin from Scratch course! ⚡
Sir Tristram did not speak, but he took up his harp and he played and sang the most beautiful and yet the saddest love song that was ever composed. Iseult sat with her lovely face hidden in her white hands, and her dark hair shining like polished ebony in the sunlight. The breeze rustled mournfully in the sails of the ship, and the waves had a sorrowful sound in them, as if the very mermaids and water nymphs were weeping for poor young Sir Tristram and sweet Princess Iseult. For never, never had two lovers felt love like that which had been hidden in the fairy drink, and which could not end in a happy marriage, because Iseult was the promised bride of King Mark.
So Tristram took his dear princess to Cornwall, and she was married with royal rejoicings, and her sorrowful knight went away and had many great and fine adventures for her sake. But they could never forget what they had felt when they drank the fairy drink and were always faithful to each other's memory.