This is a chapter of King Arthur and His Knights by Blanche Winder.
It was midnight. On top of a high mountain, hundreds of wicked fairy men were sitting or standing in strange shadowy groups under the tiny light of a new moon. They were talking eagerly and gloomily among themselves. Below them were the dim houses of the villages, with many a shadowy church tower rising above the roofs. And the wicked fairy men were saying to each other that there were too many such churches and that every good man or good woman in the human world made the power of themselves, the spirits of evil, grow less.
A terrible-looking old wizard, with a face dark and knotted and with a long grey beard, spoke louder than the rest. He was as clever as he was wicked, and all the others hushed their talk to listen to him.
"What we must do," said he, "is to persuade a human maiden to marry one of us. Their children will, of course, be half men and half fairies. The eldest child will soon belong entirely to us, and, through him, we can regain the power in the world that we are losing so fast."
All the wicked fairy men nodded their heads.
"Good! Good!" they said, all together. "Very good!"
The terrible old wizard glanced around the circle of dim moonlit faces in search of one that was nice-looking. But each was uglier than the last.
"A lovely princess lives in the castle on the opposite side of the valley," he declared. "But I do not think she would be likely to fall in love with one of us!"
Then a dark fairy man stepped out from the rest. For all that he was quite one of the youngest among them: he had just kept his thousandth birthday. His long lean hands were like birds' claws as he held them up to command attention.
"I know something of the princess," said he. "She is careless. And now and then she goes to sleep without asking our greatest enemies, the white spirits of the air, to protect her."
"Ah-h-h-h!" hissed all the wicked fairy men together. "Then she puts herself in our power!"
The awful old wizard chuckled with delight. "Go quickly!" he cried. "Put on your bat's wings and fly to her window! If the white spirits of the air are not there, you will be able to get in and to change yourself into anything you like!"
So the bad fairy man fastened on his bat's wings and swept over the valley. A jeweled lamp was set in the princess's window, but there were no white spirits hovering near. The little princess had gone to bed, forgetting all about them.
So the fairy man slipped in at the open casement. And there, the sweetest maiden in the world lay fast asleep.
He tiptoed up to her, a dark, mysterious, cruel shadow. Then, all at once, she opened her eyes and saw him. But the good spirits were very far away and could not show him as he really was. And so, the princess smiled and lay looking at him. She was half-dreaming; and, in her dream, the old bad fairy man seemed to be a beautiful gold-clad prince. He lifted her in his arms and carried her to the window sill. And then all the other wicked fairy men came flapping about the castle on their great dark wings. But the little princess was still dreaming of the beautiful fairy prince and of a wonderful palace, built of gold and mother-o'-pearl, where he lived with magnificently dressed courtiers to wait on him. In this dream, she married him with all the proper fairy ceremonies and sat with him on his throne.
Night after night the princess dreamed this, but always forgot all about her dream in the daytime. At last, she seemed to go to sleep for a much longer time than usual and to dream that a wonderful fairy child was born.
Then, in her dream, there came to her for the first time the memory of the white spirits of the air. And she told the fairy prince and all his courtiers that the little baby must be christened.
Behold! A great clap of thunder shook the air! The golden light changed to darkness and the prince, and his courtiers, into strange and terrible beings with wide black wings like bats. They flew hither and thither in a whirring angry crowd. The princess woke in terror to find herself alone, shut up in a deserted tower, with nobody near but the fairy baby upon her knees.
She began to cry bitterly, when lo! a little, soft, kind voice came from the rosy mouth of the tiny thing on her lap.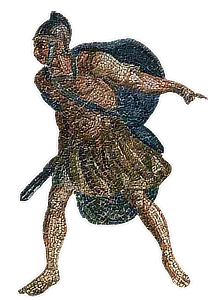 Theory without practice is absolutely useless. With a one-time payment, you'll have the full course forever, with all the theory explained in video and dozens of hours of practice analyzed and explained step by step by me on the screen.
Join the Latin from Scratch course! ⚡
"Don't cry," said the baby. "I know a way to help you. And through me, all sorts of wonderful things will come to pass."
Then a step came up the long winding stair, the door opened, and a good and holy man called Blaise, who looked at her gravely but very kindly, stood on the threshold.
"Oh, Blaise! Dear Blaise!" cried the poor little princess. "What has happened?"
"My little princess," said Blaise, "it is for you to tell us. Strange stories are being told about you. People say that you have been, for many months, in the power of the wicked fairy men who live on the mountain. And they declare that you have been married to one of them, secretly, and that the little baby in your arms is the son, not of a baptized human prince, but of a prince of wickedness and darkness."
Then the princess cried more bitterly than ever and told Blaise all about it.
Blaise hurried off and came back with a silver chalice full of water drawn from a well where the white spirits might often be seen flying about at sunset. And, then and there, he christened the little fairy baby — naming him Merlin. And when the water from the well sparkled in bright drops all among the baby's golden hair, little Merlin laughed and shouted with gladness.
"I am a human baby now!" he cried. "But still I know things that other human babies will never know! And, when I grow up, I shall be able to use all sorts of wonderful powers that I have inherited from the fairy men of the high mountain. But I shall use them for good, and not for evil; for, through me, a round table shall be given to a great king, and many knights shall sit about it, and the deeds these knights shall do will be blessed by the poor and the weak and the helpless, and sung by golden-mouthed poets for hundreds and hundreds of years!"
Then Blaise led the little princess back to her own chamber, where the white spirits who loved her flew, like snowy birds, backward and forward before the window, so that the wicked fairy men of the mountain were never again able to get in.