Do you study or work?
Vintage and old-fashioned (though still used) Spanish pick-up line that should be better rendered as: "Do you study or are you a NEET?". Now, "Come here often?" is preferred, although this one is starting to stink too.
We have a disjunctive question, which in Latin are in the indicative, unless there's some special aspect, which is not the case.
There are several ways to express the disjunctive question in Latin. According to Spanish grammarian Bassols, the commonest is utrum … an; then, ‑ne … an; etc. The first option goes against the spontaneity of the question, so a monosyllabic enclitic fits better; also, ‑ne became disused during imperial times, which suits much better our question.
Join the Latin from scratch course!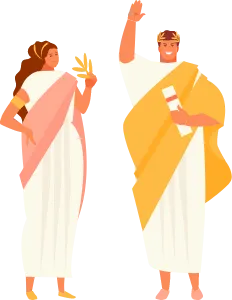 Theory without practice is absolutely useless!
With a one-time payment you'll have the full course forever, with all the theory explained in video (no dirty YouTube ads) and, most importantly, dozens of hours of practice analyzed and explained step by step by me on the screen. Join now!