Hi y'all, friends!
Hi there! My name is Latinissimus, and I'm here to translate typical Spanish and English sayings into Latin. My intention is to explain, for each sentence, some linguistic and/or cultural feature, either about the original saying or its translation.
In the very first one, I've tried to reflect some (Spanish-speaking) people's preference to try to integrate both sexes/gender with an at symbol (i.e. @), because @ is considered a mixture of o and a, typical marks of masculine and feminine.
In Latin, omnes (nominative plural) is common for masculine and feminine, so it isn't very interesting in this regard. On the other hand, amicae (vocative plural feminine) and amici (vocative plural masculine) are different. In an attempt to integrate both endings, I've come up with amicai, which casually has an archaic diphthong ai, which later evolved into ae.
Join the Latin from scratch course!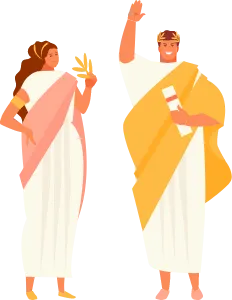 Theory without practice is absolutely useless!
With a one-time payment you'll have the full course forever, with all the theory explained in video (no dirty YouTube ads) and, most importantly, dozens of hours of practice analyzed and explained step by step by me on the screen. Join now!