What a heat, my sour!
It's so hot in July! It's very common to complain about how hot the weather is. Even more in Seville, the hottest city in Spain.
There's a typical Sevillian expression, mi arma (literally 'my weapon') used only in vocative function by very old people or very Sevillian people. The origin, though, is mi alma 'my soul'. The confusion of liquid consonants in syllable-ending position is frequent in Andalusian speech in favor of [ɾ]: alma [ˈaɾma], el niño [eɾˈniɲo], etc. In some Hispanic-American countries, however, we have the opposite: amor [aˈmol].
To reflect something similar in the Latin translation, I chose alima. The Spanish alma comes from Latin anima, which undergoes syncope of ĭ and would have resulted in *anma; but due to a dissimilation (similar to *canmen —from the verb cano + suffix ‑men—, which dissimilates resulting in carmen) the [n] becomes, in most Romance languages, [l], although in Sicilian and Occitan we find arma instead of alma, and in Old French even anme (without dissimilation) and arme.
It's customary in Seville (among other places) to consider the noun calor, masculine, as feminine: la calor, also found in phrases such as qué calor más asquerosa 'what a disgusting heat'. In this case, we can't see it in Spanish, but in Latin, since quis, quae, quid can be inflected, we can. Therefore, we just have quae calor, feminine, even when calor in Latin is masculine. However, this change of gender is not so strange among 3rd declension nouns ending in ‑or, such as Classic Spanish la color instead of el color or, without going any further, French la chaleur, feminine.
As we already said, mi arma, even when it comes from mi alma 'my soul', can be understood as "my weapon", so here I offer an alternative translation:
Quae calor, telum meum!
Join the Latin from scratch course!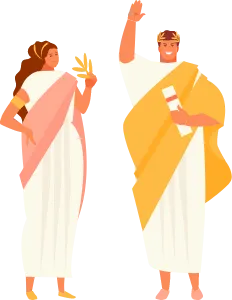 Theory without practice is absolutely useless!
With a one-time payment you'll have the full course forever, with all the theory explained in video (no dirty YouTube ads) and, most importantly, dozens of hours of practice analyzed and explained step by step by me on the screen. Join now!