Spill the beans!
This idiom is an "invitation" to divulge a secret. There are some folk etymologies involving the Greek ballot system, but there's consensus that its origins take place in America in the 20th century.
The Latin translation is easy, but the interesting thing is the accusative fabas, which is probably related to "bean" (but not to "pea") since Indo-European times. Some like Lewis & Short —mistakenly, in my opinion— state that faba is related to Greek φαγεῖν 'to eat'. However, it makes much more sense that faba come from a reduplicated root *bʰa‑bʰa‑, whereas Proto-Germanic *bauno (cf. German Bohne; Dutch boon) uses the simple root with a suffix.
Ernout-Meillet don't trust this explanation, since —they say— */bʰ/ can't evolve into Latin /b/; but it can. Indo-European */bʰ/ can evolve in several ways within the Latin language:
Word-initial /f/, as in fero < *bʰer‑ (cf. Greek φέρω [ˈpʰeroː]; English "bear"), so we have, so far, *fa‑bʰa;
Intervocalic /b/, as in nebula < *nebʰ‑es‑ (cf. Greek νέφος [ˈnepʰos]), so we have, indeed, faba.
Join the Latin from scratch course!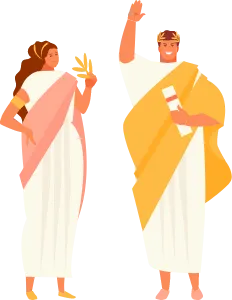 Theory without practice is absolutely useless!
With a one-time payment you'll have the full course forever, with all the theory explained in video (no dirty YouTube ads) and, most importantly, dozens of hours of practice analyzed and explained step by step by me on the screen. Join now!