Elephant in the room
According to Urban Dictionary, this idiom refers to "a very large issue that everyone is acutely aware of, but nobody wants to talk about"; sometimes it's a white or pink elephant. There's nothing similar in Spanish, though stories like «The Emperor's New Clothes» in Tales of Count Lucanor have existed for centuries.
The Latin translation is simple, but two things are worth mentioning: the form elephas and the word cubiculo. This word refers to the bedroom (from the verb cubo 'lay down'); the difference between cubiculum and cella is that cella refers to the room for the slaves, as in fact one can deduce from other meanings of cella such as "store-room, cell, granary" and even English "cellar".
Latin took the Greek noun ἐλέφας, ἐλέφαντος (just "ivory" at first; it wasn't until Herodotus that it designated the animal), but they didn't create a 3rd declension noun in ‑nt‑, but a 2nd declension elephantus, ‑i; Ernout-Meillet, in their Dictionnaire étymologique say that the word was borrowed during the Pyrrhic War, "undoubtedly" a popular form made on the basis of the Greek genitive.
This is the commonest and oldest form in the Latin literature, though a form following the Greek pattern, elephas, elephantis, would be created, and even a nominative elephans according to the Latin model amans, amantis, which wasn't acceptable in Greek but was in Latin, though this last form wasn't very common.
Ernout-Meillet also state that the Romance descendants have a written ‹o› (which represented an [o] pronunciation):
Old French olifant (whence Middle English olyfaunt)
Old Italian lio(n)fante (with metathesis and epenthesis?)
Provençal olifan
This probably means that the vulgar pronunciation was indeed [o], despite the etymologic Greek [e] (cf. oleum ↔ ἔλαιον). The current ‹e› [e] must be a learned etymological reconstruction.
Join the Latin from scratch course!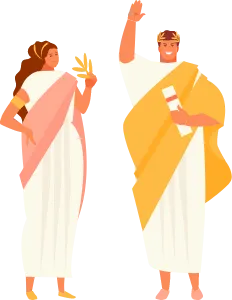 Theory without practice is absolutely useless!
With a one-time payment you'll have the full course forever, with all the theory explained in video (no dirty YouTube ads) and, most importantly, dozens of hours of practice analyzed and explained step by step by me on the screen. Join now!