Dogs shouldn't be tied with longaniza
First, longaniza "is a Spanish sausage (embutido) similar to a chorizo".
This saying has a few versions, but the general meaning is that resources shouldn't be wasted lightly. The positive version, such as "In John's house, they tie the dogs with longaniza", means that John's family is very rich (or pretends so) and allow themselves to squander with largesse.
The origin seems to be in the story about a town in Salamanca (Spanish city famous for their cold cuts, among other things), a girl working in a longaniza factory tied a dog with longanizas to prevent the dog from interrupting her. One can guess that it didn't take too long for the dog to eat the longanizas and be free again, which made her action useless and a waste of longanizas.
In the Latin translation we should point out, first, the verb in the passive voice, which reflects the Spanish pasiva refleja; also, it's a gnomic present. But the most interesting thing here is the noun lucanica and it's evolution to Spanish longaniza.
In Spanish, longanizas take their name from classical Latin lucanica, applied to the typical Lucanian sausage. This form would have resulted in Spanish *luganga. The z (pronounced as in "think") should be explained from the fact that the noun developed from the vulgar form lucanicia; also, once the word had already evolved into something like *loganiza, an n was inserted, influenced by the n in longus, since longanizas have a long shape.
Join the Latin from scratch course!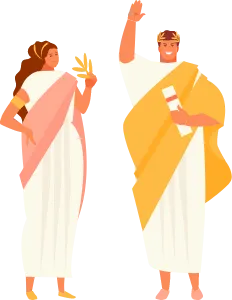 Theory without practice is absolutely useless!
With a one-time payment you'll have the full course forever, with all the theory explained in video (no dirty YouTube ads) and, most importantly, dozens of hours of practice analyzed and explained step by step by me on the screen. Join now!