In the fourth module of the Latin from Scratch course, we'll learn the third declension, which will allow us to also learn the third declension adjectives. This is a crucial step, since a large amount of nouns and adjectives belong to the third declension.
Classes on the third declension
The third declension

(18m 06s)

Third declension adjectives

(11m 38s)
Practice: morphosyntactic analysis and translation (4)
On this occasion we will translate a few more sentences and a short story adapted from Julia – A Latin Reading Book on the death of the Roman monarchy and the beginning of the Roman republic.
Cives Romae multa iura habebant.

Homines et mulieres in casis temporibus antiquis habitabant.

Tempus vitae hominum mulierumque breve est et erit.

Magna erat apud Germanos auctoritas sacerdotum, nam sacerdos disciplinae custos erat.
Post Romulum sex reges in urbe regnabant. Sed Tarquinius, ultimus regum, superbus et crudelis erat. Nec iura bona populo dabat, nec civitatem bene gubernabat. Itaque Romani Tarquinium et Sextum, Tarquinii filium, crudelem ferocemque adolescentem, ex urbe expellunt. «Non iam», inquiunt, «Romanis reges erunt. Cives Romani, non reges, urbem civitatemque regent».
Here you have the statements of the words appearing in the translation for this module. It is important for you to learn the vocabulary. To compel you to do so, I won't usually repeat words from previous modules.
For the sentences:
civis, civis — citizen
ius, iuris — law
homo, hominis — man
mulier, mulieris — woman
casa, casae — cottage
tempus, temporis — time
antiquus, antiqua, antiquum — ancient, old
vita, vitae — life
brevis, breve — brief
Germanus, Germana, Germanum — German(ic)
auctoritas, auctoritatis — authority
sacerdos, sacerdotis — priest
nam — for
disciplina, disciplinae — discipline
custos, custodis — guardian
For the text:
post — after (accusative preposition)
sex — six
rex, regis — king
in — in (ablative preposition)
urbs, urbis — city
regno, regnare, regnavi, regnatum — reign, rule
Tarquinius, Tarquinii — Tarquin
ultimus, ultima, ultimum — last
superbus, superba, superbum — proud, arrogant
crudelis, crudele — cruel
nec — nor, and not
ius, iuris — law
populus, populi — people
civitas, civitatis — city
bene — well
guberno, gubernare, gubernavi, gubernatum — govern
itaque — so
Sextus, Sexti — Sextus
ferox, ferocis — ferocious, savage
adolescens, adolescentis — youth
ex — from (ablative preposition)
expello, expellere, expuli, expulsum — expel, throw out
iam — already
inquam, -, inquii, – — say
civis, civis — citizen
rego, regere, rexi, rectum — guide, conduct
Review of the translations
Once you have finished with the analysis and translations, now it's time to review them on the screen.
⚠️ Even if you think you've done everything correctly, it is very important for you to always check the review, since that's where we actually practice and check what we have learned. You've already seen that the analysis-translation process is quite systematic and strict at first, precisely so we can absorb everything we're doing.
In the following video (⏳ 13m 48s ⌛) I analyze and translate the sentences:
🔒
Access to this content is exclusive for premium students.
Buy the course for full access or log in (if you've already bought).
And now the text (⏳ 15m 24s ⌛):
🔒
Access to this content is exclusive for premium students.
Buy the course for full access or log in (if you've already bought).
In the next module we'll learn the perfect past tense, quite frequent and useful in stories.
Join the Latin from scratch course!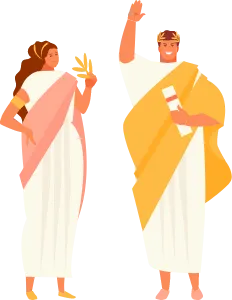 Theory without practice is absolutely useless!
With a one-time payment you'll have the full course forever, with all the theory explained in video (no dirty YouTube ads) and, most importantly, dozens of hours of practice analyzed and explained step by step by me on the screen. Join now!