In the eleventh module of the Latin from Scratch course, we'll study the four tenses of the subjunctive mood (plus the future perfect indicative). The subjunctive mood appears quite often in common structures which we will study soon.
Classes on the subjunctive mood
Practice: morphosyntactic analysis and translation (11)
On this occasion we will translate a fable adapted from the lectio XXIII in the Ludus Latinus by Wilhelm Hartke.
Aliquando asinus mansuetus in agro fecundo erat. Tum asinus ferus appropinquavit et cibum eius cum cibo suo comparavit. «Utinam», inquit, «mihi tua vita esset! Utinam ne tam saepe inopia victus laborarem! Si tecum essem, semper mihi satis pabuli esset, numquam in periculo, sed tutus essem».

Paulo post asinum mansuetum, magna copia frumenti onustum, agricola virga incitabat. Tum asinus ferus exclamat: «Quam stultus fui! Utinam ne fortunam tuam tam malam celebravissem! Si mihi nota fuisset, numquam te beatum appellavissem. Semper vita mea contentus ero!».
Here you have the statements of the words appearing in the translation for this module. It is important for you to learn the vocabulary. To compel you to do so, I won't usually repeat words from previous modules.
For the text:
aliquando — once upon a time
asinus, asini — ass, donkey
mansuetus, mansueta, mansuetum — docile, domestic
fecundus, fecunda, fecundum — fertile, fruitful
tum — then
ferus, fera, ferum — wild
cibus, cibi — food
eius (genitive) — of his
comparo, comparare, comparavi, comparatum — compare
utinam (ne) — I wish (that not)!
inquit — says
inopia, inopiae — lack
victus, victus — sustenance, food
laboro, laborare, laboravi, laboratum — work hard, suffer hardships
satis (+ genitive) — enough
pabulum, pabuli — fodder, forage
numquam — never
tutus, tuta, tutum — safe, secure
paulo post — a little after
frumentum, frumenti — grain
onustus, onusta, onustum — laden
virga, virgae — stick, rod
incito, incitare, incitavi, incitatum — urge, hit
exclamo, exclamare, exclamavi, exclamatum — exclaim
stultus, stulta, stultum — silly, fool
celebro, celebrare, celebravi, celebratum — celebrate
notus, nota, notum — known, famous
beatus, beata, beatum — fortunate
appello, appellare, appellavi, appellatum — call
Review of the translations
Once you have finished with the analysis and translations, now it's time to review them on the screen.
⚠️ Even if you think you've done everything correctly, it is very important for you to always check the review, since that's where we actually practice and check what we have learned. You've already seen that the analysis-translation process is quite systematic and strict at first, precisely so we can absorb everything we're doing.
In the following video (⏳ 19m 50s ⌛) I analyze and translate the sentences:
🔒
Access to this content is exclusive for premium students.
Buy the course for full access or log in (if you've already bought).
In the next module we'll start putting all of these subjunctives into real practice with frequent structures.
Join the Latin from scratch course!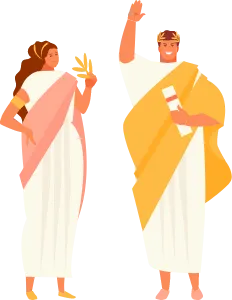 Theory without practice is absolutely useless!
With a one-time payment you'll have the full course forever, with all the theory explained in video (no dirty YouTube ads) and, most importantly, dozens of hours of practice analyzed and explained step by step by me on the screen. Join now!