In the second module of the Latin from Scratch course, we'll study the second declension, which will also allow us to learn the first-class (2-1-2) adjectives and deal with them in our translations.
Classes on the second declension and adjectives
The second declension

(09m 56s)

2-1-2 adjectives

(10m 08s)
Practice: morphosyntactic analysis and translation (2)
We are already in the second module, so we start directly with the translations. Analyze and translate the following sentences, and the short text about the Germanic people, according to Roman historian Tacitus (fragment from the lectio XI in Ludus Latinus by Wilhelm Hartke):
Puer et puella aquam in fluvii ripa potant.

Medici puerorum puellarumque morbos herbis curant.

Lupi agnos in silvis vorant.

Nautae cum agricolis ferri gladiis pugnant.

Rosae pulchrae sunt.

Veri amici bona consilia dant.

Studio imperii Romani magna bella gerunt.

Divitiae multarum laetitiarum et multorum malorum causa est.
Tacitus, historicus clarus et doctus, multa de terra et vita Germanorum antiquorum narrat. Caelum Germaniae serenum non est, sed Germani naturam patriae amant. Silvae Germaniae magnae et densae sunt; campi, lati. Germani aedificia lignea aedificant. Sub aedificiis parvae cellae sunt. Capilli Germanorum flavi, oculi caerulei sunt. Fama feminarum Germanorum bona est; nam fidae sunt.
Here you have the statements of the words appearing in the translation for this module. It is important for you to learn the vocabulary. To compel you to do so, I won't usually repeat words from previous modules.
For the sentences:
puer, pueri — boy
puella, puellae — girl
aqua, aquae — water
in — in
fluvius, fluvii — river
ripa, ripae — shore
poto, potare, potavi, potatum — drink
medicus, medici — medic, doctor
morbus, morbi — disease
herba, herbae — herb
curo, curare, curavi, curatum — cure
lupus, lupi — wolf
agnus, agni — lamb
silva, silvae — forest
voro, vorare, voravi, voratum — devour
nauta, nautae — sailor
cum — with
agricola, agricolae — farmer
ferrum, ferri — iron
gladius, gladii — sword
pugno, pugnare, pugnavi, pugnatum — fight
rosa, rosae — rose
pulcher, pulchra, pulchrum — beautiful
verus, vera, verum — true
amicus, amici — friend
bonus, bona, bonum — good
consilium, consilii — advice
do, dare, dedi, datum — give
studium, studii — desire, ambition, eagerness
imperium, imperii — power
Romanus, Romana, Romanum — Roman
magnus, magna, magnum — big
bellum, belli — war
gero, gerere, gessi, gestum — carry through
divitia, divitiae — riches, wealth
multus, multa, multum — much, a lot
laetitia, laetitiae — joy
malum, mali — evil, harm
causa, causae — cause
For the text:
Tacitus, Taciti — Tacitus (Roman historian)
historicus, historici — historian
clarus, clara, clarum — famous
doctus, docta, doctum — learned, wise
multus, multa, multum — much, a lot
de — on, about (plus ablative)
vita, vitae — life
Germanus, Germana, Germanum — German(ic)
antiquus, antiqua, antiquum — ancient
narro, narrare, narravi, narratum — narrate, tell
caelum, caeli — sky
Germania, Germaniae — Germania
serenus, serena, serenum — calm, serene
non — no
sed — but
natura, naturae — nature
patria, patriae — fatherland
amo, amare, amavi, amatum — love
silva, silvae — forest
magnus, magna, magnum — big
densus, densa, densum — dense, thick
campus, campi — field
latus, lata, latum — wide
aedificium, aedificii — building
ligneus, lignea, ligneum — wooden
aedificio, aedificare, aedificavi, aedificatum — build
sub — under, below (plus ablative)
parvus, parva, parvum — little
cella, cellae — barn, warehouse
capillus, capilli — hair
flavus, flava, flavum — blond
oculus, oculi — eye
caeruleus, caerulea, caeruleum — blue
fama, famae — fame, reputation
femina, feminae — woman
bonus, bona, bonum — good
nam — for
fidus, fida, fidum — faithful, loyal
Review of the translations
Once you have finished with the analysis and translations, now it's time to review them on the screen.
⚠️ Even if you think you've done everything correctly, it is very important for you to always check the review, since that's where we actually practice and check what we have learned. You've already seen that the analysis-translation process is quite systematic and strict at first, precisely so we can absorb everything we're doing.
In the following video (⏳ 22m 28s ⌛) I analyze and translate the sentences:
🔒
Access to this content is exclusive for premium students.
Buy the course for full access or log in (if you've already bought).
And now the text (⏳ 20m 40s ⌛):
🔒
Access to this content is exclusive for premium students.
Buy the course for full access or log in (if you've already bought).
Yes, they are definitely harder than the sentences in the previous modules… but we need to keep moving forward!
In the next module we'll learn two new tenses: the imperfect past and the imperfect future (both indicative active). Imperfect is especially important, since it's a narration tense, thus quite frequent in historiography.
Join the Latin from scratch course!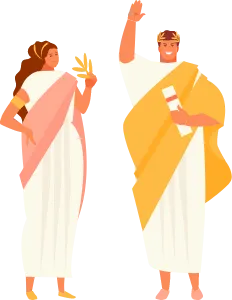 Theory without practice is absolutely useless!
With a one-time payment you'll have the full course forever, with all the theory explained in video (no dirty YouTube ads) and, most importantly, dozens of hours of practice analyzed and explained step by step by me on the screen. Join now!