In the thirty-sixth class of the Latin from Scratch course, we'll study —or rather we'll make the effort to understand— relative time, which is fundamental to correctly translate participles and especially infinitives.
I explain everything in the following video (⏳ 15m 18s ⌛):
BUY THE COURSE for full access, including:
📺 videos with analysis-translation 🔍 support 👨‍🏫 no ads anywhere 🛑
Absolute time and relative time
Absolute time is measured from the speaker and the moment of the utterance, the "now". Simply put, absolute time is the one in main or superordinate clauses.
Caesar dicit…

Caesar dixit…

Caesar dicet…
Relative time, on the other hand, is measured according to the absolute time of the superordinate clause (because, simply put, relative time is the one in subordinate clauses).
There are three types of relative time:
Simultaneity: the action of the subordinate clause happens at the same time (simultaneously) as the action in the superordinate clause.
Anteriority: the action of the subordinate clause happens before the action in the superordinate clause.
Posteriority: the action of the subordinate clause happens after the action in the superordinate clause.
Relative time
Latin can express different relative times through the different infinitives and participles (present, perfect, future…). The difficulty, or rather big difference between Latin and English, is that both English infinitives and participles have lost much of the time content.
That is why quite often we will have to convert Latin non-finite verbs into English finite forms, so the English verbs express the relative time expressed by the Latin participles or infinitives.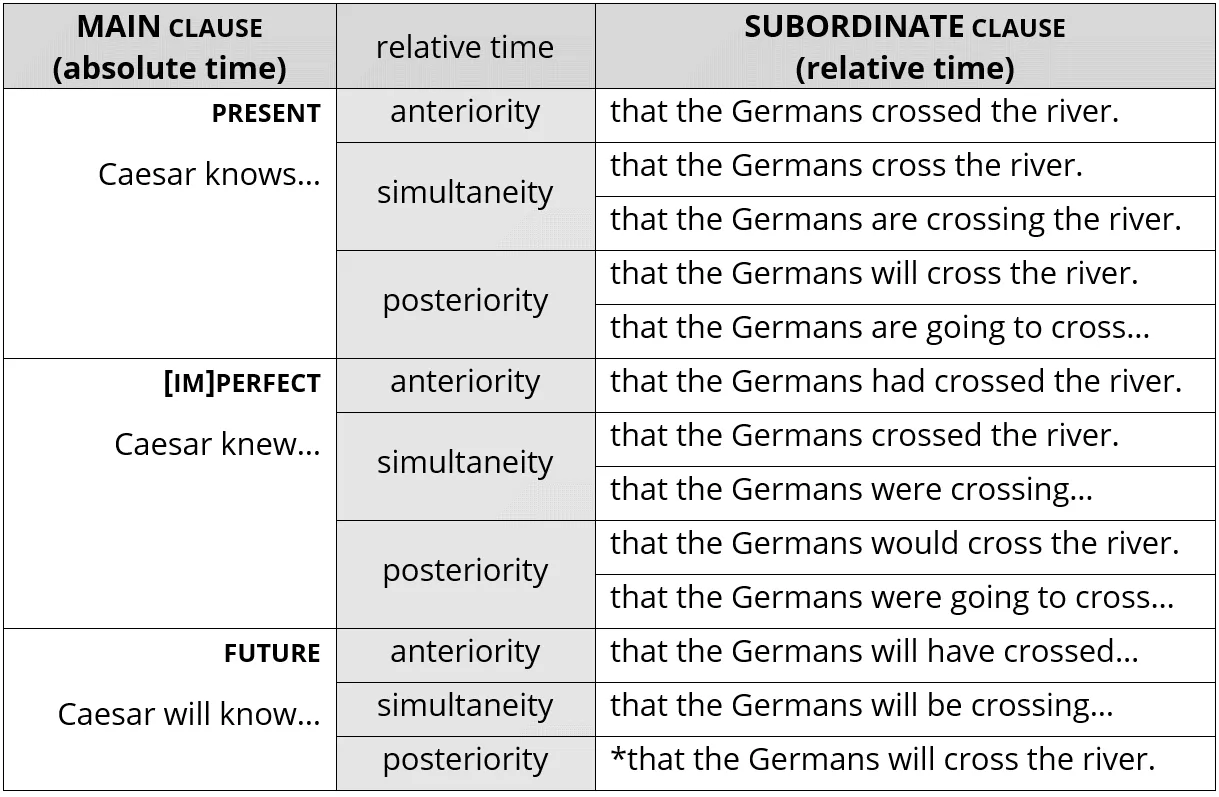 This relative time is expressed, in infinitives and participles, by the stems/tenses:
anteriority: perfect
simultaneity: present
posteriority: future
Last remarks
As some kind of linguistic reflections to finish off, let's take a look at the requirements of the expression of relative time. We have to exclude…
verbs such as "see", "hear", etc. (direct perception): one cannot have direct perception of something already happened or yet to happen, so these verbs require simultaneity
verbs such as "remember", "regret", etc.: one cannot remember or regret something that hasn't happened yet, so these verbs require anteriority
subordinate clauses that themselves express relative time: final and consecutive clauses always express posteriority; causal clauses always express anteriority; manner clauses always express simultaneity…
After understanding relative time, we can go on and study participles and infinitives.
Join the Latin from scratch course!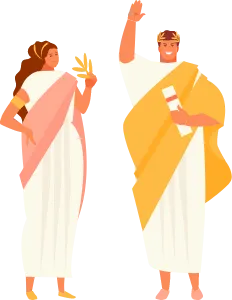 Theory without practice is absolutely useless!
With a one-time payment you'll have the full course forever, with all the theory explained in video (no dirty YouTube ads) and, most importantly, dozens of hours of practice analyzed and explained step by step by me on the screen. Join now!