In the nineteenth module of the Latin from Scratch course, we'll study the morphology and the syntax of participles. For this we need to understand relative time, which will be even more important in the next module about infinitives.
Classes on relative time and participles
Relative time

(15m 18s)

Participles: morphology

(09m 35s)

Participles: syntax

(18m 00s)
Practice: morphosyntactic analysis and translation (19)
In this occasion we will translate a few isolated sentences (mostly from Julius Caesar's Gallic War) with some editing. Important: don't freak out with the last paragraph: little by little!
Antonius ense destricto adversum hostes impetum fecit.

Caesar, milites in contione hortatus, multam praedam post victoriam eis pollicitus est.

Helvetii confertissima acie reiecto nostro equitatu phalange facta sub primam nostram aciem successerunt.

Id oppidum Aurunci primo possederunt, inde Achaei Troia domum redeuntes.

Caesar magnis nocturnis diurnisque itineribus contendit occupatoque oppido ibi praesidium conlocat.

Lucio Domitio Apio Claudio consulibus discedens ab hibernis Caesar in Italiam, ut quotannis faciebat, legatis imperat, quos legionibus praefecerat, uti quam plurimas possent hieme navium aedificationem veterumque refectionem curarent.
Caesar primum suo, deinde omnium, ex conspectu remotis equis, ut aequato omnium periculo spem fugae tolleret, cohortatus suos proelium commisit. Milites e loco superiore pilis missis facile hostium phalangem perfregerunt. Ea disiecta gladiis destrictis in eos impetum fecerunt. Galli magnum ad pugnam impedimentum habebant, quod pluribus eorum scutis uno ictu pilorum transfixis et conligatis, cum ferrum se inflexisset, neque evellere neque sinistra impedita satis commode pugnare poterant, multi ut diu iactato bracchio praeoptarent scuta e manu emittere et nudo corpore pugnare. Tandem vulneribus defessi et pedem referre et, quod mons suberat circiter mille passuum, eo se recipere coeperunt. Capto monte et succedentibus nostris Boii et Tulingi, qui hominum milibus circiter XV agmen hostium claudebant et novissimis praesidio erant, ex itinere nostros latere aperto adgressi circumvenerunt. Id conspicati Helvetii, qui in montem sese receperant, rursus instare et proelium redintegrare coeperunt.
Here you have the statements of the words appearing in the translation for this module. It is important for you to learn the vocabulary. To compel you to do so, I won't usually repeat words from previous modules.
For the sentences:
ensis, ensis — sword
destringo, destringere, destrinxi, destrictum — draw
adversum — against (+ accusative)
impetus, impetus — attack
contio, contionis — assembly
hortor, hortari, hortatus sum — exhort
confertus, conferta, confertum — tight
acies, aciei — line of battle
reicio, reicere, reieci, reiectus — reject, repel, drive back
equitatus, equitatus — cavalry
phalanx, phalangis — phalanx (type of battle array)
prima acies — vanguard, first line of battle
succedo, succedere, successi, successum — attack, pounce on
Aurunci, Auruncorum — Aurunci (Italic tribe)
possideo, possidere, possedi, possessum — possess
inde — then, next
Achaei, Achaeorum — Achaeans (= Greeks)
rediens, redeuntis — present participle from redeo (irregular) 'go/come back'
praesidium, praesidii — fortification, garrison
discedo, discedere, discessi, discessum — leave
hiberna, hibernorum — winter camp(s)
quotannis — every year, yearly
praeficio, praeficere, praefeci, praefactum — put in charge
uti = ut
hiems, hiemis — winter
aedificatio, aedificationis — construction, building
refectio, refectionis — restoration, renovation
curo, curare, curavi, curatum — take care, worry (about)
For the big paragraph:
conspectus, conspectus — sight
removeo, removere, removi, remotum — remove
aequo, aequare, aequavi, aequatum — make equal
tollo, tollere, sustuli, sublatum — remove
cohortor, cohortari, cohortatus sum — exhort
committo, committere, commisi, commissum — start, bring together
pilum, pili — pilum, javelin (spear to be thrown)
perfringo, perfringere, perfregi, perfractum — break, wreck
quod — because
ictus, ictus — blow, stroke
transfigo, transfigere, transfixi, transfixum — pierce
conligo, conligare, conligavi, conligatum — join, connect
ferrum, ferri — iron
inflecto, inflectere, inflexi, inflexum — fold
evellere — translate as 'take out', 'remove'
impedio, impedire, impedivi, impeditum — hinder
pugnare — translate as 'fight'
poterant — translate as 'they could'
diu — long time
bracchium, bracchii — arm
praeopto, praeoptare, praeoptavi, praeoptatum — prefer
emittere — translate as 'drop'
nudus, nuda, nudum — naked
tandem — finally
defessi — from defetiscor, but just translate as 'exhausted'
pedem referre — translate as 'retreat'
subsum, subesse, suffui — there is/are
circiter — approximately
eo — there
recipere — retreat
coepi, coepisse, coeptum — start (to)
succedo, succedere, successi, successum — chase
Boii, Boiorum — Boii (Gallic tribe)
Tulingi, Tulingorum — Tulingi (Gallic tribe)
claudo, claudere, clausi, clausum — close
novissimus, novissima, novissimum — the ones at the rearguard
latus, lateris — side
adgredior, adgredi, adgressus sum — attack
circumvenio, circumvenire, circumveni, circumventum — surround
conspicor, conspicari, conspicatus sum — notice, realize
rursus — again
instare — translate as 'take the position'
redintegro, redintegrare, redintegravi, redintegratum — reinstate, restore, reenter, rejoin
Review of the translations
Once you have finished with the analysis and translations, now it's time to review them on the screen.
⚠️ Even if you think you've done everything correctly, it is very important for you to always check the review, since that's where we actually practice and check what we have learned. You've already seen that the analysis-translation process is quite systematic and strict at first, precisely so we can absorb everything we're doing.
In the following video (⏳ 26m 20s ⌛) I analyze and translate the sentences:
🔒
Access to this content is exclusive for premium students.
Buy the course for full access or log in (if you've already bought).
And now let's go for the big paragraph (⏳ 44m 16s ⌛):
🔒
Access to this content is exclusive for premium students.
Buy the course for full access or log in (if you've already bought).
In the next module we'll study the infinitives.
Join the Latin from scratch course!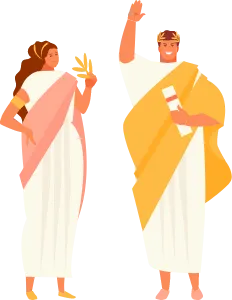 Theory without practice is absolutely useless!
With a one-time payment you'll have the full course forever, with all the theory explained in video (no dirty YouTube ads) and, most importantly, dozens of hours of practice analyzed and explained step by step by me on the screen. Join now!