In the sixteenth module of the Latin from Scratch course, we'll learn about relative clauses: the morphology of the most common relative pronoun and the fundamental morphosyntax of relative clauses.
Class on the relative clauses
Practice: morphosyntactic analysis and translation (16)
In this occasion we will translate a few isolated sentences and then two independent fragments from Julius Caesar Bellum civile and Bellum Gallicum.
Urbs, quam videtis, pulcherrima Italiae est.

Ipse Hannibal in Africam venit, quam Scipio vastabat.

Galerius Caesares duos creavit: Maximinum, cui Orientem, et Severum, cui Italiam dedit.

Caesar omnes copias, quas secum habebat, in castris reliquit.

Cimbri et Teutones, quorum copiae infinitae erant, ad Italiam venerunt.

Crassum is rex, cum quo bellum postea gravissimum fuit, vincit.
Caesar Ariminum cum ea legione venit, ibique tribunos plebis, qui ad eum confugerant, convenit. Reliquas legiones, quae conquiescebant, ex castris evocat. Eo L. Caesar adulescens venit, cuius pater Caesaris erat legatus.
Gallia est omnis divisa in partes tres, quarum unam incolunt Belgae, aliam Aquitani, tertiam qui ipsorum lingua Celtae, nostra Galli appellantur. Hi omnes lingua, institutis, legibus inter se differunt. Horum omnium fortissimi sunt Belgae, propterea quod a cultu atque humanitate provinciae longissime absunt minimeque ad eos mercatores saepe commeant atque ea, quae ad effeminandos animos pertinent, important proximique sunt Germanis, qui trans Rhenum incolunt, quibuscum continenter bellum gerunt. Qua de causa Helvetii quoque reliquos Gallos virtute praecedunt, quod fere cotidianis proeliis cum Germanis contendunt, cum aut suis finibus eos prohibent aut ipsi in eorum finibus bellum gerunt.
Here you have the statements of the words appearing in the translation for this module. It is important for you to learn the vocabulary. To compel you to do so, I won't usually repeat words from previous modules.
For the sentences:
urbs, urbis — city (Rome)
pulcher, pulchra, pulchrum — beautiful
Hannibal, Hannibalis — Hannibal (Carthaginian general and politician)
Scipio, Scipionis — Scipio (Roman general and politician)
Galerius, Galerii — Galerius (Roman emperor)
creo, creare, creavi, creatum — create, appoint
Maximinus, Maximini — Maximinus (Roman emperor)
Oriens, Orientis — Orient, East
Severus, Severi — Severus (Roman emperor)
relinquo, reliquere, reliqui, relictum — abandon, leave
Cimbri, Cimbrorum — Cimbri (Germanic people)
Teutones, Teutonum — Teutons (Germanic people)
Crassus, Crassi — Crassus (Roman general and politician)
postea — after
For the first text:
Ariminum, Arimini — Rimini
ibi — there
tribunus, tribuni — tribune (the head of a tribe)
plebs, plebis — plebs (the common people)
confugio, confugere, confugi, – — seek refuge
reliquus, reliqua, reliquum — remaining
conquiesco, conquiescere, conquievi, conquietum — rest
evoco, evocare, evocavi, evocatum — summon
For the second text:
divisus, divisa, divisum — divided
incolo, incolere, incolui, – — inhabit
alius, alia, aliud — another
appellantur — are called
institutum, instituti — institution, tradition
propterea quod — because
cultus, cultus — delicateness, refinement
humanitas, humanitatis — civilization
absum, abesse, affui, – — be far
minime — (not) at all
mercator, mercatoris — merchant
commeo, commeare, commeavi, commeatum — go, pass
ad effeminandos animos — make their nature feminine
pertineo, pertinere, pertinui, – — be appropriate for
importo, importare, importavi, importatum — import
Rhenus, Rheni — Rhine
continenter — constantly
praecedo, praecedere, praecessi, praecessum — be better
fere — almost
prohibeo, prohibere, prohibui, prohibitum — reject, hold back, restrain
finis, finis — border, frontier, territory
Review of the translations
Once you have finished with the analysis and translations, now it's time to review them on the screen.
⚠️ Even if you think you've done everything correctly, it is very important for you to always check the review, since that's where we actually practice and check what we have learned. You've already seen that the analysis-translation process is quite systematic and strict at first, precisely so we can absorb everything we're doing.
In the following video (⏳ 24m 22s ⌛) I analyze and translate the sentences:
🔒
Access to this content is exclusive for premium students.
Buy the course for full access or log in (if you've already bought).
And now the text (⏳ 30m 40s ⌛):
🔒
Access to this content is exclusive for premium students.
Buy the course for full access or log in (if you've already bought).
In the next module we'll learn the passive voice.
Join the Latin from scratch course!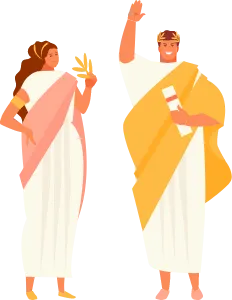 Theory without practice is absolutely useless!
With a one-time payment you'll have the full course forever, with all the theory explained in video (no dirty YouTube ads) and, most importantly, dozens of hours of practice analyzed and explained step by step by me on the screen. Join now!