In the ninth module of the Latin from Scratch course, we'll learn a couple of topics related to each other and not very hard: the possesive adjectives/pronouns and the personal pronouns.
Classes on personal pronouns
Possessive adjectives/pronouns

(09m 01s)

Personal pronouns

(12m 43s)
Practice: morphosyntactic analysis and translation (9)
We will translate an adaptation of the lectio XXIX from Ludus Latinus by Wilhelm Hartke.
Vita tua, Pyrrhe, in periculo est: amici tui cupiditate pecuniae ad fraudem se parant. Medicus tuus paratus est: te veneno necare vult et praemium a nobis postulat. Ergo te quasi in potestate nostra tenemus. Sed condicionem medici recusavimus, quamquam legiones nostrae non tam potentes sunt. Opes tuas non timemus. Itaque libertatem civitatis nostrae non fraude servabimus, sed virtute.
Here you have the statements of the words appearing in the translation for this module. It is important for you to learn the vocabulary. To compel you to do so, I won't usually repeat words from previous modules.
For the text:
vita, vitae — life
Pyrrhus, Pyrrhi — Pyrrhus (general, enemy of the Romans)
periculum, periculi — danger
cupiditas, cupiditatis — desire, wish
fraus, fraudis — deceit, fraud
paro, parare, paravi, paratum — preparare
paratus, parata, paratum — prepared
venenum, veneni — poison
vult — (he) wants (irregular verb)
praemium, praemii — bounty, reward
postulo, postulare, postulavi, postulatum — ask for
quasi — almost
potestas, potestatis — power, possession
condicio, condicionis — proposal
recuso, recusare, recusavi, recusatum — reject
quamquam — although, despite
potens, potentis — powerful
ops, opis — resource
timeo, timere, timui, – — fear
libertas, libertatis — freedom
servo, servare, servavi, servatum — preserve, save
Review of the translations
Once you have finished with the analysis and translations, now it's time to review them on the screen.
⚠️ Even if you think you've done everything correctly, it is very important for you to always check the review, since that's where we actually practice and check what we have learned. You've already seen that the analysis-translation process is quite systematic and strict at first, precisely so we can absorb everything we're doing.
In the following video (⏳ 10m 47s ⌛) I analyze and translate the sentences:
🔒
Access to this content is exclusive for premium students.
Buy the course for full access or log in (if you've already bought).
In the next module we go back to the pure syntax: we'll study the apposition and the predicative complements.
Join the Latin from scratch course!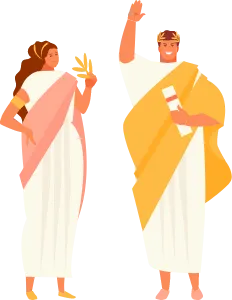 Theory without practice is absolutely useless!
With a one-time payment you'll have the full course forever, with all the theory explained in video (no dirty YouTube ads) and, most importantly, dozens of hours of practice analyzed and explained step by step by me on the screen. Join now!