In the eighth module of the Latin from Scratch course, we'll learn a new tense, the pluperfect (indicative mood, active voice). This tense is much rarer than the perfect and the imperfect.
Class on the pluperfect tense
Practice: morphosyntactic analysis and translation (8)
On this occasion we will translate some isolated sentences adapted from Ritchie's Fabulae Faciles.
Perseus speculo gladioque cum Medusa pugnabat; speculum Perseo dea Minerva dederat.

Deus Neptunus, rex maris, monstrum Aethiopibus misit, quod rex Aethiopum Neptunum offenderat.

Andromeda multum flebat quod cibus monstro erat, sed misera rem nullam fecerat.

Duas serpentes Iuno misit quod Herculem oderat. At Hercules non in cunis sed in scuto magno dormiebat. Serpentes iam appropinquaverant et scutum movebant; itaque puer evigilavit.
Here you have the statements of the words appearing in the translation for this module. It is important for you to learn the vocabulary. To compel you to do so, I won't usually repeat words from previous modules.
For the sentences:
Perseus, Persei — Perseus (Greek hero)
speculum, speculi — mirror
Medusa, Medusae — Medusa (monster in Greek mythology)
monstrum, monstri — monster
Aethiops, Aethiopis — Ethiopian (person from Ethiopia)
mitto, mittere, misi, missum — send
quod — because
offendo, offendere, offendi, offensum — offend
Andromeda, Andromedae — Andromeda (princess in Greek mythology)
multum — much, a lot
fleo, flere, flevi, fletum — weep
cibus, cibi — food
nullus, nulla, nullum — none
duo, duae, duo — two
serpens, serpentis — snake
Iuno, Iunonis — Juno (Greek goddess)
Hercules, Herculis — Hercules (Greek hero)
odi, odisse, -, osurum — hate (defective: the perfect stem is "transferred" to the present stem)
at — on the other hand; however; but
cunae, cunarum — crib, cradle
scutum, scuti — shield
iam — already
appropinquo, appropinquare, appropinquavi, appropinquatum — approach, get close
itaque — so; consequently
evigilo, evigilare, evigilavi, evigilatum — wake up
Review of the translations
Once you have finished with the analysis and translations, now it's time to review them on the screen.
⚠️ Even if you think you've done everything correctly, it is very important for you to always check the review, since that's where we actually practice and check what we have learned. You've already seen that the analysis-translation process is quite systematic and strict at first, precisely so we can absorb everything we're doing.
In the following video (⏳ 14m 00s ⌛) I analyze and translate the sentences:
🔒
Access to this content is exclusive for premium students.
Buy the course for full access or log in (if you've already bought).
In the next module we'll learn something quite different: pronouns!
Join the Latin from scratch course!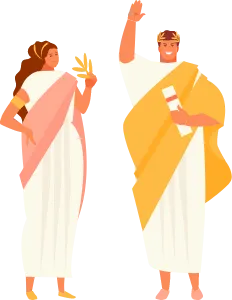 Theory without practice is absolutely useless!
With a one-time payment you'll have the full course forever, with all the theory explained in video (no dirty YouTube ads) and, most importantly, dozens of hours of practice analyzed and explained step by step by me on the screen. Join now!