In the fifth module of the Latin from Scratch course, we'll learn the most frequent tense in historical texts such as those of Julius Caesar, Livy, Tacitus, etc.
Class on the perfect tense
The active indicative perfect past tense

(09m 39s)
Practice: morphosyntactic analysis and translation (5)
On this occasion we will translate a few simple sentences and a couple of short stories: about the death of Aegeus, father of Theseus, and a brief summary of the Trojan War.
Veni, vidi, vici.

Hostes gladios reliquerunt et in montes fugerunt.

Nostri milites magna virtute cum hostibus pugnaverunt.

Postquam Theseus Ariadnam in litore deseruit ad patriam navigabat. Aegeus, Thesei pater, de altis saxis in mare prospiciebat. Theseus patriae suae litoribus appropinquabat, cum pater Aegeus atra vela navigii conspexit. Itaque mortem filii ex atro colore velorum putavit atque de alto saxo in mare se proiecit. Ex eo tempore Graeci mare, ubi Aegeus mortem invenit, «Mare Aegeum» nominaverunt. Post Aegei mortem, Theseus rex Athenarum fuit multosque per annos magna sapientia patriam suam rexit.
Paris, filius Troianorum regis, rapuit Helenam, uxorem Menelai, regis Spartanorum. Per decem annos Graeci cum Troianis pugnaverunt. Graeci Troiam saepe oppugnabant, sed oppidum non expugnabant. Graeci magnum equum ligneum fecerunt. Multi viri armati intus latebant. Equum ante portas Troiae collocaverunt, sicut donum deae Minervae, et deponere arma simulaverunt atque in insulam Tenedum, proximam Troiae, navigaverunt. Dei inmortales Troianos deseruerunt. Troiani, igitur, crediderunt dolis Graecorum. Moenia aperuerunt atque magnum equum intra moenia acceperunt. Noctu Graeci ex equo exierunt. Socii redierunt atque Troiam incenderunt.
Here you have the statements of the words appearing in the translation for this module. It is important for you to learn the vocabulary. To compel you to do so, I won't usually repeat words from previous modules.
For the sentences:
venio, venire, veni, ventum — come, arrive
video, videre, vidi, visum — see
vinco, vincere, vici, victum — win, conquer
hostis, hostis — enemy
relinquo, relinquere, reliqui, relictum — abandon
mons, montis — mountain
fugio, fugire, fugi, fugitum — flee
noster, nostra, nostrum — our
miles, militis — soldier
virtus, virtutis — virtue
pugno, pugnare, pugnavi, pugnatum — fight
For the first text (Aegeus):
postquam — after
Theseus, Thesei — Theseus
Ariadna, Ariadnae — Ariadna
litus, litoris — coast, shore
desero, deserere, deserui, desertum — abandon
patria, patriae — fatherland
navigo, navigare, navigavi, navigatum — sail
Aegeus, Aegei — Aegeus
pater, patris — father
de — from
saxum, saxi — rock
mare, maris — sea
prospicio, prospicere, prospexi, prospectum — observe (from the distance)
appropinquo, appropinquare, appropinquavi, appropinquatum — approach (+ dative)
cum — when
ater, atra, atrum — black
velum, veli — sail (cloth)
navigium, navigii — vessel
conspicio, conspicere, conspexi, conspectum — observe, spot
itaque — thus
mors, mortis — death
color, coloris — color
puto, putare, putavi, putatum — think, believe, consider
atque — and
se (accusative and ablative) — himself (reflexive)
proicio, proicere, proieci, proiectum — throw, cast
eo (ablativo) — that
Graecus, Graeca, Graecum — Greek
ubi — where
invenio, invenire, inveni, inventum — find
nomino, nominare, nominavi, nominatum — name, nominate
post (+ accusative) — after
rex, regis — king
Athenae, Athenarum — Athens
per (+ accusative) — for, during
sapientia, sapientiae — wisdom
rego, regere, rexi, rectum — reign
For the second text (Trojan War):
Paris, Paridis — Paris (son of Priamus and brother of Hector)
filius, filii — son
Troianus, Troiana, Troianum — Trojan
rex, regis — king
rapio, rapere, rapui, raptum — kidnap
Helena, Helenae — Helen
uxor, uxoris — wife
Menelaus, Menelai — Menelaus
Spartanus, Spartana, Spartanum — Spartan
per — for (+ accusative)
decem — ten
annus, anni — year
Graecus, Graeca, Graecum — Greek
pugno, pugnare, pugnavi, pugnatum — fight
Troia, Troiae — Troy
oppugno, oppugnare, oppugnavi, oppugnatum — assail, storm
oppidum, oppidi — town, city, citadel
expugno, expugnare, expugnavi, expugnatum — take by assault
magnus, magna, magnum — big
equus, equi — horse
ligneus, lignea, ligneum — wooden
multus, multa, multum — much, many
armatus, armata, armatum — armed
intus — inside
lateo, latere, latui, – — be hidden
ante — before (+ accusative)
porta, portae — door, gate
colloco, collocare, collocavi, collocatum — place, put, set up
sicut — as (comparison)
donum, doni — gift
dea, deae — goddess
Minerva, Minervae — Minerva
depono, deponere, deposui, depositum — depose
arma, armorum — weapons
simulo, simulare, simulavi, simulatum — simulate
atque — and
insula, insulae — island
Tenedus, Tenedi — Tenedus (island)
proximus, proxima, proximum — close to, very next to (+ dative)
navigo, navigare, navigavi, navigatum — sail
deus, dei — god
inmortalis, inmortale — immortal
desero, deserere, deserui, desertum — abandon
igitur — thus
credo, credere, credidi, creditum — believe (+ dative)
dolus, doli — contrivance
moenia, moeniorum — walls
aperio, aperire, aperui, apertum — open
intra — inside (+ accusative)
accipio, accipere, accepi, acceptum — receive
noctu — at night
ex — from (+ ablative)
exeo, exire, exii, exitum — exit, go out
socius, socii — ally
redeo, redis, redire, redii, reditum — return
incendo, incendere, incendi, incensum — set fire to
Review of the translations
Once you have finished with the analysis and translations, now it's time to review them on the screen.
⚠️ Even if you think you've done everything correctly, it is very important for you to always check the review, since that's where we actually practice and check what we have learned. You've already seen that the analysis-translation process is quite systematic and strict at first, precisely so we can absorb everything we're doing.
In the following video (⏳ 23m 35s ⌛) I analyze and translate the sentences:
🔒
Access to this content is exclusive for premium students.
Buy the course for full access or log in (if you've already bought).
And now the text (⏳ 17m 37s ⌛):
🔒
Access to this content is exclusive for premium students.
Buy the course for full access or log in (if you've already bought).
In the next module we'll learn the adverbials of place, very frequent in texts like those by Caesar.
Join the Latin from scratch course!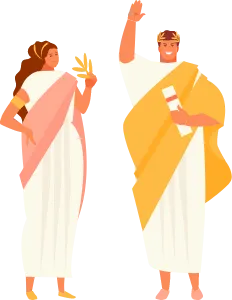 Theory without practice is absolutely useless!
With a one-time payment you'll have the full course forever, with all the theory explained in video (no dirty YouTube ads) and, most importantly, dozens of hours of practice analyzed and explained step by step by me on the screen. Join now!