In the seventeenth module of the Latin from Scratch course, we'll study the passive voice: the morphology of all the tenses of the indicative and the subjunctive, and the specific features of sentences in the passive voice.
Class on the perfect tense
Morphosyntax of the passive voice

(14m 24s)
Practice: morphosyntactic analysis and translation (17)
In this occasion we will translate a few isolated sentences and a short text (taken from the lectio XIX in Hartke's Ludus Latinus).
Catilina ipse ab Antonio consule proelio interficitur.

Civitas fortiter ab omnibus civibus defendebatur.

Cum oppidum ab hostibus oppugnaretur, ab incolis fortiter defensum est.

Cum multa arma haberent, tamen capti sunt.
Arminius regulos populorum finitimorum convocavit et: «Agri nostri», inquit, «a Romanis occupati sunt. Patria nostra quasi provincia Romana administratur; nos quasi servi Romanorum sumus. Nonne satis diu vexati sumus? Liberate patriam!».
Here you have the statements of the words appearing in the translation for this module. It is important for you to learn the vocabulary. To compel you to do so, I won't usually repeat words from previous modules.
For the sentences:
Catilina, Catilinae — Catiline (Roman politician)
consul, consulis — consul
proelium, proelii — battle
interficio, interficere, interfeci, interfectum — kill
fortiter — courageously
defendo, defendere, defendi, defensum — defend
oppugno, oppugnare, oppugnavi, oppugnatum — attack, assault
capio, capere, cepi, captum — capture, seize
For the text:
Arminius, Arminii — Arminius (German general)
regulus, reguli — chieftain
finitimus, finitima, finitimum — neighboring
convoco, convocare, convocavi, convocatum — summon, assemble
occupo, occupare, occupavi, occupatum — occupy
quasi — as if
administro, administrare, administravi, administratum — manage
nonne — interrogative particle expecting an affirmative answer
satis — enough
diu — (for a) long time
vexo, vexare, vexavi, vexatum — vex, harass, molest
Review of the translations
Once you have finished with the analysis and translations, now it's time to review them on the screen.
⚠️ Even if you think you've done everything correctly, it is very important for you to always check the review, since that's where we actually practice and check what we have learned. You've already seen that the analysis-translation process is quite systematic and strict at first, precisely so we can absorb everything we're doing.
In the following video (⏳ 15m 22s ⌛) I analyze and translate the sentences:
🔒
Access to this content is exclusive for premium students.
Buy the course for full access or log in (if you've already bought).
In the next module we'll learn the continuation of the passive voice: the deponent verbs.
Join the Latin from scratch course!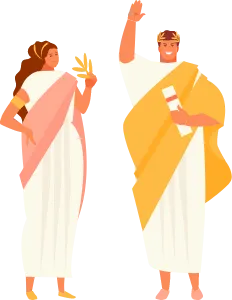 Theory without practice is absolutely useless!
With a one-time payment you'll have the full course forever, with all the theory explained in video (no dirty YouTube ads) and, most importantly, dozens of hours of practice analyzed and explained step by step by me on the screen. Join now!