In the forty-first class of the Latin from Scratch course, we'll study the most frequent irregular verbs in Latin. Luckily for us, they are not many, but they are quite common and need to be learned by heart.
I explain everything in the following video (⏳ 08m 15s ⌛):
BUY THE COURSE for full access, including:
📺 videos with analysis-translation 🔍 support 👨‍🏫 no ads anywhere 🛑
In the following tables, the underlined forms are irregular. The perfect stem is always regular (although the root itself might not be predictable from the present stem).
eo "go"
Its statement is eo, ire, i(v)i, itum.
The present stem is e‑ when followed by a vowel other than e; it is i‑ when followed by a consonant or e.
present ind.
imperfect ind.
future ind.
present subj.
imperfect subj.
eo
is
it
imus
itis
eunt
ibam
ibas
ibat
ibamus
ibatis
ibant
ibo
ibis
ibit
ibimus
ibitis
ibunt
eam
eas
eat
eamus
eatis
eant
irem
ires
iret
iremus
iretis
irent
Its present participle is iens, euntis.
This verb can have many compounds (e.g. exeo "to go out"), all of which have the same irregularities.
fero "bear, carry"
Its statement is fero, ferre, tuli, latum.
Apart from the completely different roots in the perfect and the supine stem, the irregularity lies in the fact that some forms lack a vowel between the root and the ending.
present ind. act.
present ind. pas.
imperfect subj. act.
imperfect subj. pas.
fero
fers
fert
ferimus
fertis
ferunt
feror
ferris
fertur
ferimur
ferimini
feruntur
ferrem
ferres
ferret
ferremus
ferretis
ferrent
ferrer
ferreris
ferretur
ferremur
ferremini
ferrentur
Its active present infinitive is ferre, and the passive is ferri.
fio "be made", "become", "happen"…
Its statement is fio, fieri, factus sum, —.
present ind.
imperfect ind.
future ind.
present subj.
imperfect subj.
fio
fis
fit
fimus
fitis
fiunt
fiebam
fiebas
fiebat
fiebamus
fiebatis
fiebant
fiam
fies
fiet
fiemus
fietis
fient
fiam
fias
fiat
fiamus
fiatis
fiant
fierem
fieres
fieret
fieremus
fieretis
fierent
The verb fio requires an attribute (or predicative of the subject, depending on the analysis). Quite often it is used as the passive voice of facio.
volo "want"
Its statement is volo, velle, volui, —.
present ind.
imperfect ind.
future ind.
present subj.
imperfect subj.
volo
vis
vult
volumus
vultis
volunt
volebam
volebas
volebat
volebamus
volebatis
volebant
volam
voles
volet
volemus
voletis
volent
velim
velis
velit
velimus
velitis
velint
vellem
velles
vellet
vellemus
velletis
vellent
The verb volo has two compounds, each of which has its own peculiarities.
nolo "not want"
Its statement is nolo, nolle, nolui, —.
It is a compound of non volo. The syllable vo‑ or ve‑ has been lost, except in the 2nd and 3rd persons singular and 2nd plural in the present indicative: non vis, non vult, non vultis.
malo "prefer"
Its statement is malo, malle, malui, —.
It is a compound of magis volo ('want more' → 'prefer'). The syllable vo‑ or ve‑ has been lost without exception.
After the irregular verbs (including the compounds of sum), let's go and have some practice.
Join the Latin from scratch course!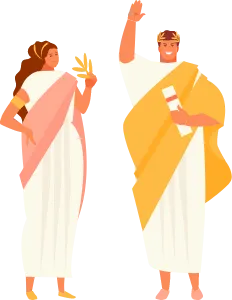 Theory without practice is absolutely useless!
With a one-time payment you'll have the full course forever, with all the theory explained in video (no dirty YouTube ads) and, most importantly, dozens of hours of practice analyzed and explained step by step by me on the screen. Join now!