In the twentieth module of the Latin from Scratch course, we'll study the morphology of the six infinitives and especially their syntax. In accusative + infinitive clauses it is fundamental to take into account the relative time and, of course, practice a lot.
Class on the infinitives
The morphology and syntax of infinitives

(23m 42s)
Practice: morphosyntactic analysis and translation (20)
In this occasion we will translate quite a lot of isolated sentences, being very aware of all the theory, relative time, etc.
First round (easier):
Lupus dicit agnum sapidissimum esse.
Lupus dicit agnum sapidissimum fuisse.
Lupus dicit agnum sapidissimum futurum esse.

Traditur Hannibalem ad Italiam septem et XXX elephantos adduxisse.

Et tu me lacrimas fundere, amice, vetas?

Marius, postquam animos arrectos esse videt, naves onerat; A. Manlium legatum proficisci iubet.

Micipsa facile Iugurtham occasurum esse sperabat.

Caesar ex castris equitatum educi iubet.

Caesar pontem qui erat ad Genavam iubet rescindi.

Caesar ex omnibus partibus castra altiore vallo muniri iubet.
Second round (harder):
Ubi iam se ad eam rem paratos esse arbitrati sunt, oppida sua omnia incendunt et frumentum omne comburunt.

Per exploratores Caesar cognovit et montem ab suis teneri et Helvetios castra movisse et Considium timore perterritum, quod non vidisset, pro viso sibi renuntiavisse.

[Dicit/dixit] Si pacem populus Romanus cum Helvetiis faceret, in eam partem ituros atque ibi futuros Helvetios ubi eos Caesar constituisset atque esse voluisset.

Homo quem defendis sperat se absolutum iri.

Sperant fore ut patris litteris nuntiisque filius ab illo furore revocetur.

Comperit adoptandum se a Traiano esse.

Omnibus apparuit, nisi ille homo fuisset, Spartam futuram non fuisse.
Here you have the statements of the words appearing in the translation for this module. It is important for you to learn the vocabulary. To compel you to do so, I won't usually repeat words from previous modules.
For the first round:
sapidus, sapida, sapidum — tasty
traditur — it is said
Hannibal, Hannibalis — Hannibal
elephantus, elephanti — elephant
adduco, adducere, adduxi, adductum — bring
fundo, fundere, fudi, fusus — pour
veto, vetare, vetui, vetitum — forbid
arrigo, arrigere, arrexi, arrectum — rouse, excite, stimulate
onero, oneras, onerare, oneravi, oneratum — load, burden
Micipsa, Micipsae — Micipsa (Numidian king)
occido, occidere, occidi, occasum — fall, die
Genava, Genavae — Geneva
rescindo, rescindere, rescidi, rescissus — cut
vallum, valli — fence, palisade
munio, munire, munivi, munitum — fortify
For the second round:
ubi — when
arbitror, arbitrari, arbitratus sum — consider, reckon
frumentum, frumenti — grain
comburo, comburere, combussi, combustum — burn
cognosco, cognoscere, cognovi, cognitum — know, recognize
Considius, Considii — Considius (Roman general)
perterritus, perterrita, perterritum — terrified
renuntio, renuntiare, renuntiavi, renuntiatum — announce
volo, velle, volui — want
absolvo, absolvere, absolvi, absolutum — absolve
fore — active future infinitive of sum
nuntius, nuntii — message
furor, furoris — rage, madness
revoco, revocare, revocavi, revocatum — move away
comperio, comperire, comperi, compertum — know, find out
adopto, adoptare, adoptavi, adoptatum — adopt
appareo, apparere, apparui, apparitum — be obvious
nisi — if not
Sparta, Spartae — Sparta
Review of the translations
Once you have finished with the analysis and translations, now it's time to review them on the screen.
⚠️ Even if you think you've done everything correctly, it is very important for you to always check the review, since that's where we actually practice and check what we have learned. You've already seen that the analysis-translation process is quite systematic and strict at first, precisely so we can absorb everything we're doing.
In the following video (⏳ 36m 31s ⌛) I analyze and translate the sentences:
🔒
Access to this content is exclusive for premium students.
Buy the course for full access or log in (if you've already bought).
And now let's go for the big paragraph (⏳ 43m 26s ⌛):
🔒
Access to this content is exclusive for premium students.
Buy the course for full access or log in (if you've already bought).
With this module we finish all the difficult theory. In the next one, we'll study the most frequent irregular verbs.
Join the Latin from scratch course!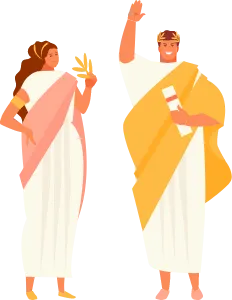 Theory without practice is absolutely useless!
With a one-time payment you'll have the full course forever, with all the theory explained in video (no dirty YouTube ads) and, most importantly, dozens of hours of practice analyzed and explained step by step by me on the screen. Join now!