In the third module of the Latin from Scratch course, we'll be adding two new tenses: the active indicative imperfect past and the active indicative future. The former is the most important and frequent, since it is a very common tense in narration, history, etc.
Classes on the imperfect and future tenses
The active indicative future tense

(09m 24s)
Practice: morphosyntactic analysis and translation (3)
We are already in the third module, so we start directly with the translations. Analyze and translate the following sentences, and the short text about the childhood of Romulus and Remus, the Capitoline she-wolf and Faustulus and Larentia:
Servi hortum fluvii aqua rigabant.

Libri antiquorum poetarum pleni bonorum consiliorum erant.

Romani magna templa aedificabant et argento auroque multa cura ornabant.

Lupus et agnus in fluvii ripa aquam potabant. Agnus parvus et innoxius erat, sed lupus causam iniuriae quaerebat. «Tua causa», dicit, «aqua turbida est». Sed agnus respondet: «Aqua descendit a te». Lupus iniustus agnum necat et vorat.
Secundum Romanos, Romulus et Remus filii dei belli erant, sed familiam in Terra non habebant. Lupa in fluvii ripa aquam bibebat cum duos pueros invenit. «Nunc», cogitat, «mater puerorum ero et ambos curabo!». Sed agricola regius lupam invenit cum gemellis et pueros capit. Diu agricola Faustulus et femina Larentia Romulum et Remum educabant et tamquam filios amabant. «Pueri», cogitabant, «ampli viri erunt!».
Here you have the statements of the words appearing in the translation for this module. It is important for you to learn the vocabulary. To compel you to do so, I won't usually repeat words from previous modules.
For the sentences:
servus, servi — slave
hortus, horti — garden
rigo, rigare, rigavi, rigatum — water, irrigate
liber, libri — book
antiquus, antiqua, antiquum — ancient
plenus, plena, plenum — full
bonus, bona, bonum — good
consilium, consilii — advice
magnus, magna, magnum — big
templum, templi — temple
aedifico, aedificare, aedificavi, aedificatum — build
argentum, argenti — silver
aurum, auri — gold
multus, multa, multum — a lot
cura, curae — care
lupus, lupi — wolf
agnus, agni — lamb
parvus, parva, parvum — small
innoxius, innoxia, innoxium — harmless
sed — but
iniuria, iniuriae — argument, dispute
quaero, quaerere, quaesivi, quaesitum — look for
tuus, tua, tuum — your (thy)
dico, dicere, dixi, dictum — say
turbidus, turbida, turbidum — dirty
respondeo, respondere, respondi, responsum — respond
descendo, descendere, descendi, descensum — descend
a — from
te — ablative 2nd person singular of the personal pronoun
iniustus, iniusta, iniustum — unfair
neco, necare, necavi, necatum — kill
For the text:
secundum — according to (accusative preposition)
Romulus, Romuli — Romulus
Remus, Remi — Remus
filius, filii — son
deus, dei — god
familia, familiae — family
Terra, Terrae — Earth
lupa, lupae — she-wolf
in — in (ablative preposition)
fluvius, fluvii — river
ripa, ripae — shore
bibo, bibere, bibi, bibitum — drink
cum — when (introduces a temporal subordinate clause)
duos — two (accusative masculine plural)
invenio, invenire, inveni, inventum — find
nunc — now
cogito, cogitare, cogitavi, cogitatum — think
mater, matris — mother (nominative femenine singular)
ambos — both (accusativo masculine plural)
curo, curare, curavi, curatum — care for
regius, regia, regium — of the king
cum — with (ablative preposition)
gemellus, gemelli — twin
capio, capere, cepi, captum — take, seize
diu — for a long time
Faustulus, Faustuli — Faustulus
femina, feminae — wife
Larentia, Larentiae — Larentia
educo, educare, educavi, educatum — raise, educate
tamquam — like (comparative)
amo, amare, amavi, amatum — love
amplus, ampla, amplum — important
Review of the translations
Once you have finished with the analysis and translations, now it's time to review them on the screen.
⚠️ Even if you think you've done everything correctly, it is very important for you to always check the review, since that's where we actually practice and check what we have learned. You've already seen that the analysis-translation process is quite systematic and strict at first, precisely so we can absorb everything we're doing.
In the following video (⏳ 17m 51s ⌛) I analyze and translate the sentences:
🔒
Access to this content is exclusive for premium students.
Buy the course for full access or log in (if you've already bought).
And now the text (⏳ 12m 44s ⌛):
🔒
Access to this content is exclusive for premium students.
Buy the course for full access or log in (if you've already bought).
In the next module we'll learn the third declension, which will allow us to finally use most of the Latin nouns and adjectives.
Join the Latin from scratch course!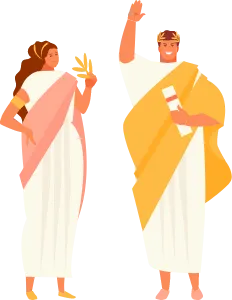 Theory without practice is absolutely useless!
With a one-time payment you'll have the full course forever, with all the theory explained in video (no dirty YouTube ads) and, most importantly, dozens of hours of practice analyzed and explained step by step by me on the screen. Join now!