In the twenty-second module of the Latin from Scratch course, we'll learn about orders, mainly the imperative mood, but also other equivalent ways of command, prohibition, etc.
Class on the imperative mood
The imperative mood, etc.

(11m 14s)
Practice: morphosyntactic analysis and translation (22)
In this occasion we will translate a few isolated sentences from Sanford and Scott's A Junior Latin Reader. The final text belongs to Hartke's Ludus Latinus (lectio XXV).
Regere a me et domi mane.

Ducem, milites, sequimini et castris hostium potimini.

Si pacem cupitis, arma tradite.

Respice post te! Hominem te esse memento!

Memento amicos tuos in periculo esse.

Scito me fratrem tuum semper amavisse.

Domum, mi fili, redi et veniam ora.

Noli me tangere, nisi me offendere vis.

Nolite pati illos homines qui nobis bellum inferre volunt per fines vestros iter facere.

—Salvete, pueri! —Salve, magister! —Nunc este attenti, ne vos poenis terream. Moneo vos, ut verba mea memoria teneatis. Sed tu, Erneste, attentus non es. Exemplum bonum praebe! Carole, cur manus sub mensa habes? Quid? Vos ridetis? Tacete!
Here you have the statements of the words appearing in the translation for this module. It is important for you to learn the vocabulary. To compel you to do so, I won't usually repeat words from previous modules.
For the sentences:
rego, regere, rexi, rectum — govern, rule (passive: obey)
cupio, cupere, cupi(v)i, cupitum — desire, yearn
trado, tradere, tradidi, traditum — hand over, give up
memini, meministi, meminisse, – — remember
venia, veniae — indulgence, grace, favor
tango, tangere, tetigi, tactus — touch
nisi — if not
patior, pati, passus sum — bear, support, undergo, endure
infero, inferre, intuli, inlatum — bring in
salveo, salvere, -, – — be well (in imperative, used as a greeting)
poena, poenae — retribution, punishment, penalty
terreo, terrere, terrui, territum — frighten
praebeo, praebere, praebui, praebitum — show, offer
taceo, tacere, tacui, tacitum — be quiet
Review of the translations
Once you have finished with the analysis and translations, now it's time to review them on the screen.
⚠️ Even if you think you've done everything correctly, it is very important for you to always check the review, since that's where we actually practice and check what we have learned. You've already seen that the analysis-translation process is quite systematic and strict at first, precisely so we can absorb everything we're doing.
In the following video () I analyze and translate the sentences:
👉 I'm working on this. It will be published soon!
With this we have finished the core of the Latin from scratch course. Congratulations! However, you still have a lot to learn, but even more to practice!
Join the Latin from scratch course!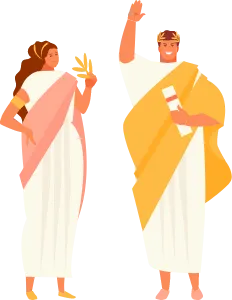 Theory without practice is absolutely useless!
With a one-time payment you'll have the full course forever, with all the theory explained in video (no dirty YouTube ads) and, most importantly, dozens of hours of practice analyzed and explained step by step by me on the screen. Join now!