In the seventh module of the Latin from Scratch course, we'll learn the last declensions, the fourth and the fifth, quite easy and without adjectives. After that, we'll practice with some sentences and a fragment about the Trojan War.
Class on the fourth and fifth declensions
The fourth declension

(05m 26s)

The fifth declension

(04m 38s)
Practice: morphosyntactic analysis and translation (7)
On this occasion we will translate a few simple sentences and an adapted fragment from chapter XXIX in Julia by Reed.
Exercitus noster cum hostium peditatu pugnabit.

Senatus magnos honores exercitui post reditum in urbem dabit.

Omnium rerum principia parva sunt et erunt.

Milites exercitus Romani magnam spem habebant.

Rerum species saepe fallaces sunt.
Agamemnon ira terribili, «Perfidus est Paris», exclamavit, «et perfidum est Troianum genus! Totos Graecorum regum exercitus ad oram maritimam convocabo; equitatum peditatumque in naves imponemus et terra marique Troiam oppugnabimus». Agamemnon igitur cum exercituum copiis in portum coiit. Multi equites peditesque ad portum convenerunt, sed venti adversi naves in portu diu retinebant. Numerus dierum accrescebat et Graeci spem non habebant. Res terribiles fient…
Here you have the statements of the words appearing in the translation for this module. It is important for you to learn the vocabulary. To compel you to do so, I won't usually repeat words from previous modules.
For the sentences:
exercitus, exercitus — army
noster, nostra, nostrum — our
peditatus, peditatus — infantry
senatus, senatus — senate
honos/honor, honoris — honor
post — after
reditus, reditus — return
urbs, urbis — city
res, rei — thing
principium, principii — principle, origin
spes, spei — hope
dies, diei — day
species, speciei — appearance
saepe — often
fallax, fallacis — deceitful, misleading
equitatus, equitatus — cavalry
For the text:
Agamemnon, Agamemnonis — Agamemnon (Greek king)
ira, irae — rage
terribilis, terribile — terrible
perfidus, perfida, perfidum — treacherous
Paris, Paridis — Paris (Trojan prince)
exclamo, exclamare, exclamavi, exclamatum — exclaim, cry out
convoco, convocare, convocavi, convocatum — summon, call
equitatus, equitatus — cavalry
peditatus, peditatus — infantry
impono, imponere, imposui, impositum — put
copiae, copiarum — troops
portus, portus — port
coeo, coire, coii, coitum — gather, get together
eques, equitis — horseman
pedes, peditis — foot soldier
convenio, convenire, conveni, conventum — gather, come to the same place
ventus, venti — wind
adversus, adversa, adversum — adverse, unfavorable
navis, navis — ship
diu — for a long time
retineo, retinere, retinui, retentum — retain
numerus, numeri — number, amount
accresco, accrescere, accrevi, accretum — grow
fio, fieri, factus sum, factum — happen
Review of the translations
Once you have finished with the analysis and translations, now it's time to review them on the screen.
⚠️ Even if you think you've done everything correctly, it is very important for you to always check the review, since that's where we actually practice and check what we have learned. You've already seen that the analysis-translation process is quite systematic and strict at first, precisely so we can absorb everything we're doing.
In the following video (⏳ 11m 11s ⌛) I analyze and translate the sentences:
🔒
Access to this content is exclusive for premium students.
Buy the course for full access or log in (if you've already bought).
And now the text (⏳ 12m 57s ⌛):
🔒
Access to this content is exclusive for premium students.
Buy the course for full access or log in (if you've already bought).
In the next module we'll learn the pluperfect past tense.
Join the Latin from scratch course!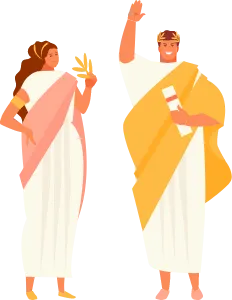 Theory without practice is absolutely useless!
With a one-time payment you'll have the full course forever, with all the theory explained in video (no dirty YouTube ads) and, most importantly, dozens of hours of practice analyzed and explained step by step by me on the screen. Join now!