In the thirty-fifth class of the Latin from Scratch course, we'll study the morphology of the deponent verbs, which are a special kind of verbs with passive morphology but active meaning, and two other smaller types.
I explain everything in the following video (⏳ 06m 33s ⌛):
BUY THE COURSE for full access, including:
📺 videos with analysis-translation 🔍 support 👨‍🏫 no ads anywhere 🛑
Active deponent verbs
Active deponent verbs are conjugated in the passive voice, but their meaning is active, so in English they're translated as active verbs. These are the most frequent deponent verbs, so we usually just refer to them as deponent verbs.
They're conjugated just like any other passive verb. They're easy to spot because the first form of the statement ends in ‑r.
Some frequent active deponent verbs, with their meaning, are:
1st conjugation: miror, mirari, miratus sum "wonder", "admire"
2nd conjugation: polliceor, polliceri, pollicitus sum "promise"
3rd conjugation: utor, uti, usus sum "use" (+ ablative)
mixed conjugation: patior, pati, passus sum "suffer", "bear", "endure"
4th conjugation: potior, potiris, potiri, potitus sum "obtain", "take possession of" (+ ablative)
Notice that some verbs have their object in the ablative case, while others can have it in the accusative case (so the verb is transitive, even if it's passive morphologically!).
Passive deponent verbs
Passive deponent verbs are conjugated in the active voice, but have passive meaning. They are few and infrequent.
vapulo "be flogged" (1st conjugation)
exsulo "be banished" (1st conjugation)
veneo "be sold" (4th conjugation)
Semideponent verbs
Semideponent verbs are those which are deponent only in the tenses corresponding to the perfect stem: these tenses have passive morphology, while the rest of the tenses have active morphology. In all the cases, their meaning is active.
The are some quite frequent semideponent verbs:
fido, fidere, fisus sum "trust"
confido, confidere, confisus sum "trust"
diffido, diffidere, diffisus sum "distrust"
audeo, audere, ausus sum "dare", "venture"
gaudeo, gaudere, gavisus sum "rejoice", "enjoy"
soleo, solere, solitus sum "use (to do something)", "be wont", "be accustomed"
With this class we have almost finished all of the verbal morphosyntax, but we still have to study two fundamental aspects: participles and infinitives.
Join the Latin from scratch course!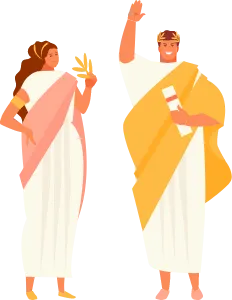 Theory without practice is absolutely useless!
With a one-time payment you'll have the full course forever, with all the theory explained in video (no dirty YouTube ads) and, most importantly, dozens of hours of practice analyzed and explained step by step by me on the screen. Join now!