In the eighteenth module of the Latin from Scratch course, we'll study the deponent verbs, which are a peculiar type of verb because they have endings of the oppositve voice that we would translate in English.
Class on the deponent verbs
Morphology of deponent verbs

(06m 33s)
Practice: morphosyntactic analysis and translation (18)
In this occasion we will translate a few isolated sentences.
Hostes magna praeda potiuntur.

Consul militibus suis multas divitias pollicitus erat.

Nostri milites celeriter hostes secuti sunt.

Caesar, cum suas copias fessas videret, in castra profectus est.

Cum in Italiam proficisceretur Caesar, Galbam cum legione XII et parte equitatus in hostes misit.
Here you have the statements of the words appearing in the translation for this module. It is important for you to learn the vocabulary. To compel you to do so, I won't usually repeat words from previous modules.
For the sentences:
potior, potiri, potitus sum — take over, seize (+ ablative)
polliceor, polliceri, pollicitus sum — promise
sequor, sequi, secutus sum — follow
fessus, fessa, fessum — tired
proficiscor, proficisci, profectus sum — set forward, set out, march
Galba, Galbae — Galba (Roman general)
pars, partis — part
equitatus, equitatus — cavalry
Review of the translations
Once you have finished with the analysis and translations, now it's time to review them on the screen.
⚠️ Even if you think you've done everything correctly, it is very important for you to always check the review, since that's where we actually practice and check what we have learned. You've already seen that the analysis-translation process is quite systematic and strict at first, precisely so we can absorb everything we're doing.
In the following video (⏳ 09m 23s ⌛) I analyze and translate the sentences:
🔒
Access to this content is exclusive for premium students.
Buy the course for full access or log in (if you've already bought).
In the next module we'll study the relative time, which is key to understanding participles and infinitives.
Join the Latin from scratch course!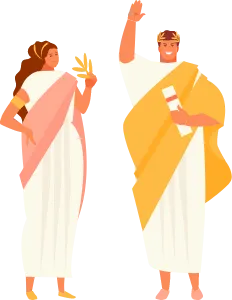 Theory without practice is absolutely useless!
With a one-time payment you'll have the full course forever, with all the theory explained in video (no dirty YouTube ads) and, most importantly, dozens of hours of practice analyzed and explained step by step by me on the screen. Join now!