In the fifteenth module of the Latin from Scratch course, we'll learn the demonstrative pronouns (and adjectives): their declension and their most important syntactic features.
Class on the demonstratives
Demonstrative adjectives/pronouns

(20m 39s)
Practice: morphosyntactic analysis and translation (15)
In this occasion we will translate a few isolated sentences.
In illo tempore ingentia animalia in terris erant.

Haec omnia oppida urbem cingunt.

Romulus et Numa primi Romanorum reges fuerunt: hic pius, ille bellicosus fuit.

Cum illo exercitu ad Hispaniam venit.

Hanc civitatem ego multos per annos defendi.

Ipse Camillus primum eos vicit acie, mox civitatem eorum cepit.
Here you have the statements of the words appearing in the translation for this module. It is important for you to learn the vocabulary. To compel you to do so, I won't usually repeat words from previous modules.
For the sentences:
ingens, ingentis — huge
animal, animalis — animal
oppidum, oppidi — city (fortified)
cingo, cingere, cinxi, cinctum — surround
Romulus, Romuli — Romulus
Numa, Numae — Numa
remedium, remedii — remedy
rex, regis — king
pius, pia, pium — pious, merciful
bellicosus, bellicosa, bellicosum — bellicose, belligerent, warlike
Camillus, Camilli — Camillus (Roman general and politician)
primum … mox — first … right away
acies, aciei — front of the army, line of battle, battle array
civitas, civitatis — city
capio, capere, cepi, captum — capture
Review of the translations
Once you have finished with the analysis and translations, now it's time to review them on the screen.
⚠️ Even if you think you've done everything correctly, it is very important for you to always check the review, since that's where we actually practice and check what we have learned. You've already seen that the analysis-translation process is quite systematic and strict at first, precisely so we can absorb everything we're doing.
In the following video (⏳ 13m 12s ⌛) I analyze and translate the sentences:
🔒
Access to this content is exclusive for premium students.
Buy the course for full access or log in (if you've already bought).
In the next module we'll learn the relative clauses.
Join the Latin from scratch course!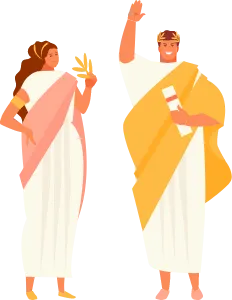 Theory without practice is absolutely useless!
With a one-time payment you'll have the full course forever, with all the theory explained in video (no dirty YouTube ads) and, most importantly, dozens of hours of practice analyzed and explained step by step by me on the screen. Join now!