In the twelfth module of the Latin from Scratch course, we'll learn about the word cum, which in Latin has several meanings and syntactic functions depending on some factors.
Class on the word cum
Syntax of cum

(15m 07s)
Practice: morphosyntactic analysis and translation (12)
For this module we have a number of sentences to practice with the different meanings of cum.
Cum vita sine amicis metus plena sit, ratio monet comparare amicitias.

Cum Caesar in Gallia esset, tamen Haeduorum legati non venerunt.

C. Marius, cum omnes portus terrasque fugeret, in Africam pervenit.

Romulus cum sociis, cum uxores non haberent, mulieres Sabinas rapuerunt.

Sequanis cum sua sponte persuadere non possent, legatos ad Dumnorigem Haeduum mittunt.

Leonidas cum victoriam non speraret, tamen usque ad mortem pugnavit.

Cum omnes gloria anteiret, omnibus tamen carus erat.

Cum multa meri pocula Cyclops avide exhausisset, humi recubuit et mox obdormiscivit.

Caesarem, cum ad curiam dictator venisset, tribus et viginti vulneribus Brutus cum coniuratis occidit.

Cum aquilifer contionem voce magna dixisset, se ex navi proiecit atque in hostes aquilam tulit. Tum aliqui militum ex navi desiluerunt. Alii, cum primos ex proximis navibus conspexissent, hostibus adpropinquaverunt.
Here you have the statements of the words appearing in the translation for this module. It is important for you to learn the vocabulary. To compel you to do so, I won't usually repeat words from previous modules.
For the sentences:
metus, metus — fear
plenus, plena, plenum — full
ratio, rationis — reason
comparo, comparare, comparavi, comparatum — acquire, get
amicitia, amicitiae — friendship
Haedui, Haeduorum — Haedui (Gallic tribe)
portus, portus — port
fugio, fugere, fugi, fugitum — flee
pervenio, pervenire, perveni, perventum — arrive
socius, socii — ally
uxor, uxoris — wife
Sabinus, Sabina, Sabinum — Sabine (Italic people)
rapio, rapere, rapui, raptum — kidnap
Sequani, Sequanorum — Sequani (Gallic tribe)
sua sponte — on their own initiative
persuadere — translate as "persuade"
Dumnorix, Dumnorigis — Dumnorix (leader of the Haedui)
Leonidas — Leonidas (nominative of Leonidas, Leonidae)
usque ad — until, up to
anteeo, anteire, antei(v)i, – — be ahead, surpass
carus, cara, carum — dear, appreciated
merum, meri — pure wine
poculum, poculi — glass
Cyclops, Cyclopis — cyclops
avide — eagerly
exhaurio, exhaurire, exhausi, exhaustum — drink up
recumbo, recumbere, recubui, – — lie down
mox — right away
obdormisco, obdormiscere, obdormivi, obdormitum — fall asleep
curia, curiae — curia, court, senate house
dictator, dictatoris — dictator
tribus et viginti — twenty three
Brutus, Bruti — Brutus (Roman politician)
coniuratus, coniurati — conspirator
aquilifer, aquiliferis — standard-bearer (officer who carried the eagle standard of a legion)
contio, contionis — pep talk
se — himself
proicio, proicere, proieci, proiectum — throw
tulit, from fero, ferre, tuli, latum — bear
aliqui, nominative plural masculine from aliquis, aliqua, aliquid — some
desilio, desilire, desilui, desultum — leap down
alius, alia, aliud — the other
proximus, proxima, proximum — near
conspicio, conspicere, conspexi, conspectum — observe
adpropinquo, adpropinquare, adpropinquavi, adpropinquatum — approach (+ dative)
Review of the translations
Once you have finished with the analysis and translations, now it's time to review them on the screen.
⚠️ Even if you think you've done everything correctly, it is very important for you to always check the review, since that's where we actually practice and check what we have learned. You've already seen that the analysis-translation process is quite systematic and strict at first, precisely so we can absorb everything we're doing.
In the following video (⏳ 38m 28s ⌛) I analyze and translate the sentences:
🔒
Access to this content is exclusive for premium students.
Buy the course for full access or log in (if you've already bought).
In the next module we'll learn about another tricky word: ut (and ne).
Join the Latin from scratch course!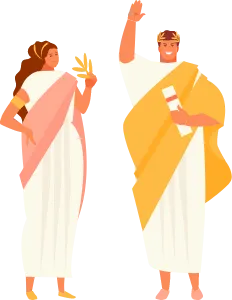 Theory without practice is absolutely useless!
With a one-time payment you'll have the full course forever, with all the theory explained in video (no dirty YouTube ads) and, most importantly, dozens of hours of practice analyzed and explained step by step by me on the screen. Join now!