In the tenth module of the Latin from Scratch course, we'll study two types of complements which we have already seen in previous texts: the apposition and the predicative complements.
Classes on the apposition and predicatives
The apposition

(10m 08s)

The predicative complement

(09m 15s)
Practice: morphosyntactic analysis and translation (10)
In this occasion we will translate a text about the god Apollo.
Apollo, Iovis Latonaeque filius, lucis deus est. Primos vitae annos in insula Delo egit insulaque semper deo cara mansit. Deus Apollo serpentem crudelem, Pythona, suis sagittis occidit. Deinde Delphos venit, ubi incolae templum illustre deo aedificaverunt. Ex omnibus mundi partibus homines frequentes Delphos apud pythiam veniunt, nam pythia oracula Apollinis eis reddit. In Italia sybilla antrum immane Cumis prope Neapolim habitat.
Here you have the statements of the words appearing in the translation for this module. It is important for you to learn the vocabulary. To compel you to do so, I won't usually repeat words from previous modules.
For the text:
Iuppiter, Iovis — Jupiter
Latona, Latonae — Latona
lux, lucis — light
Delos, Deli — Delos
ago, agere, egi, actum — spend (time)
insula, insulae — island
carus, cara, carum — dear, beloved
maneo, manere, mansi, mansum — stay
crudelis, crudele — cruel
Pythona — Python (accusative)
occido, occidere, occidi, occisum — kill
deinde — then
Delphi, Delphorum — Delphi
ubi — where
illustris, illustre — famous, illustrious
frequens, frequentis — in great numbers
apud — near (+ accusative)
pythia, pythiae — Pythia (priestess of Apollo)
nam — for
oraculum, oraculi — oracle
eis — to them (dative plural)
reddo, reddere, redidi, reditum — deliver, give back
sybilla, sybillae — sibyl
antrum, antri — cave
immanis, immane — giant, enormous
Cumae, Cumarum — Cumae
prope — next to (+ accusative)
Neapolis, Neapolis — Naples
Review of the translations
Once you have finished with the analysis and translations, now it's time to review them on the screen.
⚠️ Even if you think you've done everything correctly, it is very important for you to always check the review, since that's where we actually practice and check what we have learned. You've already seen that the analysis-translation process is quite systematic and strict at first, precisely so we can absorb everything we're doing.
In the following video (⏳ 18m 58s ⌛) I analyze and translate the sentences:
🔒
Access to this content is exclusive for premium students.
Buy the course for full access or log in (if you've already bought).
In the next module we'll level up in our knowledge of verbs: we'll study the subjunctive mood.
Join the Latin from scratch course!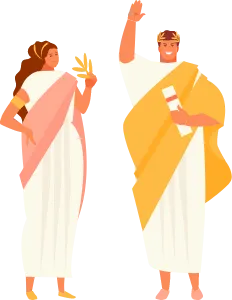 Theory without practice is absolutely useless!
With a one-time payment you'll have the full course forever, with all the theory explained in video (no dirty YouTube ads) and, most importantly, dozens of hours of practice analyzed and explained step by step by me on the screen. Join now!