In the sixth module of the Latin from Scratch course, we'll learn the fundamental theory about the adverbials of place, i.e. what cases and prepositions they use, and then we'll practice with some sentences and a text about Pyrrhus of Epirus.
Class on the adverbials of place
The four adverbials of place

(10m 19s)
Practice: morphosyntactic analysis and translation (6)
On this occasion we will translate a few simple sentences and a text about king Pyrrhus and his encounter with the Romans as their first enemy overseas.
Piratae ad terram veniunt, nam praedam quaerunt, sed agricolae in silvas fugiunt.

Agricola filios domum nautae per agros misit.

Heri Cordubae fui et hodie Malacae sum.

Puella litteras Athenis Romam filio reginae misit.

Nautae ex insula exierunt et domum contenderunt.

Regina ad deae Minervae templum per agros contendit.
Tarentini a Pyrrho, Epiri rege, contra Romanos auxilium poposcerunt. (Pyrrhus ex genere Achillis originem trahebat). Rex mox ad Italiam venit, tumque primum Romani cum transmarino hoste dimicaverunt. Romani miserunt contra Pyrrhum consulem P. Valerium Laevinum. Milites Laevini ceperunt exploratores Pyrrhi et e silvis per castra ad Valerium traxerunt. Romani exploratoribus tota castra ostenderunt et in Epirum ad Pyrrhum remiserunt.
Here you have the statements of the words appearing in the translation for this module. It is important for you to learn the vocabulary. To compel you to do so, I won't usually repeat words from previous modules.
For the sentences:
terra, terrae — earth
praeda, praedae — loot, booty
silva, silvae — forest
fugio, fugere, fugi, fugitum — flee
domus, domi — house
ager, agri — field
mitto, mittere, misi, missum — send
heri — yesterday
Corduba, Cordubae — Cordoba (city in the south of Hispania)
hodie — today
Malaca, Malacae — Malaga (city in the south of Hispania)
littera, litterae — letter (character)
litterae, litterarum — letter (written message)
Roma, Romae — Rome
insula, insulae — island
exeo, exire, exii, exitum — go out
contendo, contendere, contendi, contentum — head for (a place)
Minerva, Minervae — Minerva
For the text:
Tarentinus, Tarentini — Tarantine (from Taranto)
Pyrrhus, Pyrrhi — Pyrrhus
Epirus, Epiri — Epirus (region in Greece)
contra — against (+ accusative)
auxilium, auxilii — help, assistance, aid
posco, poscere, poposci, – — request
genus, generis — linage
Achilles, Achillis — Achilles
origo, originis — origin
traho, trahere, traxi, tractum — bring, drag
rex, regis — king
mox — immediately
tum — then
primum — for the first time
transmarinus, transmarina, transmarinum — overseas
hostis, hostis — enemy
dimico, dimicare, dimicavi, dimicatum — fight
consul, consulis — consul
P(ublius), Publi(i) — Publius
Valerius, Valeri(i) — Valerius
Laevinus, Laevini — Laevinus
miles, militis — soldier
capio, capere, cepi, captum — capture, seize
explorator, exploratoris — scout
silva, silvae — forest
castra, castrorum — camp
totus, tota, totum — everything, whole, complete
ostendo, ostendere, ostensi, ostentum — show
remitto, remittere, remisi, remissum — send back
Review of the translations
Once you have finished with the analysis and translations, now it's time to review them on the screen.
⚠️ Even if you think you've done everything correctly, it is very important for you to always check the review, since that's where we actually practice and check what we have learned. You've already seen that the analysis-translation process is quite systematic and strict at first, precisely so we can absorb everything we're doing.
In the following video (⏳ 15m 02s ⌛) I analyze and translate the sentences:
🔒
Access to this content is exclusive for premium students.
Buy the course for full access or log in (if you've already bought).
And now the text (⏳ 17m 42s ⌛):
🔒
Access to this content is exclusive for premium students.
Buy the course for full access or log in (if you've already bought).
In the next module we'll learn our last declensions: the fourth and the fifth.
Join the Latin from scratch course!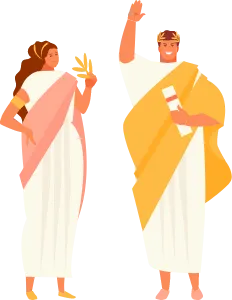 Theory without practice is absolutely useless!
With a one-time payment you'll have the full course forever, with all the theory explained in video (no dirty YouTube ads) and, most importantly, dozens of hours of practice analyzed and explained step by step by me on the screen. Join now!