This is a chapter of Orpheus with His Lute by W. M. L. Hutchinson.
One midsummer eve, many many hundred years ago, a little fair-haired boy lay asleep beside a well in the depths of a great oak wood. He had wandered far that day in the forest that covered the hillsides around his home, and, when twilight began to fall, he had sat down to rest beside this well which he had never seen before. It was a spring of water clear as crystal, bubbling up from deep within the ground, and, what was strange to see in that lonely spot, it was enclosed with a wellhead of carved marble, such as were set up in marketplaces and temple courts.
The child could tell that this was some very sacred fount, from the number of wildflower garlands hanging about it. All the blossoms were fresh and sweet, as though newly gathered, but he had seen with wonder that they were of every season — the violets and hyacinths of spring, the pale autumn crocus, and the white hellebore that blooms at midwinter were mingled with the June musk roses and honeysuckle. But stranger still, when he dipped his little palms, curved together for a cup, into the well and drank, the bubbling water became as the surface of a mirror, wherein a face like his own, yet not his own, smiled up at him out of shadowy depths.
"Someone is peeping over my shoulder," he thought, and turned quickly round, but there was no one there. Yet so sweet and fair was the face that he was not afraid, and bent down to look on it again, but behold the mirror was gone and the fountain bubbled as before. At the same moment, drowsiness came over him; he lay down on the soft emerald turf and fell fast asleep.
The twilight deepened into dusk, but soon the gloom of the forest was chequered with silver splendor as the midsummer moon swam up the sky. In her lovely light the giant oak tree boles that encompassed the open plot of greensward round the well shone like buttresses of pearl set against a circling rampart of ebony. And the child was as safe within that circle as if it had been in reality a castle wall, for he was come to enchanted ground.
No wolf or lion of the hills, no fiercest hawk or eagle durst follow its prey into that glade; no venomous snake or other hurtful creeping thing could lurk there, nor worm nor snail deface its tender herbage. Not even a plant could grow there if it were deadly to man or beast, and you might seek in vain for the dark-berried nightshade and poisonous scarlet toadcaps that were rife elsewhere in the forest.
There, snow and hail never fell, and the sentinel oaks kept guard forever in a mild and serene air, even when their brethren on the hills around were scourged by the tempest or riven by the thunderbolt. This night so deep a stillness reigned there, save for the plashing of the fountain, that you might have heard the soft breathing of the sleeping child. Now at first you would have heard him sigh in his sleep, and seen tears glitter on his curled lashes, for he was dreaming of what had befallen the day before, to send him wandering far from home and playmates.
But presently he smiled, for he began to hear, in his dream, the lilt of a nightingale. First in single liquid notes, then in a gush of melody, the bird was pouring forth the mysterious rapture of her heart. She ceased, but another forthwith burst into song, another, and yet another, until it seemed to the dreamer that he counted nine singing together. Nearer and nearer came the sound, and now he began to make out words of human speech in the warbling of the unseen birds.
"I must be dreaming," he said out loud, and with that he awoke and sat up, looking about him in the bright moonlight.
Still he heard close at hand the voices of his dream, and still they were like the voices of nightingales, but he saw now whence they came. On the level lawn nine tall and lovely ladies were dancing, hand-in-hand, a slow and stately measure to the music of their own clear singing. They were clad in flowing robes of white, girdled about with broad golden girdles, and on each queenly head was a crown of violets.
"They are the fairies of this fountain," thought the little boy, and he viewed them with breathless wonder, yet with no fear, for he knew that fairies are kindly to all children except to such as are cruel, or greedy, or unmannerly enough to spy upon their doings and speak to them without waiting to be spoken to. So he lay down again and closed his eyes, till they should either see and speak to him or go away.
Almost immediately the song ended, and soft fingers touched his curls, while a sweet voice said —
"Little Orpheus, are you asleep again?"
He opened his eyes and saw the beautiful singers bending over him with friendly, gracious faces.
"I was not asleep," he answered shyly, "but I thought it might make you angry if I watched you. Indeed, I did not come here to pry — only to rest — I was so tired — I had run away," and at this the tears would come again; but he brushed them away and went on, "I would tell you why, but perhaps you know that too, as well as my name."
She who had stroked his hair stooped and kissed him with a tender laugh.
"Perhaps we do," she said; "but we should like you to tell us. My sisters and I, you must know, are great lovers of stories, so sit beside me and let us hear all your adventures."
With that she seated herself on the grass, leaning against the marble well head, and drew the child down beside her. The other sisters sat down also, and bent their clear gaze on him in silence.

Classicsness 🎙️ the podcast about Classics
Subscribe gratis on your favorite platform and get the new episodes pushed right to your device as soon as they're published!
Right now, we're telling myths for all audiences!
"I have so little to tell," began Orpheus, and then hung his head abashed, for he thought to himself that those great fairies might laugh at him, as others had laughed, with the mocking laughter that hurts, only a few hours ago. But the radiant ladies encouraged him with gentlest words and glances, so that little by little they drew from him all his story.
Now I tell it not as he told it, with many pauses, and by dint of much questioning, but as it befell, and as it was known already to those fair listeners.
Orpheus was the only child of a poor woodcutter and had lost his mother before he could remember her. His father's hut stood on the outskirts of the great oak wood, a long way from the nearest village, and their only neighbors were a few other woodcutters and their families. These forest dwellers were a wild folk, and though Orpheus loved the children, his playmates, their rough gambols wearied him. His happiest hours were spent alone in the forest, listening to the song of the birds or the wind that made music in the boughs. It seemed to the child that all the woodland voices had a message for him, if he could but understand it, and the secret dream of his heart was that someday he should understand, and teach that message to others.
Meanwhile, he began to make little songs out of his fancies about what the birds were telling one another, and the stories of other lands that the wandering breeze kept whispering to the oaks, and the fairy gossip that made the brooks tinkle with laughter as they hurried along repeating it to all their neighbor flowers. As for the tunes, they came of themselves, and they took hold upon the ear like the rippling of water, and like the soughing of wind, and like the cooing of doves. But for a long while Orpheus kept these songs to himself; he felt that the other children would not like them half so well as the old rhymes they sang in their games —
The frog he leads a jolly life,
or the Tortoise song —
Shellyback, shellyback, what do you spin?
Blankets to wrap my baby in!
Now at midsummer, the village near the forest kept high festival for three days, and all the woodcutters went down thither, laden with faggots for the bonfires that would be lit on Midsummer Eve, and their children who were old enough to walk so far went with them to see the merry-making.
When Orpheus was nine years old, his father took him for the first time to the village, on the day before Midsummer Eve. Already the yearly fair was begun in the marketplace, which was thronged with folk from all the countryside, and all day long there was feasting and rustic mirth, sports of young men, and dancing of maidens to the sound of pipe and tabor. But towards evening there came a wandering minstrel to the village, who began to sing an ancient ballad to his harp. Then the pedlars' booths of green willow were deserted, the feasters forgot their wine and the maidens their dances, and young and old crowded eagerly around the singer. It was of a battle long ago that he sang; of how serried ranks of foemen went down before some doughty chief like corn before the reaper; of the blood of warriors poured out like water and their haughty crests trampled in the dust; of the neighing of war steeds and the rattle of chariots, the noise of the captains and the shouting.
Louder and louder chanted the minstrel, striking his harp the while until the strings clanged like sword strokes upon armor; now his eyes gleamed as though he saw before him that of which he told, and now the faces of his listeners were lit up with fierce glee, and each man clenched his hand upon his staff as though he gripped a spear. Even the children laughed and shouted and shook their little fists. When the minstrel ceased the bystanders loaded him with praises, and well-nigh quarreled for the honor of giving him bed and board that night. The fairest maid of the village proffered him wine in a new beechen bicker, cunningly carved and bright with waxen polish, which she bade him keep for her sake, though her shepherd sweetheart, she said, had made her a gift of it that same day. And the shepherd, with a laugh, said that he could not grudge her bestowing it on one who sang so good a song.
"Well said, Corydon," cried a white-haired villager, "'twas a song your brave grandsire would have joyed in had the Fates spared him to hear it. By Pan, it minds me of the good old days when he could handle a spear with the best — and so could I, neighbors. But I can never deny he was the better swordsman — ay, the Thracian crows would have picked my bones but for that last stand he made. May the earth lie light upon him!"
Orpheus looked at the old man and saw a tear steal down his withered cheek as he thus spoke. The child had shuddered at the song which so pleased the rest; to him the vision of battle it conjured up was horrible. It was no shout of victory, but gasping sobs of the dying, that he heard in those harsh chords, and as the uncouth rhymes told how warrior after warrior fell, and the manner of each death wound, he seemed to see the cruel steel crash through bone and sinew, and the beautiful living bodies smitten into hideous wrecks of what they were. How could anyone endure to hear or to tell of things like these?
But at the old villager's words, another picture rose before him — two friends stood shoulder to shoulder in the fray, hard-pressed by the foemen, and the one fought like a lion at bay to guard the other, who reeled as though sore wounded. Was it so the dead comrade had made his last stand, long ago, against the wild borderers of Thrace? Ah! This vision, at least, was beautiful, and it was the song that had brought it back to this old man out of the past! Suddenly, a great envy of the minstrel's lot possessed the boy; he thought he must be the happiest man alive, not because men so praised him, nor even because he could delight them, but because he had this power to make them see the things of which he sang. Had not he shown him, Orpheus, another world outside the little forest world which was all he knew, and if it was a world full of strife and bloodshed, yet were there not greater things in it than he had dreamed of?
He understood, dimly, that there was beauty where at first he had only been able to see pain and horror; he had been wrong to fancy that these men who loved to hear of battle found pleasure in what was merely ugly and cruel. To each of them, perhaps, the song had brought some noble message, stirring their hearts, as the aged peasant's was stirred by it to remember the friend who saved him. Orpheus felt also that if the minstrel had not told so grimly and plainly just how men fought and died, even as though he himself had seen it all, his song would have been more pleasant to hear, but would never have brought tears to old eyes or opened a young heart to understand them. This, then, must be the secret of a singer's power, that without thought of praise or blame, he utters the simple truth of things as it is given him to see it.
Such thoughts had the child as he took his way homeward with his company. The woodcutters had supped and rested some hours in the village, but ere break of dawn they were afoot on the road to the forest, for they were too poor to lose more than one day's work in holiday-making. When they came to the hut of Oiagros, he bade the rest break their fast there before going to their several homes, which they did, having brought back stores of meal, cheese, and garlic from the village in exchange for their faggots. Oiagros himself brought out a jar of rough wine and another of goat's milk, and when Orpheus had made a fire of sticks before the hut, he helped to knead and bake the barley bannocks, for being motherless he had learned already to do such work for his father. Now the rest ate and drank and were merry, and talked of the doings at the fair, but Orpheus took his portion a little apart and sat silent, and his playmates wondered at him. It was said in that country that if you saw a wolf, and the wolf had caught sight of you first, you would be dumb for three days. So one of the children called out, "Orpheus has seen a wolf! Look how he sits tongue-tied! Never a word has he given us all the way hither, and still he cannot speak." The men looked round and smiled at his grave little face, and his father asked him what he was thinking of so earnestly.
"I am thinking of the minstrel," said the child.
"And what of him?" said his father.
Orpheus blushed, but he answered steadily, "I am thinking I would rather be what he is than anything in the world, and so I will be when I grow up."
"Why not?" said his father kindly; but another woodcutter said —
"Neighbour, you do ill to let the boy harbor such fancies. By what I hear, he is overmuch given to daydreams, and in a fair way to grow up an idler and vagabond, instead of a prop to your old age."
"Mine will be the loss then," said Oiagros, "and, with your pardon, I will rule my own bairn after my own fashion. It is a good bairn, and a biddable, and while I can say that, he may dream all he will, for me."
"Nay, take it not amiss," answered the other, "I did but mean that folk with their bread to earn can have naught to do with song-making and harp-twanging. These are pastimes for the rich, not for us or our children."
"Ay," said a younger woodman, "but the rich pay richly to hear that same harp-twanging — very wisely, to my thought, for what better treat could a man wish for than yonder minstrel gave us? This little lad, maybe, thinks his trade well worth the following."
"And so it is, for such as can get skill of it," cried the woodman who had just spoken; "but how is the boy to come by that, I pray you? 'Tis a known thing that a minstrel must see men and cities if he would gain matter for song, and as for the manner, do rhyming and playing the harp come by nature to a man, like singing to a bird? Tell me that, neighbors." Then, turning to Orpheus, "Will you seek teachers in the forest, boy?" he asked with a scornful laugh.
"I have found them," said Orpheus simply; "I often hear them making music."
"And who may they be?" said the woodman. "It is news to me that any of our folk can make music, save to troll an old-world ditty over their cups."
"They are the North Wind and the West Wind," answered the child, "and all the songbirds, and the little brooks besides."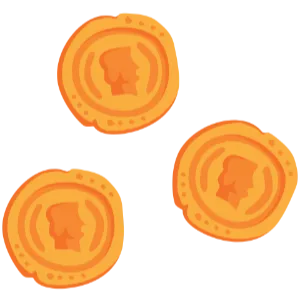 Hey! I hope you're enjoying this free content.
Would you consider contributing to the cause of Latin and Classics?
Just a few sestertii will buy you some cool books!
At this answer, all the men except his father were moved to great laughter, and the children, who were listening open-mouthed, laughed louder still. Two or three of the men began teasing him to tell them what these fine teachers had taught him, and to show how he had profited in minstrelsy by singing a song forthwith. Orpheus was shy of nature, but he felt a new overmastering impulse, as though the beloved forest voices strove to utter themselves through his lips, and before he was aware he had stood up and begun to sing. Words and a tune to fit them flowed into his mind, he knew not whence or how, and he sang them with the flute-like cadences of a blackbird. And the listeners, taken by surprise at his boldness, held their peace. But his song seemed to them to have no sense in it, for it was not about fighting, or deeds of gods and heroes (which all real minstrels, they knew, ought to sing of), but it told the story of a flower that Orpheus had seen blooming on the reed-fringed margin of a pool.
He sang how a lad, Narcissus by name, who loved, even as he, to roam in the woods, came on a day to this pool, and saw a boy's face therein, fair and sweetly smiling. And how Narcissus longed after the beautiful boy so much that he could not leave the sight of him, but watched and waited night and day beside the pool, begging him to come out and be his playfellow. Sometimes he wept as he pleaded, and then the strange boy wept too, yet would not answer nor come forth, and so day by day Narcissus pined with longing, until he dwindled away, and changed at last into a tall, pale flower that still bends its head to gaze into the pool. For he never knew that it was his own face he saw mirrored in the quiet water that now all summer long mirrors the white narcissus.
Thus sang Orpheus to the woodmen, and in the tones of his young voice there was a lulling sweetness as of honey, so that they, for all they would fain have mocked at the tale, sat spellbound by the appeasing harmony. But when he ceased they broke afresh into jeering laughter, and assailed him with many a taunt and gibe, craving his pardon for having taken so great a minstrel for one Orpheus, son of Oiagros the woodcutter, an ignorant little groundling. Knowing no better, they said, they had been content hitherto with lays concerning kings and famous warriors of old, but henceforth nothing should please them but the adventures of Prince Narcissus and his noble friends Bulrush and Chickweed. Their words were light, but they spoke so bitterly and cast such black looks upon the boy that he stood trembling and bewildered.
What could there be in his singing, even if they despised it, to make them turn upon him like this — his father's friends, who had never given him an unkind word before? Now, in truth, these men were not evil-hearted for all their roughness, and they did not know themselves why a child's foolish song should anywise move them; they only felt, with fear and anger, that a nameless power in his singing had made them its thralls in their own despite. To each, as he listened, it had seemed that he was held speechless by the working of an unknown magic, and each, when the spell was broken, was eager to mask his strange uneasiness under a show of boisterous merriment. Yet in their hearts, they were afraid of Orpheus while they mocked him, and because they could not understand what he had done to them, nor how he had done it, they not only feared but hated him as he stood there, so young and small, with his troubled, innocent face.
Innocent! Was not his innocence mere seeming, after all, for must he not have known, they wondered, that his singing was — well, not like other singing? There could be nothing in the words — stupid baby rhymes about a common flower — but how about the tune? Everyone knew that some tunes were not canny — there were chants known to those skilled in leechcraft that would charm away a fever, and others, it was whispered, that could bring hurt instead of healing. Who had made them it was best not to ask, but certainly no minstrels of flesh and blood. None of the woodcutters could imagine how the mere child Orpheus was had learned such a strain, yet the thought was present to them all that something he had met in the forest might have taught him thus to bewitch them. This was what came of letting a boy haunt the woods alone!
Little thought Orpheus what was passing in their minds. He turned from their angry faces to seek comfort in one that had never looked on him but lovingly. And behold, his father was gazing at him with a look so strange, so full of anguish, that it pierced his very heart. The child could bear no more; worse, more bewildering than all, he had somehow grieved his father, perhaps shamed him before his friends. As he made a faltering step towards him, Oiagros hid his face in his hands. Then, with a cry like a stricken fawn, Orpheus bounded out of the group of woodmen and fled into the sheltering forest.