This is a chapter of Once Upon A Time: Children's Stories From The Classics by Blanche Winder.
Once again, then, Odysseus and his men found themselves sailing the high seas, where the halcyons called to each other across the lonely waves. Presently, all soft and silver-misted on the horizon, they caught sight of a new land; and, by the sudden hush that fell over the ocean, and by a dim sweet echo of far-away music, Odysseus knew that his vessel was drawing near to the sirens' Enchanted Isles.
This was one of the dangers from which Circe had taught him the way of escape. So, while the crew took up oars to row the ship through the calm water, the king sat in the bows, busily making little balls of soft wax. By and by, he rose from his seat and approached the sailors; and, one by one, he stopped up their ears with the wax balls, having first explained to them what they were to do when they were no longer able to hear his orders. In obedience to what he had commanded, the seamen —who were, of course, all made deaf by the rolls of wax in their ears— took their king respectfully by his royal shoulders and bound him, as tightly as they could, to the mast of the vessel. Then they lifted their oars again, and, once more, rowed steadily in the direction of the Enchanted Isles.
The wax in their ears prevented them from hearing anything at all, and nothing was to be seen through the silvery mist except occasional glimpses of white shores and green hills. But Odysseus, tied to the mast, heard a sudden thrill of high, sweet melody travel across the water; then, all at once, a choir of fairy voices rang out from the half-hidden land. Never had the king heard anything so exquisite as the magical singing! It seemed to be everywhere at the same time — in the sky, and around the mast, and down in the depths of the sea among the coral and the pearls. The voices of these unseen nymphs called to him to land on the shores beyond the mist, for he would find there all the things his heart desired. Unable to help himself, Odysseus fought and struggled to be free, so that he might steer his ship straight into the sirens' bay. But his men, having been warned what to expect, obeyed the orders he had given before stopping up their ears with wax. Bending to their oars, they rowed with might and main until their king's struggles ceased, and he sank exhausted to the deck. Then they pulled the wax out of their ears and unbound Odysseus, for the dangerous islands had been left far behind, quite out of hearing, and the last echo of the sirens' songs had died away.
But no sooner were they safely past the sirens' isles than, to their horror, they saw six awful heads suddenly rise, like six serpents, from the waves, and heard Scylla snapping her terrible jaws. This time their speed was vain, for Scylla seized a sailor in each of her wide mouths, and ate them up as hungrily as their companions had been eaten by the one-eyed giant. Odysseus, pale with horror, had no time even to stay to mourn them: he was obliged to hurry his ship forward as fast as possible, so that he might get past the deadly whirlpools of Charybdis. Swift as a sea swallow, the vessel flew over the water, and, to the great thankfulness of everybody on board, soon left Scylla's deep growlings, and the bubbling, boiling floods of her dreadful companion, far behind.
Breathing more easily, the crew still drove the vessel on; and by and by they heard the soft bleating of flocks in the quiet evening air. Looking eagerly ahead, they saw the sky all aglitter with radiant mountains that rose high in the West. There, a very short way off, were spread the fair and shining islands of the sun. Apollo's sheep and cows wandered on pastures bright as emeralds, and the evening light fell upon their fleeces of silver and their hides of gold. The sailors, overjoyed, leaped ashore; and, despite the earnest warnings of Odysseus, caught and killed some of these sacred cattle that belonged to the bright immortal who drove the sun daily in his golden chariot across the sky.
Apollo, on his homeward way, looked toward the beautiful islands and saw what had been done. This was even a worse business than Hermes's! Full of rage, he hurried to the foot of Zeus's throne and demanded instant vengeance. By that time, the crew had returned to the ship; so the king of Olympus sent down a great black thunderstorm right on top of the vessel, which was struck here, there, and everywhere by blue forks of lightning, and whirled around and around in the wind like an autumn leaf. One by one the sailors were swept into the raging sea, till at last poor storm-beaten Odysseus was the only man left on board. The tempest drove the vessel —little more than a wreck now— in and out of the whirlpool of Charybdis, and once again past the dreadful heads of Scylla, who, however, luckily, did not catch sight of it. Then Zeus's anger calmed down. He decided to save Odysseus because he had not himself eaten any of Apollo's beautiful flocks; and so the immortal king of Olympus, drawing back his thunderstorm, allowed the mortal king of Ithaca to drift on the wreck over calm, blue seas beneath calm, blue skies until he reached the haven of Calypso's cave.
There, as you have already been told, he fell under the sea nymph's spell, though, at night, he dreamed disturbed dreams about his sweet wife, his handsome son, and the lordly towers of his own palace home. But no one can say how long Odysseus would have stayed with Calypso, or whether Telemachus would ever have managed to find her cave and rescue his father, if Zeus himself had not listened to Athena's pleading and commanded Hermes to go and tell Calypso that she must set Odysseus free.

Classicsness 🎙️ the podcast about Classics
Subscribe gratis on your favorite platform and get the new episodes pushed right to your device as soon as they're published!
Right now, we're telling myths for all audiences!
Over the waves, like a gull, flew the silver-white messenger, and was royally entertained by Calypso with wine and cakes and meats, in the green shade of her vine. But she was very sorrowful when she heard Zeus's orders. However, she dared not disobey, so she went to Odysseus and, giving him an axe, showed him the way to a great pine wood, where he could cut down enough wood to build a raft, for his ship had gone to pieces as soon as he had left it. While Odysseus hewed down the big pine trees, Calypso wove a sail for him. Then she bade him goodbye, with tears in her eyes, and sent him away on his raft. And, the moment he lost sight of her, the last bit of the spell under which she had laid him fell away, so that he never threw a thought back to her magical bower, but only longed to return, as quickly as ever he could, to his home in Ithaca.
No sooner, however, was Odysseus out of sight of land than Poseidon, peering from his caves, perceived the raft! Up through the water came the sea king in his sparkling chariot, his green horses tossing their white manes. How angry he was when he saw that the raft was carrying his old enemy, Odysseus! Without a moment's hesitation, he raised a great storm of wind and wave; and, in the tempest, the raft was wrecked, and this time Odysseus had to swim for his very life to the nearest shore.
Worn out and hungry, he managed to reach land, and, stumbling up the beach on bare, weary feet, sought the shelter of the woods. There he flung himself down on a bed of soft leaves and slept soundly for a long time. At last, he was awakened by most delightful sounds — the calls and cries and laughter of young girls who seemed to be playing at ball.
Peeping through his leafy screen, Odysseus saw the prettiest maiden that ever was born, dressed like a princess, who, with her dainty skirts gathered around her knees, stood among the tall lilies and ferns at the edge of a sparkling river. On the ripples of the river floated a gleaming many-colored ball, which the maiden had thrown too far for any of her playmates to catch. Little shrieks of laughter rang through the woods as one after another of these merry girls kept trying to rescue the ball. At last, the youngest of them turned and saw Odysseus peeping through the boughs! With still louder shrieks —this time of dismay—, the company of maidens scattered and fled to hide themselves among the mossy rocks and within the little caves. The princess alone stood her ground and stared gravely back at the fierce-looking stranger, who, with rough, sea-soaked hair and beard, was peering stealthily at her from between the branches.
Odysseus came forward and, begging the princess not to be frightened, told her something of his unhappy tale of adventure. She comforted him with queenly grace, like the true king's daughter that she was; gave him food and warm, dry clothing; and then, mounting with her maidens, who had recovered from their fright, into a fine chariot drawn by white mules, she set off for her father's palace, assuring Odysseus that, if he would follow her presently, she, the princess Nausicaa, would see that he was kindly received. She fulfilled her promise faithfully, and, when Odysseus reached the fine palace where she lived, the king and queen treated him with the utmost graciousness, so that their visitor, at last, told them everything and proved to them that he was no mere shipwrecked, friendless mariner, but the lost king of Ithaca himself.
Then Nausicaa's father had a fine ship fitted up, and treasure placed in it, and a crew told off to man it, as befitted the great hero of Troy. With every good wish from the royal pair and their pretty daughter, the vessel set sail; and Odysseus, worn out and happy, fell so soundly asleep that he never woke even when the ship touched the shore of his native land. So the kind sailors carried him and his treasure up the beach, laid him down, still sleeping, in a warm corner among the rocks, and set sail again for their own country.
Odysseus woke to find himself surrounded by a strange fog; and out of the fog came a shepherd, who, after talking to him for a little while, turned into Athena herself. Waving her wand, she drove away the fog, which was really a fairy mist, and Odysseus found that at last he was really in his own long-lost kingdom. But Athena said that he must not show himself yet to anybody, so she hid the treasure for a time and turned him into a very old man, like a beggar. In this disguise, Odysseus went to the cottage of a swineherd, who was very kind to him, and gave him food and a rough bed on which to sleep.
He lived for a few days quietly with the swineherd. This good man used to tell him stories of Odysseus, of poor faithful Penelope and her lovers, and of brave young Telemachus, who had gone far away to seek his lost father. Odysseus, as he listened, vowed vengeance on his treacherous and greedy nobles. Every day, however, he longed more and more to embrace his son and wondered when Athena would let them meet.
Then, one day, looking out of the swineherd's window, he saw a beautiful and comely youth approaching the little house. With a shout of joy, the faithful swineherd rushed to meet him, for the handsome youth was none other than Telemachus himself, who, as you know, had been told, in a dream, to turn back home and wait there for his father.
He entered the cottage, and Odysseus rose to give the young man his seat. But the kindly prince —who did not, of course, recognize the king— insisted that the old beggar should stay upon his comfortable seat of osiers, saying that white hairs must be respected. With joy, Odysseus heard him. With greater joy did he listen while Telemachus vowed that he would never rest until he had found his father and restored the ruler of Ithaca to the arms of his queen.
Then Athena appeared again, and once more waved her wand. The startled prince saw the beggar's silver hair become thick and dark, the wrinkled cheek turn ruddy, the faded eyes glow and glisten with life. The rags turned into silk and velvet, the staff into a scepter gleaming with gems. The beggar held out his arms, and Telemachus, understanding all, was quickly folded into them, and father and son almost wept over each other for joy.
Together they set out for the palace; but, as they drew near, Odysseus once more put on the form of an old and ragged man. In this manner he entered the gates and stood and watched the nobles as they tried, one after another, to bend the great bow that he himself had used for hunting when he was their king.
This was the last task set them, in despair, by Penelope. She had said that she really would marry the man who could bend Odysseus's bow! For, through all these years, it had leaned against one of the ivory pillars of the palace, and nobody had been found strong enough to shoot an arrow from the string.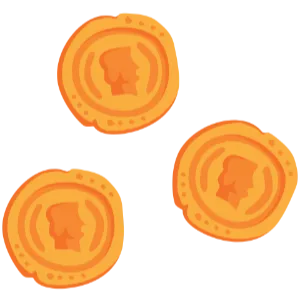 Hey! I hope you're enjoying this free content.
Would you consider contributing to the cause of Latin and Classics?
Just a few sestertii will buy you some cool books!
Odysseus watched in silence, as, through the whole day, the nobles tried in vain to bend the bow. Then, when evening fell, the old beggar man stepped forward and asked to be allowed to try! Everybody scoffed and sneered at him, but Telemachus bade them be silent, for it was his princely command that the beggar should be allowed to try as everybody else had done and, possibly, to win the prize.
So Odysseus, lovingly, took up his own old bow. He passed his hand along the polished wood and turned it this way and that, examining it carefully. Then he fitted an arrow to the cord, drew the great bow easily into a curving arch, and shot the arrow straight and true to the mark.
And now, throwing off his rags, Odysseus stood among them, dark-haired, blazing-eyed, and purple-robed, and showed himself their king! He and Telemachus drove the nobles from the courtyard and killed the wickedest among them. Trembling with love and haste, Odysseus hurried to the apartments of the queen. For a little time, she could not believe that it was indeed her husband who had returned to her, and held away from him, trembling and shy. At last, with a sweet look at her, he asked a question:
"Penelope," he said, "do you not remember the great fig tree in your father's courtyard under which I told you of my love?"
Then the queen knew that this was indeed Odysseus. Nobody in the world but the king and herself knew that it was under the great fig tree that he had first shown her his love. And, with a happy sob, she ran straight into his arms and was folded tightly to his breast, never to be parted from the husband she had so faithfully loved.