This is a chapter of Once Upon A Time: Children's Stories From The Classics by Blanche Winder.
One bright morning, a little baby woke very early, wondering what in the world had climbed into his cradle. Opening his eyes, he saw two enormous serpents that were just going to eat him up, while his nurse sat by, stiff with horror. But this extraordinary baby only gave a shout of amusement, caught the snakes, one in each hand, as if they had been paper toys, and strangled them to death. Then he sat up on his pillows and looked around complacently; while his mother, who had darted in, shrieked for help, and his father rushed through the doorway, brandishing his
sword.
The baby, whose name was Heracles, grew up, and, as was only to be expected, turned out to be the strongest man in the whole world. When he was a boy, his parents sent him into the woods to the school of Chiron, the wise old centaur, who taught him that he must always use his strength right. However, in spite of this, Heracles sometimes did wrong things. He had a very hot temper; and, when he was in a rage, would strike the people who vexed him. He even killed some of them with his heavy fist or did them serious harm in other ways. And at last the Immortals —who loved this strong man and wished him to become a true hero— told him that he could only gain forgiveness for his acts of passion and fury if he became the slave of his cousin, the king, and did whatever that monarch commanded him.
Heracles, who was really very sorry that he had such a terrible temper, sadly and humbly consented. He went to the king where he sat on his golden throne, and offered himself as a slave, and the king, in accepting the offer, said he must perform twelve great and difficult deeds; after which he should again be free.
The strong man agreed to this. Then he was told to go to a far-away forest and kill a terrible lion that was the dread of all the people for miles around. Instantly Heracles took his bow and arrows and set off in search of the lion. On his way he thought he would like a second weapon, so he pulled up an olive tree by the roots, lopped off its head, and turned it into a mighty club. Armed with the club and the bow, he reached the borders of the forest, and strode, like a new kind of giant, through the trees, his strong naked feet crushing down the ferns and flowers.
Suddenly, a loud roar came from a thicket close at hand, and out rushed the largest and fiercest lion that ever was seen. It sprang at the throat of Heracles, but he hit it on the head with the olive club. Then, when the lion sank to the ground, he dropped the club and, seizing the struggling beast round the neck, choked it to death, just as he had choked the serpents, with his bare hands. After which he took its sharp claws and, with them, skinned the dead body where it lay on the moss. Then he put the skin around his shoulders and placed the head on his curly hair as if it had been a crown. So, looking very like a lion himself, he strode back to the city and once more entered the presence of the king.
But his majesty was so terrified when he saw his awful-looking cousin that, with a cry of fear, he sprang into a large brass jar and stayed there, commanding Heracles, in future, to remain outside the city and to take his orders from one of the sentries, or generals, or courtiers — from anybody in fact, but the king himself. With some scorn, Heracles received the next command.
This was to destroy a horrible seven-headed serpent, like a dragon, which lived in a lonely marsh and did even more harm than the lion had done. Fearlessly, the fine and brave hero set off then in search of the serpent, while the king, greatly relieved by his departure, hopped out of the jar.
This time, Heracles drove in a chariot, with his nephew as coachman on the box. Also, he carried a very sharp sword. Presently they reached the marsh where the monster lived; and by and by, among the tall, rank bulrushes, they saw a strange, scaly head, with bright, wicked eyes moving and waving about. Then another head appeared — and another, and another, and another! The next minute out came a great long neck, to which all the seven heads were fastened; and at this sight, the nephew of Heracles was so frightened that he wanted to drive away as fast as possible!

Classicsness 🎙️ the podcast about Classics
Subscribe gratis on your favorite platform and get the new episodes pushed right to your device as soon as they're published!
Right now, we're telling myths for all audiences!
Heracles, however, sprang to the ground and rushed towards the monster, waving his great gleaming sword. The weapon gave a great twist and cut off the first head that it could reach with a single blow. But, to his horror, the bleeding stump instantly shot out seven more heads!
So now there were thirteen heads instead of seven, each of them with grinding jaws that wanted to eat the hero up! It would never do for this to go on; so Heracles hurried away to find his nephew —who had managed to go off alone and hide himself— and made him set a torch alight, and come back to face the growling, raging, thirteen-headed snake. And now, each time that Heracles cut off a head, the nephew —who was perhaps even more frightened of his amazing uncle than of the dragon— thrust the flaming brand into the wound so that no more heads could grow out of it. In this way the huge serpent was killed at last; and Heracles, before he left the marshes which had been its home, gave all his arrows poisoned tips by dipping them in its blood.
Now, the lion and the dragon killed, Heracles must go on a lighter errand — yet one which had its own dangers. Over the hills lay a cold and snow-bound country, haunted by a fairy stag, with horns and hoofs of gold. This stag, also, must be brought as a gift to the king. Away went Heracles, stout-hearted and swift-footed, over the misty mountains, and up the precipices seamed with snow. There the stag lived in loneliness, visited, at times, by Artemis herself, who would never have it hunted, for she loved the beautiful creature with its flashing hoofs and horns. You may guess how excited Heracles was when he first came across the track of those bright feet in the snow! Far and wide he followed it, sometimes spending many days without seeing a trace of it, sometimes glimpsing its noble gold-antlered head through the mists, or against the grey and stormy sky. At last, one day, coming suddenly round a corner, he met the beautiful beast face to face! In a flash, it had turned and bounded away from him, but he set off at full speed in pursuit, drove it into a deep chasm where the snow lay thick and deep, and, seizing the animal by the antlers when it had gone too far into the drift to get out again, bound it with cords and, laying it across his mighty shoulders, carried it home in triumph.
After that, the king told Heracles to capture a great boar, which also lived among the snow drifts of the mountains; this he caught and carried home just as he had caught and carried the stag. Then he was sent to clean out some stables, where three thousand cows were kept, and where no cowman had been with brush and shovel for more than thirty years! The stables belonged, not to a farmer, but to a king, who did not in the least mind them being so dirty, and who laughed heartily when Heracles came and offered to clean them out.
"Do it if you can," said the king; "should you succeed, I will give you three hundred cows for yourself!"
So Heracles, who was never at a loss, set to work very cleverly. Two broad rivers flowed near the stables, and, by working all night, he managed to make a deep channel from one river to one door, and from the other river to the other door. Then he let the waters rush right through the stables, and the current was so strong that the stables were as clean as a new pin when he dammed up the channel again and cut the water off.
The next thing Heracles did was to catch and take home a mad bull, which, the moment it saw him, tried to toss him over its head as it had tossed hundreds of other men. How silly it must have felt when it was slung across the shoulders of Heracles as easily as if it had been a baby lamb! Then the king, his cousin —still keeping Heracles outside the royal gates and with one eye always on the jar— told this terribly strong man to visit a neighboring kingdom, where all strangers were given to the king's horses, who ate them up instead of hay! Heracles not only strode defiantly through the kingdom, but went into the stables, looked at the horses, and then coolly captured the king himself and put him into the manger of the fiercest mare among them, who instantly devoured her royal master; which, you will agree, served him perfectly right! And, as there was nobody about now to teach the horses to eat human beings, they took to hay again, became kind and gentle, and, when Heracles set off for home, went with him as contentedly as a circus troupe.
Then Heracles fought a whole band of fierce women soldiers called Amazons, and took away the jeweled girdle of their queen; he killed an army of terrible birds whose wings grew brass arrows instead of feathers — and drove home a herd of shining, copper-colored cattle as wonderful as those which belonged to Apollo, and tethered them safely in his cousin's pastures, where the whole world came to admire them. He went on a long, long journey, after some golden apples —and the story of those golden apples is so interesting that it will have to have a whole chapter to itself— and, last of all, he was told he was to go down into Hades's kingdom, and to bring back the three-headed dog that barked and growled at the gates of the dim, dark garden that, for six months every year, waved its sad trees over the crowned hair of pretty Persephone.
This was the worst task that had yet been set, but Heracles was still undaunted. He went off, quite alone, down the path that Psyche had trodden, and had many adventures on the way. He even came face to face with dark Hades himself, who angrily barred his passage until Heracles began shooting arrows at him when Hades gave in and ran away! At last, he found the great dog, fought with it, conquered it, and slung it across his shoulders, where it barked and growled with all its three heads, and dropped purple nightshade from its foaming jaws, the whole of the way to the palace of the king. And, this time, Heracles insisted on striding right into the royal presence and flinging the raging dog down at the very foot of the throne!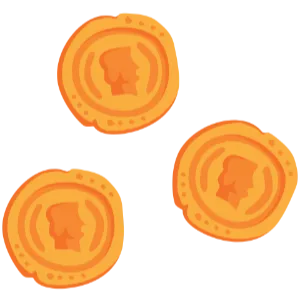 Hey! I hope you're enjoying this free content.
Would you consider contributing to the cause of Latin and Classics?
Just a few sestertii will buy you some cool books!
You may imagine how terrified the king was! With a shriek of fear, he sprang into the brass jar. And there he would probably have stayed forever if Heracles had not agreed to carry the dog straight back to Hades's kingdom, where it started barking and growling at the door again just as if it had never been away.
So Heracles finished the last of his labors and was set free. But nobody, from that day to this, has ever forgotten the wonderful things he did. His temper was never really quite cured, but in every other way he was so good and brave and noble that, when he died, Zeus himself carried his soul away to Olympus to live with the Shining People forever.