This is a chapter of Once Upon A Time: Children's Stories From The Classics by Blanche Winder.
Long, long ago, on the top of a high mountain in Greece called Olympus, a wonderful palace stood, with its windows in the clouds and its doors in the snow. It was quite invisible to the human beings who lived in the valleys beneath, but they knew it was there, and that shining and beautiful people dwelt in it, some of them crowned like kings and queens, and some with wings on their shoulders, like birds.
Now and then one or another of these fairy-like people would come floating down the side of the mountain, leaving the sound of music and the scent of violets and roses on the air as they passed. Nobody knew when the Shining People had been born, and it was said of them that they could never die, so the shepherds who minded their flocks in the meadows, and the fishers who set their crab pots in the rocky bays, called them "The Immortals", and as The Immortals they are known to this day.
First of all, there was Zeus, who ruled over the others, and who had the power to turn himself into an eagle, a cuckoo, a ram, or whatever he found convenient at any moment. Once he changed himself into a white bull with golden horns; and, coming to a meadow where a pretty princess was taking a walk, he thought he would like to carry her away with him from her father's kingdom and give her a fine new country, all to herself, to live in.
So he went up to her, very gently, with a crocus in his mouth, and looked at her with big, soft eyes, from under his golden horns. She was quite pleased, and gathered flowers for him to eat, and wove some of the prettiest into a garland which she hung round his white neck.
Then Zeus knelt down, and the princess jumped onto his back, calling excitedly to her two brothers, who were playing not far away, to come and ride with her on this new and delightful steed. But before the brothers could run up to her, the bull had sprung to his feet and was galloping over the meadow towards the shore as fast as he could, the princess holding on by his golden horns.
Into the ocean he plunged, and away he swam, through the deep waves, to the land that lay in the West. There he set the princess down in a wood and told her he had decided that she was to be the queen of the country, and that, as her name was Europa, it should be called Europe after her.
When Zeus made up his mind about a thing, it always happened: so Princess Europa accepted the crown and sceptre that he gave her, and settled down to reign happily over the kingdom to which she had been carried, in such a strange fashion, by the big white bull.
King Zeus, when he was not busy arranging things of this kind among human beings, had to settle many matters for the Shining People themselves. One day as he sat on his throne in the glittering palace on top of Mount Olympus, thinking deeply, he suddenly felt movement and bustle going on inside his crowned head. It seemed that something was there which wanted to get out!
After asking everybody near if they could help, and finding that they could not, he decided that the only thing to be done was to have his head cut open without delay! So he sent a messenger at full speed to tell one of his sons, called Hephaestus, to come immediately and to bring his axe with him!

Classicsness 🎙️ the podcast about Classics
Subscribe gratis on your favorite platform and get the new episodes pushed right to your device as soon as they're published!
Right now, we're telling myths for all audiences!
Now Hephaestus was the most wonderful workman ever known. He had built many of the towers and rooms of the palace, and once, in a fit of mischief, he had made a throne with a number of hidden springs in it, so that, when the queen sat down sedately, she found herself shut in by little golden bars springing up all round her, and was quite unable to get out.
As Hephaestus was lame and could not move about easily, he had made two fine golden ladies, also full of hidden springs, who walked, one on each side of him, whenever he went out, and helped to hold him up. These ladies came with him now, supporting him with their golden arms, as he hobbled along to the top of Olympus, bearing his magical axe on his shoulder.
Hephaestus was quite willing to cut open his brave father's head when he heard it was for this purpose that Zeus had sent for him. He swung his axe high in the air (while everybody who stood round the throne trembled with fright), and brought it down, with a tremendous blow, among the royal curls. Zeus was none the worse and only put up his hand to rub the deep hole that had been made. As he did so, out of the hole sprang the most beautiful maiden that had ever been seen in the palace on Mount Olympus.
The maiden was dressed in glittering armour and waved a spear round and round the plumed helmet on her hair. She sang a song of triumph as she stood before the amazed king, who could hardly believe that his head had held anything so big and bright.
While she sang, the pine trees on the lower hill slopes were shaken by a great wind, and the waves of the sea rose up, crested with foam. And, amid the noise of the wind and the sea, voices called to each other from mountain to mountain saying that Athena, who was to be a great lady among the Shining People, had arrived upon Olympus, out of a hole in the King's head!
Among the surprised people in the palace was a tall, fair maiden, who carried a bow and arrows, and wore a crown shaped like a little new moon. Her name was Artemis, and the shepherds in the valleys knew more about her than about any of the other Immortals, for she would often chase the big red deer over the hilltops and through the woods, and do many a kindly turn to people who caught a glimpse of her, like the good fairy huntress that she was.
Also, there was Queen Hera herself, whose sceptre was carved like a cuckoo, while a peacock spread its tail at her feet, the pattern on its feathers matching the embroidery on the royal gown.
And presently down the river floated a great golden boat, bringing others to welcome Athena, for in the boat was a chariot, and four horses stood by the bows, close to a bright-haired prince, who held the loose reins of the horses in one hand, and a bow and arrows, like those of Artemis herself, in the other. This was Apollo, Artemis's twin brother. All through the day he had been driving the chariot, which carried the sun, across the high blue sky, and now he had come home to Olympus, that he might rest there for a time, before starting afresh the next morning.
One night, Apollo surprised the people of Olympus almost as much as they had been surprised by Athena. He arrived rather late and very angry, and seated beside him in the round golden boat was a baby, with the most innocent eyes in the world, who held a funny sort of little harp, made with silver cords strung across a tortoise shell, in its plump fingers.
Apollo sprang out of the boat and, leaving the horses and chariot to the nymphs who ran to take them, he hurried with the baby to the throne of Zeus. The king's head had healed up again quite nicely by now, but he started rubbing it once more with perplexity when Apollo told his story.
The baby, it seemed, had stolen fifty of Apollo's beautiful, shining, white cattle!
Nobody could really believe it. Apollo's cattle were so big, and the baby was so very small! It smiled cheerfully at the astonished Immortals and played funny little tunes on its funny little harp while they all asked it questions at once.
Apollo's story was that he had left his cattle grazing peacefully in the meadows, as usual, and that, when he went to look at them, towards evening, they had all disappeared, not leaving even their footprints behind. Instead of the marks of their hoofs, there were broken blossoms, bent rushes, and strewn leaves, as if the meadow had been swept by a great wind.
And then Apollo remembered he had been told that a most remarkable baby had been born that very morning in a cave under a hill — a baby who could do all sorts of mischievous things, and could do them without anybody finding him out. So away Apollo hastened to the cave, and there he found the baby in his cradle, fast asleep, holding in his hands the tortoise shell strung with silver strings. Waking him up, Apollo insisted that he should come immediately to be questioned by Zeus.
The King looked severely at the baby and ordered him to confess at once. And then the baby admitted that he had stolen the cattle, tied up their feet with flowering branches, and driven them away. He added that he had eaten two of them — telling this just as an afterthought. But, he said, he would show Apollo where the remaining forty-eight were hidden; and, to make up for the two he had eaten, would give him the tortoise shell (which he had strung with silver that very morning, and which was called a lyre), so that Apollo could play tunes on it whenever he liked. Then, sitting down among the blossoms on Olympus, the wonderful baby struck the silver strings and brought from the tortoise shell the most beautiful music that had ever been heard in the world.
When Apollo took the lyre he played even more exquisitely than the baby. Nine charming ladies, who were sitting a long way off, on Mount Parnassus, and were called the Muses, heard the clear notes and began to sing to them more sweetly than nightingales. The nymphs in the palace gardens, pretty as fairies, started dancing in and out of the fountains, their white feet twinkling through the water and shaking drops of spray into the open cups of the flowers. And all the Shining Ones gathered round Apollo and hastened with joy to the tunes that he played so delightfully on the strings of the wonderful lyre.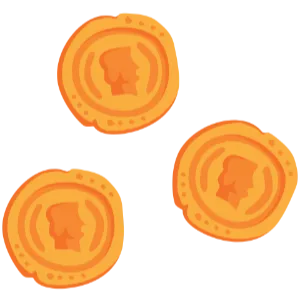 Hey! I hope you're enjoying this free content.
Would you consider contributing to the cause of Latin and Classics?
Just a few sestertii will buy you some cool books!
The baby, when he grew up, was quicker than quicksilver, and the Immortals called him Mercury or Hermes. Fitting his heels and his cap with little wings, they sent him flying backwards and forwards as their messenger between the invisible palace and the people in the valley below. And Apollo's cattle were safe ever afterwards, for he and Hermes became the best of friends.
All the inhabitants of Olympus thought a lot of Hermes, and none more than Queen Hera's peacock, for it was through Hermes that it gained the beauty of its tail. The queen was jealous of the pretty maidens to whom the king gave gifts; and one day she turned one of them, a water nymph, into a white cow! It was always guarded by a strange creature, called Argus, with a hundred eyes. Only two of the eyes went to sleep at the same time — the other ninety-eight stayed wide awake. The poor little white cow could never manage to escape, until one day Hermes sang lovely lullabies so that the eyes went to sleep, one by one, until they were all fast closed, and then he killed the monster, and the white cow turned back into a maiden. But Hera took the hundred eyes and set them, like starry jewels, in her peacock's tail.