This is a chapter of Once Upon A Time: Children's Stories From The Classics by Blanche Winder.
A certain king and queen, who lived in a wonderful land more years ago than anyone can count, had three daughters, all of whom were beautiful, while the youngest, called Psyche, was the loveliest maiden that the people of the country had ever seen.
So fair was she that her father's subjects declared she was fairer than Aphrodite herself. This made the queen of love —who, like others among the Shining Ones, could sometimes be very jealous— so angry that she decided poor Psyche must be punished for daring to become her rival. So, calling her son Cupid to her side, she told him to go at once in search of the maiden who was called Psyche, and, by wounding her with some magical arrows Aphrodite had given him, make her fall in love with the first hunchback or beggar that she met.
In the meantime, the king and queen had become very perplexed because, for all her beauty, no fine prince came along who wanted to marry their youngest daughter. Both her sisters were quickly wooed and won by neighboring kings, but it looked as if Psyche were going to be an old maid! So at last her royal father, who knew of a hidden place in the mountains where he could ask questions of Apollo, went to this secret cave and inquired how it was that Princess Psyche remained unmarried.
The answer the king received made him dreadfully unhappy, for Apollo told him that beautiful Psyche must become the bride of a great winged serpent that flew to and fro among the stars, and which was stronger than even the Shining Ones themselves so that there was no hope of saving the maiden from its clutches. The only thing to do was to take her to a high hill opposite the cave and set her on the rocky summit to await her fate.
The king and queen knew it was of no use to resist a winged serpent that was more powerful than the Bright People of Olympus, so they had a long procession formed of their weeping subjects, and the procession took Psyche to the lonely hill and left her there.
But no winged serpent came to her. Instead, a little sweet, soft breeze lifted her on its fragrant wings, and, wafting her down from the cold mountaintop into a warm valley, laid her in a grassy bed of sweet and delicate flowers, where, drying her tears, she soon fell fast asleep.
When she awoke all was still and peaceful, and she sat up and looked about. She saw, then, that she was on the edge of a beautiful wood, with a stream running through it, clear as crystal. Rising to her feet, she went a little way into the dim shadows of the trees and presently caught sight of the walls of a palace built of ivory, silver, and gold. It seemed quite deserted; and, as she drew nearer, she saw that all the doors were set wide open, with no servants to guard them. She crossed a lovely garden, full of flowers, and stepped into a hall paved with rubies and sapphires and mother-of-pearl, which glowed under her feet as she walked across it. Peeping into the rooms, one by one, she saw that they held chairs and couches of gold, and were hung with curtains of exquisitely embroidered silk. As she stole, marveling, down the empty, shining corridors, she heard a voice speaking to her very gently, though nobody was to be seen.
"Do not be afraid, pretty princess!" said the voice. "All the palace belongs to you, and we, though we are only voices, are ready to obey any order that you like to give."
Psyche hastened in amazement, then said, timidly, that she would like a bath prepared for her and a couch where she could rest. Immediately invisible hands led her to a room where the bath, smelling of roses and lavender, was all ready, with a couch quite near to it, spread with blue and purple cushions. Then, dishes of delicious cakes were brought to her by the same invisible hands, while a harp played sweetly, with no one fingering the strings. The voices talked to her in the intervals of the music, telling her to have no fear, for good spirits were about her, and the prince who owned the palace would come to her as soon as it was dark.
The sun sank, the daylight faded, and Psyche, soothed and happy, nestled down among the silken cushions of the couch. Then by and by she heard the sound of soft wings beating gently upon the air, and caught the fragrance of many flowers, and knew that some spirit had flown in through the open window. All the air trembled with love and gladness, and a voice, far sweeter than the music of the harp, told her not to be afraid, for this was the prince of the palace himself, and Psyche was to be his bride.

Classicsness 🎙️ the podcast about Classics
Subscribe gratis on your favorite platform and get the new episodes pushed right to your device as soon as they're published!
Right now, we're telling myths for all audiences!
You may imagine how happy she was to find that no winged serpent meant to carry her to his dreadful home in the clouds. She and the prince talked for many hours in the soft, sweet darkness. But, before daylight came to show him to her, he opened the window again and flew away.
So, for many weeks, Psyche lived in the enchanted palace, waited on by invisible servants all day and visited by the prince every night. But he told her that she could never be allowed to see him; she knew him only by the sound of his wings and the tones of his clear, soft voice.
Then, one day, her two sisters, who were very anxious to know what had become of her, came to the top of the high mountain, and, like Psyche herself, were gently lifted by the West Wind and carried down into the valley below. There, Psyche, walking in the wood, suddenly found them, sitting all amazed upon the grass.
She was, oh, so pleased to greet them! She took them through her beautiful garden and showed them all over the palace with its floors of gems and its walls of ivory and gold. She commanded the harp to play to them and ordered dishes of fruit to be brought in by the invisible hands. And then she told them about the unseen prince who flew in at the window every night.
But the sisters shook their heads. They had been getting more and more envious of Psyche every minute, and to hear of the winged prince put the finishing touch to their jealousy, for their own husbands were ugly and old. So they declared that they did not believe it was a prince who flew in at the window at all; it was the winged serpent in disguise, and one of these days it would certainly fall upon Psyche and eat her up!
Psyche listened in dismay. She had been so sure that the fragrant wings and the beautiful voice belonged to a fairy prince that it was terrible to think her loved visitor might be the terrible serpent, after all! Her sisters went on declaring that they knew this to be so, and, before going away, left her a lamp, which she could light that evening, in order to look at the being who flew in through her window; and also a knife with which she could cut off its head. For, said they, even if the winged one looked, as well as sounded, like a prince, that was only because the serpent wore such a very clever disguise.
So, that night, when the prince came to her and, after talking to her for some time of his love, fell asleep on the silken-cushioned couch. Psyche, all trembling, rose and lit her lamp. Then, creeping to the side of the sleeper, she raised the light high and peeped down at him through the little golden glow made by the flame. And behold, the fairy prince was no other than Cupid himself!
Psyche looked, and looked, bending nearer and nearer, wonderstruck by his beauty. She could not see his wings, for they were folded under him, but by and by, she found his quiverful of arrows. Lifting them, she gazed at them curiously, and, pricking herself with one, loved him even more. But, as she bent over him, the lamp she held tilted forward, and a drop of hot oil fell onto his shoulder. Cupid woke with a start, gazed into her rapt face, all lit up with love and, with a cry of reproach, flew straight out of the window.
Poor Psyche! She hastened, sobbing, into the garden, but Cupid only called back to her from where he hung, sorrowfully, above a dark cypress tree.
"I, who was commanded to make you love a beggar or a hunchback, came down from Olympus and made you love me!" he cried. "I told you that you must never look into my face! You disobeyed! Goodbye!"
Then he was gone.
But Psyche, loving him now better than life itself, left the beautiful palace, wrapped herself in an old dark cloak, and wandered through the world, seeking him. Sometimes, in her roamings, she met the water nymphs and begged them to tell her where he had gone. Once she met Demeter in her golden gown, and once she came across the queen of the Shining Ones herself. And to all of them she put the sobbing plea, "Would they not help her to recover Cupid?"
And where was Cupid all this time? He had flown to his mother's palace with his hurt shoulder, and she had changed him from a beautiful youth into a helpless little boy, and locked him up with a golden key in a golden chamber! But, as he sat there rubbing his shoulder, he fell more deeply in love than ever with the memory of Psyche.
You see, he had wounded himself on purpose with one of his own arrows, so now he could never forget her. And, while he was locked up in the golden room, who should come to Aphrodite's palace but Psyche herself, still seeking him. The queen of love, who had heard the whole story from a seagull, was now angrier than ever. She forced the pretty princess to be her servant and compelled her to do all sorts of hard tasks, sending her at last right into Hades's underground kingdom, to bring back a pot of magical ointment, with which Persephone kept her beauty unfaded during the months that she spent below the earth.
Psyche succeeded in obtaining the ointment and came wearily back to Aphrodite's palace with the little jar. Then the idea occurred to her to use some of the magic stuff herself, for her hard life was making her tired and old. She opened the pretty pot carefully, but, behold, there was no ointment there — nothing but clouds and clouds of mist, which, as they enfolded her, sent her by degrees into the sweetest and soundest of sleeps.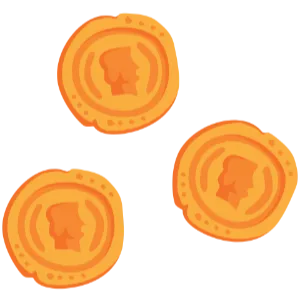 Hey! I hope you're enjoying this free content.
Would you consider contributing to the cause of Latin and Classics?
Just a few sestertii will buy you some cool books!
While she slept, with the silvery mists all about her, Cupid managed to climb out of his golden window, and to turn himself once more into the shining-winged, grown-up prince; flying down to the ground he saw the silvery mists, and his own beautiful princess asleep in the center of them. With a cry of joy, he sprang to her, wiped the sleep from her face, and waked her with a dainty, playful prick from one of his golden arrows. Then, after he had kissed her a hundred times for joy, he shut the mists up again in the pot, and, flying right up the slopes of Olympus to the throne of Zeus, begged the king of the Shining People to consent to his open marriage with Psyche.
Zeus, hearing all, could not refuse. He sent for both Aphrodite and Psyche and gave the mortal princess a cup of nectar to drink, which turned her into one of the Immortals. When Aphrodite saw that Psyche had indeed become one of the Shining Ones, she too consented to her son's marriage. So Cupid and Psyche were joined together, forever, amid the songs and shouts of all the Shining People of Olympus.