This is a chapter of Once Upon A Time: Children's Stories From The Classics by Blanche Winder.
One beautiful day, a maiden, pretty as spring itself, was playing with her companions in a meadow full of flowers. Sometimes they gathered great bunches of violets and lilies and made wreaths for their necks and heads; sometimes they danced; and sometimes they played at ball.
The pretty maiden was called Persephone, and the meadow where she played was quite close to an enchanted pool, where fairy swans sang like nightingales. Persephone was young and happy, and never thought of anything so serious as getting married. All she wanted was to laugh and sing in the sunshine, and to gather nosegays to show her mother at night.
But, as she danced among the lilies, a great king watched her through the flowering trees. He had a gold crown on his long black hair, and his eyes were dark and fierce.
"This pretty child," said he to himself, "is old enough to be married, yet, if I propose to her, I know she is quite sure to refuse me, so I will carry her off by force!"
Having made up his mind, he pushed aside the bushes and stood in front of laughing Persephone and her friends.
You can imagine how startled the girls were to see a fierce, dark king in a gold crown suddenly appear among the pink almond blossom. They dropped their flowers and drew close together, staring at him with frightened eyes. He put out his strong arms and caught up Persephone as if she were a baby. Then he strode off over the grass; and, around the corner, the terrified little maiden saw a strange coach waiting, with four horses impatiently pawing the ground.
The horses' manes and coats were as black as the king's hair, their eyes were as fierce, and their strength was even greater than his. Into the coach sprang the king, placing Persephone on the seat beside him, and drove off as fast as he could, the chariot sweeping over the country like a black cloud, and the spring flowers, that Persephone had dropped in her terror, lying crushed and broken on the moss. Her pretty playmates, left behind, cried in vain for help.
The fierce king, whose name was Hades, and who was a distant relative of the Shining People on the Mountain, only drove the faster. Presently he reached a river; in this lived a kindly water fairy, called Cyane, who, seeing what was happening, tried to stop the chariot by making the stream rush up over the bank, and pour itself all around the dark wheels and the horses' black hoofs.
This frightened Hades, and he decided that he must make his way at once to his own kingdom, which lay far down below the flowers and the sunshine, right underneath the earth. So he lifted his great sceptre and struck the ground as hard as he could. Whereupon, with a loud rumble, the earth opened, showing a long dark passage through which the coach and horses could easily pass. Down this terrible road drove the king; but, just as the chariot was disappearing, Persephone caught sight of the anxious river fairy looking despairingly after her. With a quick thought, she pulled off her embroidered girdle and threw it to Cyane, crying:
"Take that to Demeter, my darling mother, and tell her what has become of me!"
Persephone had only just time to see that Cyane had caught the girdle before the earth closed over her head, and there she was, all alone with Hades, being swept along by the fierce horses down a road where everything was dark.
Her playmates, as night came on, ran home, sobbing with terror. Then, just as the flowers began to close and the dew to fall, a beautiful and gracious lady, dressed in a silken robe the color of growing corn, and wearing a wreath of barley mixed with roses, came stepping over the grass to the bank where Persephone had been playing. This was Demeter, who had arrived to take her daughter home. She stopped short when she saw the scattered wildflowers and raised her voice in a clear call.

Classicsness 🎙️ the podcast about Classics
Subscribe gratis on your favorite platform and get the new episodes pushed right to your device as soon as they're published!
Right now, we're telling myths for all audiences!
"Persephone! Persephone!" she called. But, though the cry echoed all over the meadow, there was no reply.
Then Demeter, wringing her hands, began to hurry up and down the land in search of her child. She looked in all the orange groves and the almond orchards and the sea caves. When it grew too dark for her to see anything, she lit a great torch and went on seeking and calling all through the night. But she could not find Persephone, who was deep under the earth with the fierce black king.
So, day after day, the poor mother wandered over the fields, having many adventures. One evening, as she sat and wept on the bank of a river, she suddenly saw a shining girdle among the water lilies. As she gazed, a ripple ran over the stream and a white hand and arm rose above the water and threw the girdle gently to her feet. The arm belonged to Cyane, the river fairy, who had been taking care of Persephone's girdle all this time and who was, at last, able to give it into the care of the lost maiden's mother.
Of course, Demeter recognized it instantly and covered it with kisses. Full of hope, she went a little further and presently came to a spring that gushed in crystal foam out of a mossy bank and then tinkled away down among the ferns and the yellow iris with a noise like silver bells. Demeter sat down to rest by this dainty brook, and presently, among the little bell-like noises of the water, she thought she heard the sound of words. Listening still more carefully, she became quite sure. Then, with a thrill of delight, she realized that the little brook was talking to her!
This was the tale the streamlet told…
Once —so whispered the hurrying, glittering water— the brook had been a maiden as beautiful and gay as Persephone herself, and had gone hunting the stags on the mountains with Artemis. Becoming hot with running, this maiden, named Arethusa, had slipped away into the woods to find a pool in which to bathe. While she was swimming alone in the cool water, a great river spirit, crowned with shells and weeds like a merman, had fallen in love with her and tried to catch her in his arms, just as Hades had caught Persephone.
Springing out of the water, she had run away as fast as she could, the river spirit running after her. Finding that she could not escape, she had called loudly to Artemis; and Artemis had turned her into a brook! In this form, Arethusa had slipped gaily away between the reeds and rushes, with forget-me-nots all about her, and kingfishers catching the little fishes that were swimming in her bright hair! But the spirit who chased her, not to be outdone, instantly turned himself into a river, so big that ships could have sailed on the water. Once more, however, Artemis came to the rescue. She suddenly opened a rock, and down into the little cave that was made by the opening slipped Arethusa — down, down, down, till she came to the deep kingdom of Hades himself, from which she at once did her best to escape.
As she was hurrying away, so she told Demeter, she caught a glimpse of poor lost Persephone, sitting, dressed in long black robes, on a great black throne, with the fierce black king beside her. And there were no sunbeams, no birds, no pretty spring lambs, and no flowers but dark, purple poppies and big red pomegranate blossoms, which glowed like fire among the shadows, while a black river watered the gloomy bushes on which they grew.
When Arethusa had finished her story, she went on murmuring and murmuring, until at last she seemed to sing herself to sleep. But Demeter was even more unhappy than before, and, giving up all hope of ever rescuing Persephone from the dark kingdom under the earth, she went, all alone, to a gloomy cave, where she threw away her wreath of withered roses and sat down to weep afresh.
Now it was the love and care of Demeter that helped the juicy fruits to ripen, and that filled the ears of wheat with golden grain. In the same way, it was the sound of Persephone's little dancing feet upon the ground that made all the birds begin to sing, and the wood anemones to peep up through the dead leaves. Without Demeter and Persephone, the days were dark, the meadows were flowerless, and the streams were covered with ice. What would have happened to the world nobody can tell, if Demeter had stayed weeping in her cave, and Persephone had been kept seated on her throne by Hades, a most unwilling and unhappy little queen.
Demeter, however, had many wise and loving friends among the Shining People on Mount Olympus. And through the Shining Ones Persephone was saved. These fair and kind Immortals took the tale to Zeus, who said that the world could not possibly be left without violets and roses and green grass and yellow corn, and so Persephone must be brought back from the dark kingdom, and Demeter coaxed out of the dreary cave.
One morning, therefore, just at the time of year that the cuckoos would have liked to begin calling if everything had not been so cold and sad, Demeter heard a clear voice speaking to her at the entrance of her cavern in the rocks. Looking up, she saw a beautiful boy with a gold wand in his hand and little wings on his head and his heels. And she knew that it was Hermes, who had flown down to her with a message.
"Come with me!" he said. "I have been sent down from the Mountain to bring Persephone from the dark kingdom under the earth."
How gladly Demeter sprang to her feet! How joyfully she followed Hermes as, half-running and half-flying, just as a bird might, he led her towards the deep, gloomy passage which only the messenger of the Shining Ones knew where to find.
But there, while they waited, Demeter heard voices all about her, saying that if Persephone had eaten anything while she was in Hades's kingdom, she could never be let out. From what Arethusa had told her, however, Demeter was quite sure there could be nothing there to eat! She had forgotten the red flowers, which by this time must have grown into fruit on the boughs of the pomegranate trees.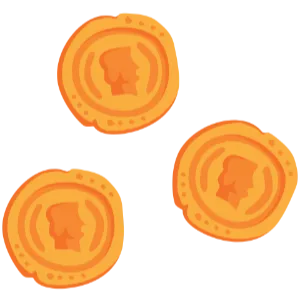 Hey! I hope you're enjoying this free content.
Would you consider contributing to the cause of Latin and Classics?
Just a few sestertii will buy you some cool books!
Hermes paused at the entrance to the sad cave, and, signing to Demeter to keep quiet, bent a little forward and gave a long, sweet call. Then he waited, breathlessly, the pretty wings on his feet still-all a-flutter, rustling like butterflies in the long, dead grass. Everything was still, and he gave a second call, sweet as a bird's. And, this time, there came an answer, very far away and faint.
Up through the gloom floated a small figure, as pale as thistledown and almost as delicately airy. Hermes ran a little way into the cave and brought Persephone out into the light. Then he turned about and laid the poor trembling little queen in the arms of her mother.
How glad Demeter was! How tightly she hugged her pretty child! Very, very anxiously she begged to be told if Persephone had eaten anything while in the palace of the dark, stern king. And Persephone faltered out the confession that
she had swallowed six of the pomegranate seeds.
"Oh, dear! Oh, dear!" sighed Demeter. "What is to be done now?"
She turned to Hermes, who shook his head but smiled at the same time, saying:
"For every seed that she has eaten, she must spend a month in the dark kingdom with the sad king! But all the rest of the year she may pass with you among the birds and flowers."
Then he waved them goodbye and turned and flew off to his own palace home on the high Mountain, while the sweet blossoms began to grow around Persephone's feet, and the little birds to sing about her head.
"It is spring, spring, spring!" they sang. "What does the future matter? For six months we can all be happy, now that Persephone has come back to play in the sunshine on the green earth!"