This is a chapter of Evergreen Stories by W. M. L. Hutchinson. It includes the following stories: King Midas and His Strange Adventures — Alcestis, the Noble Wife — The Real Helen — Cupid and Psyche — The Vision of Er
Then asked he, if folk that heer be dede
have lyf and dwelling in another place;
and African seyde, "ye, withoute drede,"
and that our present worldes lyves space
nis but a maner death, what wey we trace,
and rightful folk shal go, after they dye,
to heven; and shewed him the galaxye.

Than shewed he him the litel erthe, that heer is,
at regard of the hevenes quantite;
and after shewed he him the nyne speres,
and after that the melodye herde he
that cometh of thilke speres thryes three,
that welle is of musyke and melodye
in this world heer, and cause of armonye.

Chaucer, proem to The Parlement of Foules
Chaucer here paraphrases Cicero's Dream of Scipio, to whom his great ancestor Africanus appeared and revealed these things.
"But else, in deep of night, when drowsiness
hath locked up mortal sense, then listen I
to the celestial Sirens' harmony,
that sit upon the nine infolded spheres
and sing to those that hold the vital shears,
and turn the adamantine spindle round
on which the fate of gods and men is wound.
Such sweet compulsion doth in music lie,
to lull the daughters of Necessity,
and keep unsteady Nature to her law,
and the low world in measured motion draw
after the heavenly tune, which none can hear
of human mould with gross unpurged ear."

Milton, Arcades, 61
Long, long ago, in the land called Pamphylia, a brave man named Er was killed in battle, fighting for his country. The enemy won the field, and it was ten days before the fellow citizens of Er could take up the bodies of their dead to give them burial. And they buried the rest where they lay, for decay had done its work on them — but when they found Er's body, behold, it was still fresh. So his friends carried the corpse home and laid it on a pyre of logs to be burned after the custom of the country. But even as they set light to the pyre, the dead man sat up and began to speak. And when he was taken down from the pyre and had fully come to himself, he was urgent to tell them the things he had seen and heard in the other world, for this, he said, was a charge laid upon him there. Those that then heard the tale placed it on record; thus it was preserved, and as Er told it, so it is set down here.
When the soul of Er departed from his body, it journeyed along with a great company of other souls to a certain faery place, where were two rifts, side by side, in the earth; and just above each rift there was an opening in the sky overhead. And between the rifts sat certain judges, who passed sentence on the souls, according to their works. Only the soul of Er was not brought to trial; a mysterious voice bade him stand apart and give earnest heed to what passed, for he must carry a report of it to the land of the living. So he looked and listened. And he saw that the judges placed tokens of acquittal on the breasts of the righteous souls and caused them to ascend through the right-hand opening in the heavens; while tokens of their guilt were hung on the backs of the unrighteous souls, and they were sent down through the left-hand rift in the earth. All who were thus judged were souls of men who had just died, like himself.
Then he saw also that while the newly disembodied souls were passing upwards or downwards from that place, two other companies of spirits were arriving there; one coming down from the second sky opening, and the other rising out of the second rift in the earth. And the place, as Er described it, is a great and grassy meadow, wherein the two companies of arriving souls met and mingled. All alike seemed weary, as from long travel, and gladly laid themselves down to rest in the meadow, like men who have gathered from far to some public festival.
But the souls that had come down from the heavens were arrayed in raiment white and clean, whereas those who arose out of the earth showed all squalid and dust-begrimed. Many greetings passed between souls that recognized each other; infinite the questions and replies exchanged between the comers from heaven and from the underworld. The former spoke of pleasures and glories indescribable; the latter dwelt with tears and lamentations on the terrible things they had seen and suffered during their pilgrimage below, which they said had lasted a thousand years.
It was impossible, Er said, to repeat in full all the tales to which he eagerly listened, but the sum of them came to this — for every crime and misdeed done in the body, each soul paid tenfold retribution after death. And their purgatory lasted a thousand years, because the full measure of human life was reckoned by the supreme judge as a hundred years. In like manner, the souls of those who had done justice and loved mercy while on earth were rewarded tenfold in Paradise.
Er learned that the crimes most heavily punished were impiety, disobedience to parents, and the murder of kinsfolk; while they who had honored the gods and their parents, and cherished their own kindred, were especially rewarded. There was a countryman of his own, he said, among the tormented — and this was what he heard about him…

Classicsness 🎙️ the podcast about Classics
Subscribe gratis on your favorite platform and get the new episodes pushed right to your device as soon as they're published!
Right now, we're telling myths for all audiences!
He heard one of the souls ask another where Ardiaeus the Great was. Now this Ardiaeus had been the despot king of a city of Pamphylia a thousand years before Er's time, and was said to have murdered his aged father and elder brother, besides doing many other wicked deeds. The soul to whom this question was put gave this answer: "Ardiaeus is not come, nor is he likely to come hither. For as we came, we saw this, among other fearful sights. Just as we drew nigh to the rift in the earth, and were about to mount up, having passed through our purgatory, we suddenly saw Ardiaeus along with some others — I fancy most of them had been tyrants too, though there were certainly a few private persons who had been guilty of enormous crimes. This company, just as they made sure of going up, were driven back by the rift itself, which drew together and gave forth a bellow. This it does whenever souls incurably wicked, or such as have not yet expiated their sins, try to go up. Thereupon certain fierce sentinels —men all aflame they seemed— who understood that signal, dragged away some of the company, seizing them round the waist; but Ardiaeus and others were bound hand and foot, and flung down, and flayed with whips, and carded, like wool, upon thornbushes which are there on the wayside; and a voice cried to those who were then passing by the reasons for these tortures, and that the victims were about to be cast into nethermost hell. All the terrors we had suffered —and they were manifold— were nothing to the dread we then felt lest that bellow should sound forth when we tried to go up. And thankful we were that the rift let us pass through in silence."
Now when the souls had rested seven days in the meadow, they were commanded to leave it and set forth on their journey. Three days they journeyed, and on the fourth day they came to a place from whence they looked down upon a great belt of light, straight as a pillar, stretched from horizon to horizon. The colors of it were like the rainbow, but more brilliant and pure. After another day's travel, the souls reached the middle of this belt; then they saw that its ends are fastened to the opposite sides of the sky, which it binds together, and so holds in place the whole revolving heavens. This is what men on Earth call the Milky Way. And now were they come to the center of the universe, where sits enthroned the great goddess Necessity, the holder of the lots, who steers the course of all things. There she sits, ever twirling upon her knees a mighty spindle of adamant; and as she twirls it the seven planets revolve in their orbits. For the whorl of her spindle is not single, like those we know, but eightfold; to imagine it, you must fancy eight shining wheels fitted each inside the other like a Chinese nest of boxes. Each wheel is the orbit of a planet, except the eighth and outermost, which is that of the so-called Fixed Stars. The other seven are the wheels of the Moon, Mercury, Venus, the Sun, Mars, Jupiter, and Saturn.
(In later times, men came to think of these eight divisions of the heavens not as "wheels" but as "spheres"; thus it is that our own poets have spoken of "the music of the spheres," meaning the same music which now enchanted Er and his companions. But a sphere is a ball, and what they saw, by his account, were not balls, but wheels or circles of light.)
And upon each wheel stands a siren —a weird and beautiful shape, half bird, half woman— uttering one note all the while, as it were the note of a harpstring; and the eight notes uttered by the sirens make up a harmony most divine. Round about the throne of Necessity sit three other goddesses, each likewise on a throne. These are her daughters, the three fates, whose names are Clotho, Lachesis, and Atropos. Their robes are white and glistering, and the head of each is crowned with a garland. They are seated at equal distances apart and at equal distances from the throne of their mother. Er beheld their faces, solemn and vast, like the face of the sphinx that is in Egypt. But the face of Necessity was veiled. He saw that Clotho with her right hand guided now and then the outermost rim of the great spindle whorl as it spun; Atropos with her left hand guided the innermost; but Lachesis from time to time laid either hand on both those circles. And the three, with scarce-moving lips, were chanting a song that no man knoweth. After this fashion then is the spinning of the fates.
Now the souls no sooner came to this place than it was required of them to draw near to Lachesis. Beside her stood an interpreter —as such he was named to them— who marshaled them in order before her throne. Then he took from her lap a heap of discs marked with numbers and a heap of inscribed tablets. The numbered discs were lots, and the tablets were plans of lives. For each tablet bore the name and description of a life on earth, set out like the chart of a voyage. The lives were of every kind, no two alike. There were lives of all living things, and of all sorts and conditions of men, from kings to beggars.
But this Er saw by and by. When the interpreter had gathered up these things from the lap of the goddess, he mounted a high pulpit and made proclamation as follows: "The word of Lachesis, the virgin daughter of Necessity. Ye souls, creatures of a day, here beginneth a new cycle of mortal life for you that are subject to mortality. Your earthly fate shall not be chosen for you, but you shall choose it yourselves. Let him who draws the first lot be the first to choose a life, whereunto he shall be bound without recall. But Virtue owns no master; he that honors her shall possess her more abundantly, and he that neglects her shall have less of her. The chooser alone shall be answerable for his choice; it shall not be laid to the charge of heaven."
When he had thus spoken, the interpreter scattered the lots among the crowd below, and each soul took up the one that fell nearest to him, except Er, who was forbidden to do so. Then the plans of life —which Er could see were many more than enough to go round— were laid out on the ground before the souls, who came forward to make their choice in order, according to the number of the lot each had drawn. As I have said, there were all sorts of lives to choose from, and in each sort there was infinite variety. Among the lives of kings and princes, for instance, there were some that ended in full power and prosperity, and others that met with a sudden and disastrous close murder, or exile and beggary. There were also lives of famous men — some renowned for personal beauty, others for strength and skill which made them great athletes, others again, for noble birth and illustrious homage; and there were lives in plenty of men not distinguished for anything. Lives, too, of celebrated women — and of women without celebrity. But Er saw that unlike health, wealth, poverty, disease, and other such accompaniments, goodness or badness of character was nowhere included in these life plans. This set him thinking, and, as it seemed to him, the reason was that a man's character is not part of his destiny, nor born with him, but is the outcome of his actions. That, he thought, was what the interpreter meant by saying that Virtue owns no master. For a soul might choose to be a king, but not to be a good king; because Virtue is not bound up with any one kind of life, high or low, rich or poor, but may be sought and won in all — though more hardly in some than in others.
And so thought that wisest teacher of ancient Greece who once told to his disciples this tale of Er — "The messenger from the other world," as he called him. This teacher, even Socrates, said that as for the spirits in Er's vision, so also for us upon earth, a great choice is ordained; and that the only knowledge worth a man's striving after is the knowledge which will enable him, at all times and in all places, to choose between the good and the evil life, counting as good the life which will lead the soul nearer to righteousness, and as evil the life which will draw it towards unrighteousness, and reckoning all besides as dust in the balance. But turn we again to our tale.
As the souls were coming forward to survey the life plans spread before them, the interpreter's voice was heard again.
"Even for the last comer," he said, "there remains a life not undesirable and nowise evil, provided he chooses it with prudence, and lives it strenuously. Let not the first chooser be heedless — nor the last discouraged."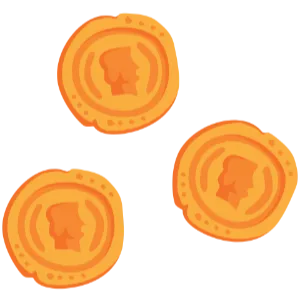 Hey! I hope you're enjoying this free content.
Would you consider contributing to the cause of Latin and Classics?
Just a few sestertii will buy you some cool books!
Thereupon the soul who had drawn the first lot advanced, and after some hasty glances at lives of kings, forthwith chose the most absolute and powerful monarchy he could find. But, reckless and greedy that he was, he had not looked to see what else there might be in that life of power and pride, before he chose it; so he never noticed the fearful things it had in store for him, whereof the crowning horror was to banquet unawares on his own children's flesh — to such revenge would his rule goad his subjects. Therefore, when this soul had taken up the life plan he desired and studied it awhile, he fell to beating his breast and lamenting aloud. And unmindful of the interpreter's words of warning, he laid the blame of his miseries not upon himself but upon Fortune and Destiny, and indeed upon anybody and everybody rather than himself. What surprised Er not a little was that this rash and misguided soul was one of those who had come from heaven; he heard also that its former life on earth had been that of a virtuous, law-abiding citizen in a well-governed state. "It seems," thought Er, "that obeying laws, however good they are, is not enough to make a man's soul good. Or how could this one, being given free choice, have chosen to become a despot?" And as he looked on, he observed that more than half the souls who made hasty and mistaken choices had likewise come from heaven, while most of those that had come from beneath the earth chose with far greater care. This, he was told, was because the former had not known the discipline of pain, which the others had both seen and felt in the Underworld.
It was indeed a wonderful sight, Er said, to watch the souls choosing their lives — a sight to cause at once laughter and tears and astonishment. The choice seemed nearly always to be guided by the happenings of the soul's former life. Thus he beheld the soul that had lived on earth as Orpheus choosing a swan's life, because he could not endure to be born again of a woman, so great was the horror of womankind that those savage Thracian women had given him, who tore him to pieces in their frenzy. And the soul of the blind bard Thamyris chose to be reborn as a nightingale, because of the affliction he had known as a man. But Er saw a swan choosing to give up its nature and become a man, and other souls that had been singing birds doing likewise. Now the soul that drew the twentieth lot chose a lion's life. It was the soul of Ajax, who would have no more to do with the race of men, remembering the baseness and injustice he had seen in them when the armor of Achilles was awarded not to him but to Odysseus. Next came the soul of Agamemnon; his miserable end had so taught him the vanity of human ambition that he chose the life of an eagle.
Not long after, Er saw the soul of Atalanta, still garbed as a huntress; fair and terrible she looked, as when she was wont to run races with her suitors. She had drawn one of the middle lots and, casting her eyes on the life plans that yet remained, she saw an athlete's life, all full of honors and rich prizes. She paused, then stooped and took it up quickly, like one unable to resist a lure; and Er thought that just so she must have looked when she halted to pick the golden apple that Melanion threw her while they ran together, and thereby lost the race to him.
Then he saw the soul of Epeus — he that made the wooden horse and was said to make up in craftsmanship what he lacked in courage, being no lover of fighting. Epeus did not belie the old report of him, for he chose to live again as a woman skilled in weaving and needlework. And then, among the last, he saw some way off a soul that seemed changing from human form into that of an ape; he heard that this was Thersites the buffoon, and was not surprised at his choosing to become the animal whose nature had been nearest to his own.
The last lot of all, as it chanced, was drawn by the soul of Odysseus. That great adventurer, it seemed, had been purged of all his ambition and love of roving by the memories of his troubled past. For when, last of all, he came forward to make his choice, he went to and fro a long while looking for a quiet, retired life among those that were left over. With some pains he found one, lying where it had been contemptuously thrown aside by the other souls. As soon as he set eyes on it, he eagerly took it up. "This is the life for me," he said, "and the one I should have taken even if I had drawn the first lot, and had first choice of all."
Now when all the souls had chosen their lives, they advanced one by one to the throne of Lachesis and saw as it were a cloud of winged shapes, some bright and others dusky, hovering around her. These were fortunes, one of which belonged to each of the lives they had chosen. And Lachesis gave every soul into the keeping of its own fortune, who would thenceforth guide it through its earthly course. This fortune first led the soul to Clotho, making it pass under her outstretched hand that was twirling the great spindle whorl, so that the hand just touched its head in passing; next they came to Atropos, and the soul passed under her hand likewise. For by the touch of these sister fates each soul is bound irrevocably to its chosen life.
After this, the whole multitude passed through a great archway underneath the throne of Necessity; Er was permitted to pass through also, but not until all the rest had done so. And they all journeyed on to the Plain of Forgetfulness; the air of that place is stifling, so terrible is the heat, and there is not a tree or a blade of grass to be seen. A river called Carenought runs through the plain, and no vessel ever made can hold the water of that river, for it bursts whatever it is put into, even vessels of iron. As evening drew on, the host of souls took up quarters for the night on the riverbank; then it was made known to them that all who come thither must drink a certain quantity of that water. Er would gladly have drunk, being athirst, but he alone was somehow held back from doing so. All the other souls drank immediately and at that instant they forgot everything that had ever happened to them. Er saw many drink more than the ordained quantity, and it was told him that this was imprudent; for though the water brings forgetfulness to all for a time, those who drink only their allotted portion may regain on earth vague memories of their past lives, and things seen in other worlds, which will be a spring of wisdom to them and an inward light. When the souls had all laid them down to sleep, and it was about midnight, there came a clap of thunder and an earthquake, and that moment they were carried up to their birth, this way and that through the darkness, like shooting stars. As for Er, how he came back to his body he could not tell; all he knew was that he suddenly opened his eyes in the light of dawn and found himself stretched out on the funeral pyre.