This is a chapter of Evergreen Stories by W. M. L. Hutchinson. It includes the following stories: King Midas and His Strange Adventures — Alcestis, the Noble Wife — The Real Helen — Cupid and Psyche — The Vision of Er — Circe, the Island Witch — Bellerophon, the Rider of Pegasus — How Theseus Slew the Minotaur — Odysseus in the Land of Shadows — The Story of Pheidippides — The Story of Solon, Croesus, and Cyrus
Up led by thee,
into the Heaven of Heavens I have presumed,
an earthly guest, and drawn empyreal air,
thy tempering. With like safety guided down,
return me to my native element;
lest, from this flying steed unreined (as once
Bellerophon, though from a lower clime)
dismounted, on the Aleian field I fall,
erroneous there to wander and forlorn.

Paradise Lost, VII, 17
"One would think," said Circe, "that this Diomedes of Argos was a greater warrior than Achilles himself, you praise him so highly. He is, indeed, the only Greek chieftain I have never heard you find any fault with. But is he really to be compared with that glorious son of the sea queen Thetis, whose fame has reached even to this isle at the world's end?"
Odysseus had just been telling how, with Diomedes for sole companion, he raided the camp of the Thracian allies of Troy at dead of night, killed their prince and many of his men, and made prize of his famous horses. And not for the first time, he had spoken of Diomedes's prowess with a warmth unusual in him — for as a rule he was chary of praise.
"No one can compare with Achilles," he now said gravely, "and if you had seen him, Circe, you would believe, as I do, that mankind will never look upon his like again. I may have found fault with him, for he was not perfect; but his very faults were noble. He could hate greatly, because he is so greatly loved… But setting him aside, I will maintain there was no better soldier in our army than the gallant Diomedes."
"Yet I seem to have heard," said Circe, "the name of Ajax as second only to Achilles in strength and valor."
At this, the crew exchanged meaning glances, and Odysseus flushed a little.
"I never denied it," he said hastily, "but strength and valor alone do not make the complete soldier. He must have brains as well. The Greeks knew that when they awarded the arms of Achilles not to Ajax but to me, though I was no match for him in fight… But I dare say you have heard that story too — and anyhow it has nothing to do with what we were talking about. Let us get back to Diomedes."
"By all means," said Circe, smiling a little maliciously.
"Diomedes," went on Odysseus, "though a young man, was as good in council as on the field. We older men —nay, the ancient Nestor himself— listened to his advice with respect. He had in perfection the two qualities that make a great soldier: the courage of the lion and the cunning of the fox. In action he was all lion, for he always fought fair; but the fox showed in a hundred instances I could tell you of: ambushes and spying and the like. And he never lost a chance of overreaching an enemy — ha, ha! — I laugh even now when I remember the trick he played on the Lycian prince Glaucus."
"Tell me about that," said Circe, taking the hint.
"Well, you must know," said Odysseus, "that, when they encountered in the battle, Diomedes asked Glaucus who he was, for the Lycians were newly come to the help of the Trojans, and that day was the first they took the field. And Glaucus was all resplendent in golden armor, so that Diomedes thought he was perhaps one of the immortals —Ares or Apollo— who on that day and not then only fought in the ranks of Troy. Thereupon Glaucus told him both his name and lineage, and that he was grandson to the great hero Bellerophon, a prince of Corinth, who gained the kingship of Lycia by prowess.
"And forthwith Diomedes planted his spear in the ground and declared that he would not fight him, 'For my grandsire, King Oineus,' he said, 'once had noble Bellerophon as his guest for twenty days, and they exchanged gifts in pledge of friendship, so we two are guest friends by inheritance — you have a claim to my hospitality in Argos, and I to yours in Lycia. Come, there must be no fighting between you and me — the gods know here is plenty of work for our spears, without that. Lay on, then, among the Greeks, as I will among the Trojans and their allies. But first let us exchange armor, that both sides may know we avoid combat because of ancestral friendship, and not through cowardice."
"Now Zeus, I think, took away the Lycian's wits, for he readily agreed, and so Diomedes got golden armor in exchange for bronze — ha, ha! — ay, he got the price of a hundred oxen for the price of nine. And all by his ready wit."
"My captain," said young Elpenor, "you spoke of Diomedes overreaching his enemies, but surely this was overreaching a friend."
"I do not see that," replied Odysseus. "Glaucus was fighting on the opposite side, and as for the tale of their grandsires' friendships… I am not certain that Diomedes had ever heard of Bellerophon before."
"Do you mean he invented the story — to get the armor?" exclaimed the young man, horrified.

Classicsness 🎙️ the podcast about Classics
Subscribe gratis on your favorite platform and get the new episodes pushed right to your device as soon as they're published!
Right now, we're telling myths for all audiences!
Odysseus shrugged his shoulders. "He was quite clever enough," he answered, "but I have not said anything of the sort. All I say is, none of us except old Nestor had so much as heard the name of Bellerophon — and Diomedes could tell us nothing about him, except what he learned from Glaucus. However, Nestor said he remembered hearing in his youth that the then King of Corinth had a son called Bellerophon, very beautiful, who left home on account of some trouble, and no one ever knew what became of him. 'That was a good seventy years ago,' he said, 'so no wonder his very name has long been forgotten among the Greeks.'… Well, this Bellerophon must have been a mighty man in his day; I would give something to know what took him to Lycia and how he made himself king there."
"I can tell you the whole story," said Circe; "but I have a word to say first about your friend Diomedes. It was true what he told Glaucus — Bellerophon did visit King Oineus, and they did pledge friendship to each other, when both were young. So you see, Diomedes has not quite so much of the fox as —— someone else I could name."
"If you mean me," said Odysseus, laughing, "I take it as a compliment. And praise from the wise Circe is doubly precious. But let us hear the story — I warrant it is a strange and moving one."
"You shall judge," answered Circe, and she told it as follows:
When Glaucus, son of Sisyphus the Wise, was king in Corinth, a great marvel befell there, for a winged horse appeared on the mountain called Acrocorinthus, hard by the city. A noble beast he was, white as snow, and his wings were like the wings of a swan. Now this was the horse that sprang from the blood of Medusa the Gorgon, when the hero Perseus slew that dire creature and cut off her head. And no sooner was he born, on the Gorgon's Rock, far in the west, than he soared aloft and flew over land and sea till he came to Corinth — not without providence divine.
Down he lighted on the steep hillside and looked about for water, that he might drink, but there was neither spring nor brook in sight. Then the horse stamped with his hoof on the rocky ground, and there gushed forth the bright fount that men call Pirene unto this day. Now certain woodcutters, who watched him afar off, saw this and brought word to the city; so the Corinthians called the wondrous beast Pegasus, which means 'He of the Well Spring,' and that was his name ever after.
The woodcutters, as in duty bound, went straightway with this news to their lord the king; and his son Bellerophon eagerly undertook to capture the marvellous horse. But Pegasus, though he seemed both gentle and fearless and suffered the prince to approach him, would not come within his reach. Three days Bellerophon spent on the mountain to no purpose; then he betook himself to a wise seer that dwelt in Corinth and entreated his counsel. The seer bade him go that night into the temple of Athena and sleep upon her altar. So Bellerophon slept all night on the altar stone — and at daybreak he dreamed a dream. He dreamed that the goddess stood beside him, all in bright armor, and thus she spoke:
"Sleepest thou, prince of the house of Aeolus? Arise and take the gift I have brought thee, for by the magic in it thou shalt tame Pegasus when thou bindest it about his jaws. But first sacrifice a bull to Poseidon, lord of steeds, that he also may show thee favor."
With that, Bellerophon started up broad awake — and behold, at his feet lay a shining, golden thing, the like of which he had never seen, for it was a horse's bit and bridle, the use whereof was as yet unknown among the Greeks. They drove horses in those days as they drove oxen, under the yoke; but they could not ride them, lacking, as it were, a rudder to guide them in career.
Glad at heart, Bellerophon showed Athena's gift to the seer, and together they sacrificed a bull to Poseidon, as she had commanded. Then he went again to the mountain, and, by the will of Athena, Pegasus quietly suffered himself to be bitted and bridled. Forthwith Bellerophon mounted his back and rode him home rejoicing. And the Corinthians built a temple to Athena of the Bridle, in memory of the great invention which she had bestowed on them first among all the cities of Greece.
After this, a heavy misfortune came on Bellerophon, for he killed his younger brother in a boar chase, his spear glancing off a tree and piercing the boy's heart. And because he knew that the shedder of blood, albeit by misadventure, must be driven out of the land lest he bring a curse upon it, Bellerophon fled away from Corinth on his winged steed. Faring southward, he came to the ancient city of Argos; there Proetus the king entertained him hospitably and grew every day more pleased with his guest, for he had never seen a young man so comely in person or of such courteous and winning manners.
Unhappily for Bellerophon, he found no less favor with the wife of King Proetus, who was as wicked as she was beautiful. There came a day when this wanton dame led him on some pretext to her chamber and wooed him in shameless terms to become her lover. But he turned from her with loathing and fled out of the chamber. And at that slight put upon her, the queen's love changed to deadly hatred, so that she thirsted to destroy him. Swiftly she devised a way; having torn her robe and dishevelled her hair, she went to her husband and declared with tears that his Corinthian guest had offered her violence. And Proetus, nothing doubting her tale, swore that Bellerophon should die for his treachery; yet he durst not kill him under his own roof, dreading the vengeance of Zeus, god of guest right; so, after pondering awhile, he sent for Bellerophon and with all his wonted friendliness asked if he would do him a service.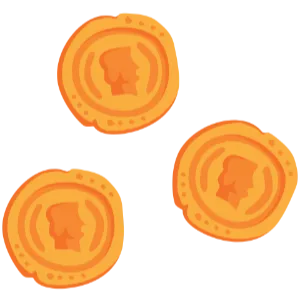 Hey! I hope you're enjoying this free content.
Would you consider contributing to the cause of Latin and Classics?
Just a few sestertii will buy you some cool books!
"Right willingly, my kind host," answered Bellerophon, "be it small or great."
"It is an errand to a far country," said Proetus. "I wish to send a letter to my father-in-law, the king of Lycia, on an affair of weight. If you will take it, I shall be easy in my mind — for I know I can trust you." And he smiled an evil smile.
"That you may," said Bellerophon heartily. "Give me the letter, king, and I will bear it across the sea as swiftly as my winged horse can fly."
So Proetus wrote his letter on ivory tablets and sealed them with his royal signet, and Bellerophon mounted Pegasus and flew eastward over the main. On the third day, he came to the palace of the Lycian king and gave the letter into his hand. But the king was troubled when he read it, for Proetus had written thus:
King Proetus of Argos to his wife's father, King Iobates of Lycia, much health. I require and charge you, as you value my good will and alliance, that you immediately put to death the messenger who brings you this. Farewell.
Then Iobates was in a great perplexity; being on the one hand desirous to please his powerful son-in-law and, on the other, not a little afraid of his messenger from the moment he set eyes on him, for Bellerophon was splendid in rich armor of the famed Corinthian bronze, fair of face and in mien most noble, like the son of a god, and his look betokened him full of valor. And when Iobates saw also the wondrous horse he rode, his mind misgave him that this was perhaps indeed the child of some god, on whom it were ill to lay hands.
So he thought best to dissemble with the stranger until he could devise some plot for his undoing. That day he made a great feast in his house and set Bellerophon in the place of honor; when they began to carouse, the king pledged him in a golden cup and gave it to him as a guest gift. And so he did the second day and the third, only each day the cup he gave was larger and more richly chased.
But by the fourth morn, Iobates had found a way… There lived then on the Lycian uplands a fearful earth-born monster, called by the folk Chimaera — that is, the she-goat, for her body was like a she-goat's — but she had a lion's head and forepaws, and a serpent's tail. And her breath was like the blast of a furnace seven times heated, so that none could come near her and live. Long had she been the terror of the land, preying on flocks and herds, and blighting cornfields and pastures with her scorching breath. Iobates thought, with some reason, that the simplest and surest way to destroy Bellerophon was to send him in quest of Chimaera. So with woe-begone countenance he told him of this scourge of the land, saying that as king and father of his people he could know no peace until they were delivered from it — but of that he despaired. And even as he hoped, Bellerophon no sooner heard all this than he was neither to hold nor to bind, but would forthwith set out to encounter the monster. Iobates dissuaded him —but very faintly— and then bade him farewell, trusting that he was going to meet certain death.
But the king reckoned without the good friend and ally that Bellerophon had. Mounted on Pegasus, the young hero soared high in air until he descried Chimaera prowling on the hillsides; then, swooping downwards, he shot an arrow that pierced her shaggy neck and stretched her dead. Then back he sped to the city with the tidings, and all the folk went out to view the slain monster; great rejoicings made the Lycians that day; but Iobates feared Bellerophon more than ever, and was at his wit's end what to do.
The very next day, as luck would have it, word came to him that the Amazons, those women warriors, were making a foray on his northern border, and the wild tribe of the Solymi had risen against him to the eastward. "Here is my chance," thought the king, and told the news to Bellerophon, pretending great alarm.
"Do not be cast down, my royal lord," said the young man. "With the help of the gods I shall make short work of all your enemies. And that will be small payment to so generous a host. Only tell me, whither shall I go first?"
Iobates begged him to go first against the Amazons, for he knew they were terrible in battle, and had great hopes that he would fall by their hands. Away went Bellerophon — and two days afterward came tidings that he had routed the Amazon host with great slaughter, raining arrows upon them from upper air, and now he was gone against the Solymi.
Then Iobates said to himself: "Twice hath this youth escaped deadly peril; if he come off safe the third time, I will plot against him no more, lest haply I be found to fight against the gods. Nay, I will give him my daughter to wife and persuade him to dwell in Lycia, for I need fear no foes with such a champion to defend me."
And when Bellerophon returned victorious from a great battle with the Solymi, the king did as he had said; and having no son, he left the kingdom to Bellerophon at his death not long afterwards.
For some years Bellerophon reigned in great prosperity, and three fair sons were born to him. But, alas! his high good fortune so uplifted him that he grew as arrogant and vainglorious as he had once been modest and discreet. At last, in the folly of his heart, he boasted that he would ride Pegasus up to heaven and enter the eternal mansions of the gods; and forthwith he set out on that impious journey. But Zeus heard him and sent a gadfly to sting Pegasus as he soared upwards, so that he plunged madly and threw his rider; then the winged horse flew straight up into the clouds and vanished from mortal sight forever. And now he bides happy in the stalls of Zeus, eating heavenly grain from a golden manger.
But Bellerophon fell to earth unhurt — though better for him if he had broken his neck, for he fell on the Aleian Plain, in Cilicia by the sea — a desolate fen where no man came, nor had come since the making of the world. There he wandered till he died, eating his heart, being smitten of Zeus with moody madness. So true is the old saying that pride goeth before destruction.