This is a chapter of Evergreen Stories by W. M. L. Hutchinson. It includes the following stories: King Midas and His Strange Adventures — Alcestis, the Noble Wife — The Real Helen — Cupid and Psyche — The Vision of Er
Alcestis, the Noble Wife has the following chapters: 1. Admetus and Alcestis | 2. Admetus's Godly Servant | 3. Alcestis's Last Words | 4. Admetus and Alcestis Bid Each Other Farewell | 5. Heracles, an Unexpected Guest | 6. Alcestis's Obsequies | 7. Heracles's Unexpected Mission | 8. Admetus's Mourning | 9. Heracles Saves Alcestis
While all this passed, the elders had listened with pained amazement on their faces; and no sooner had Heracles followed the old slave into the house than their chief addressed the king in a tone of indignant remonstrance — "What is this that you have done, Admetus? Are you mad, that you install a guest in the house at the very instant of such bereavement?"
"What else would you have me do, old man?" retorted the king. "Turn him away? Not I, by heaven! That would have made my heavy loss no lighter. Nay, I should be yet more wretched than I am if I could be taxed with inhospitality — above all, to a friend who has entertained me right royally many a time at Argos."
"Being such a friend," said the elder, shrewdly, "why did you hide the truth from him?"
"Because he would never have crossed my threshold, if he had known it," said the king. "I daresay, when he finds out, Heracles will blame me as much as you do. Well, let him; but this house of mine never did and never shall close its doors against a guest."
He spoke so proudly, and with so regal a gesture of the hand towards the stately palace front, that the elders were overcome with admiration. "Ay," murmured one, "a bounteous and a hospitable house it has ever been, since Admetus ruled it. And therefore didst thou, oh, Phoebus Apollo, deign to sojourn under its roof in mortal guise, bringing blessing on fields and flocks. What wonder if, having had thee for guest, our king holds guest-right sacred above all things."
At that moment shrill cries of lamentation, mingled with the wailing of flutes and voices chanting a dirge, rang through the palace doorway; and a black-garbed procession came slowly forth. Almost the whole household, men and maids, were there. In the midst, four men carried a richly draped bier, whereon lay Alcestis, robed and crowned. A mantle of Tyrian purple was spread over her from breast to feet, covered with wreaths of roses, hyacinths, and myrtle blossom; golden and jeweled ornaments glittered among the flowers, and at her feet were laid such things as belong to a queen's toilet — hand mirrors of burnished silver, golden combs, and pins, ivory boxes of spikenard, and other precious trifles. Her face was unveiled, by the custom of the land; and looking on it in its unchanged beauty you would have thought her sleeping — dreaming perhaps, for she seemed to smile.
At sight of the king, the mourning train halted and fell silent; the bearers alone came forward and set down their burden beside him, awaiting his order. He gave one glance at the bier, and turned hastily to the elders, saying — "Good friends, all is ready now. You will follow, to pay… her… the last honors?"
"Surely, surely," they exclaimed, with deep emotion.
"Let us be going then," said Admetus in a firm voice, and signed to the bearers to set forward; but the chief elder whispered, "Nay, not yet, my king; see, yonder comes your father."
Pheres it was who now advanced through the gateway with two serving men at his heels. Bent, white-haired, and wrinkled though he was, his form and features bore such a resemblance to Admetus that no one, seeing them together, could doubt they were father and son. The two faced each other in silence for a moment; the old man, who seemed out of breath, glancing keenly about him; the younger, with downcast eyes and a sullen countenance.
"My dear son," began Pheres, blandly, as soon as he found voice to speak, "my heart bleeds for you in your affliction. The moment I heard of it, I hastened hither to condole with you. A sad loss indeed… such an excellent wife as she was, and of a discretion admired by everybody. But you must bear up; these things have to be endured, you know. I see you are going to bury all her jewels with her… Very right, very proper; you cannot overdo her funeral honors, considering that she has died for you. I myself owe some mark of respect to the corpse of one who has preserved me from dying childless; I have brought this coverlet as a pall for her… Give it here, slave! Take it, Admetus; and make way, my son… I would speak a last farewell to our dear departed… Ah, if all wives were like her, what a blessed thing marriage would be!"
So saying, and ostentatiously presenting a scarlet cloth, inwoven with gold, Pheres made to approach the bier. But Admetus, who had listened to him with an ever-deepening scowl, could no longer contain his rage.

Classicsness 🎙️ the podcast about Classics
Subscribe gratis on your favorite platform and get the new episodes pushed right to your device as soon as they're published!
Right now, we're telling myths for all audiences!
"Get you gone," he burst out, "and take your trappings along with you. Do you think I will let anything touch her that comes from your hands? No, I thank you; we are not so poverty-stricken as all that. What brings you, I say, to her burial? I never sent for you; I want none of your company, do you hear?"
The astonished Pheres was heard to mutter something about having been led by his paternal affection.
"Your paternal affection!" repeated his son, scornfully. "It is rather late in the day, do you not think?, to talk about that! Where was it, when you refused to save me… yes, you, with one foot in the grave, stood by and let a young life be laid down instead of yours? Her life, whom you dare pretend to mourn… And this, oh, good gods, is my father! But no," he went on, wildly, "that can never be. Sure, I am no son of yours, nor of her I call mother, but some slave woman's child that your wife took secretly and passed off as her own, for lack of an heir to the house. For had you been my parents, you could not so have abandoned your own flesh and blood. Begone, I tell you; from henceforth I renounce you both; this day leaves me an orphan and you childless for you can scarcely expect," he added tauntingly, "to have more sons now."
During this outburst, uttered with indescribable rage and scorn, Pheres remained as it were thunderstruck. Never in his life had his pattern son addressed him without the reverence due to a father and a king; and now, there he stood, shouting insults at him before everybody… rating him like a dog or a slave, with the city elders and all the household looking on!
As for the elders, their distress at so terrible a breach of decorum knew no bounds; when Admetus paused for breath, their chief ventured to interpose:
"Forbear, Admetus!" he pleaded. "Would you stir up new trouble at such an hour as this? Nay, remember he is your father… Do not exasperate him thus. Consider the unseemliness——"
But Pheres, collecting himself, now spoke in a voice of suppressed fury, glaring the while at his son with a dreadful look of hate —
"Sirrah, you boy there, do you fancy you are browbeating a slave — some wretched Lydian or Phrygian you have bought? Have you forgotten who and what I am? I will inform you… a freeborn Thessalian, as my father was before me… and not the man to endure insolence from a hectoring youngster. No! And what, pray, is your reason for this outrage? Because, forsooth, after being the best of fathers to you ever since you were born, I did not give you my life when you had the effrontery to demand it. 'No, no,' I said, 'every man for himself when it comes to dying. I love life as much as you do, but I should never ask you to die for me — why should I die for you?'"
"Yes, you talked like the selfish coward you are, "broke in Admetus, fiercely.
"Coward, you say!" shrieked his father; "then what are you, you villain? You, with less courage than a woman… you, that let a woman face the death you dared not… Ay, there she lies, poor, fond soul, who could refuse nothing to her handsome husband. Oh, I see the trick you have found to save your precious skin. Why, such a gallant need never die, as long as there are women he can wheedle out of their lives. So get another wife, my fine fellow, and murder her, too."
"Sir, sir," cried the chief elder, "these are frightful words to use to your own son. Pray now, no more of this; here is too much railing on both sides."
"Why did he begin it, then?" retorted Pheres. "If it galls him to hear plain truths, he should have kept a civil tongue in his head. I say again, he is this dead woman's murderer, as truly as if he had slain her with his hand. I tell him —do you hear me, Admetus?— that the blood of Alcestis is on his head, and her kinsmen will know that and will avenge it. Ay, her brother, that is king now in Iolcus, were no man if he took not heavy vengeance for his sister's death. And now——"
"Will you go?" hissed Admetus, white to the lips. "If you do not take yourself out of my sight this
instant——"
"I am going, never fear," snarled the old man. "I have said my say, and I leave you to… finish your work."
He pointed to the bier, and with a malevolent grin — "You are wise to bury her so privately," he added, as he turned away, "for were the funeral public, things might be made unpleasant for the chief mourner."
That Parthian shaft went home. So strange are the workings of egoism, that Admetus was fully persuaded that his father had wronged him cruelly. Alcestis was dead in her prime, and he an inconsolable widower, because the selfish old man would not forgo his wretched remnant of life! And the hoary hypocrite had tried to gloss over his guilt, first by feigned sympathy, then by infamous accusations! Well, let him go — he had spat his venom; his abuse and threats did but proclaim a quite impotent malice.
So thinking, Admetus resumed his sorely ruffled dignity, and once more gave the signal for the funeral train to set forth. But as he paced at the head of it, Pheres's parting words stuck rankling in his mind, for they were uncomfortably near the mark. The monstrous charge of murdering his wife he could defy — could prove by fifty witnesses, if need were, her free consent to die for him. But he was far from easy in his mind as to what would be thought and said about his part in the matter. What he had done was right and expedient — for without question the life of a good king was of more value than any woman's — but it could not be called heroic. It would, in fact, he had felt all along, make him considerably less of a hero to his people than he loved to think himself; after this, he would walk among them shorn of his beams no longer the luminary that had dazzled their eyes… And that, as his father with hateful shrewdness had detected, was why Alcestis was to be buried "somewhat privately"; he wanted as few witnesses as possible to a scene in which his own part was, to say the least, inglorious.
Now to keep the funeral private, it had to take place that very day, before news of the beloved queen's death spread among the folk. This in itself was not against the custom of the country; persons of humble rank were commonly buried on the day they died, no more delay being required to perform their simple obsequies. But in the case of noble, and still more of royal persons, elaborate rites and ceremonies must precede the burial; kinsmen and friends had to be summoned, and the funeral feast prepared a business which occupied several days. It was therefore an unheard-of thing that a queen of Thessaly should be laid in the tomb within a few hours of breathing her last, and with only the maimed rites that such haste allowed.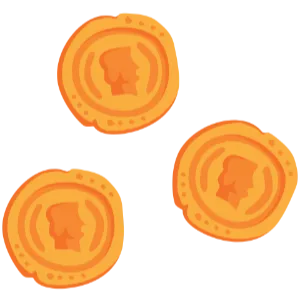 Hey! I hope you're enjoying this free content.
Would you consider contributing to the cause of Latin and Classics?
Just a few sestertii will buy you some cool books!
Admetus knew that perfectly — knew also that it was a gross piece of disrespect to his dead wife.
But, obsessed by one idea, he forgot everything else; his whole mind was bent on getting the funeral over quietly. And he had got his way. The household, of course, dared not oppose him; the elders, who might have done so, had been too bemused by the grief and excitement of the death scene to realize what followed. At his bidding, they had docilely waited in the palace to join the funeral procession, instead of going home to put on black… By this really clever stroke, the king had prevented their carrying the news to the city and at the same time secured men of high dignity as mourners. It could not anyhow be said in Phere that none but slaves followed Alcestis to her burial!
But other things would have been said there —loudly, too— which would have taught her husband that he "had done but greenly in hugger-mugger to inter her," if chance or divine providence had not brought a certain wanderer to the king's door that day.